Investors in Pupils and Healthy Schools
We achieved the Healthy Schools award in June 2018. Please click on the link below to read our letter from Mr Body, our assessor.
We were also awarded Mindmate Champions in May 2018.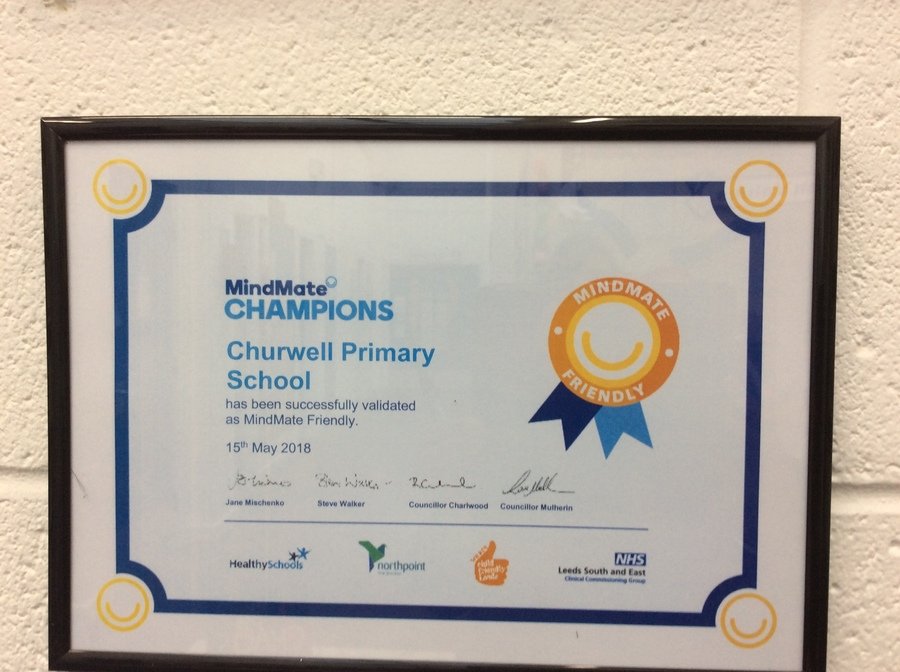 We achieved Investors in Pupils status in July 2012 and thanks to the hard work of all of the staff, children and parents of Churwell Primary School we achieved re-accreditation in Summer 2016. Please see below for a copy of the full report and a letter to the children from the Assessor - Mr Steven Body.
This is the letter we received from our external assessor after our validation day led by Mr Steven Body - 'Investors in Pupils' Assessor
The Investors in Pupils Reassessment Report from Mr Steven Body - Summer 2016.
Induction of New Pupils
All classes have induction booklets or presentations. In many classes these have been used to support pupils or adults new to the school. Children are aware of their responsibilities for helping and befriending new children and staff.
Although Investors in Pupils is not all about investing money in the school we have recently added a new Trim Trail to our playing area, upgraded our box planters in the KS2 play areas, added new information boards to the KS2 play area, begun to upgrade the FS1 outdoor area and plan, through The School Council, to extend the woodland walk in the Japa playground.
This has so far cost around £15,000 in all.
Meeting the people who help us in our school.
Iris (centre) is our Cook in Charge and prepares the school meals with the help of our Catering Team Sharon (left) and Adele (right). Her day starts at 9.30am and her first job is to check the kitchen and to make sure it is in good working order so that the meals can be prepared for the day. She cleans all the surfaces ready for food preparation and then checks all the food orders given by the children under the colour banding system, to work out how many meals need to be prepared. In the morning she makes the main course menu whilst the other staff in her team prepare the fruit/salad and pudding course. When lunch is served it can be for up to 180 children in the first sitting and in the second sitting 158 so everything needs to be organised and on time. After lunch the team have to wash all the trays and cutlery and clean all the surfaces and floors ready for the next day. Each year the kitchen is inspected, without notice, by Environmental Health and awarded a 5 star rating - Iris and her team currently have 5 stars, the best it can be.
Iris still enjoys her job after nearly 30 years doing it and loves to meet the children each day.