What's happening in Churwell Primary School?
We are focusing on our manners and thinking about the way we walk around our school.
We have had some really mixed weather over the past few weeks. This rainbow appeared early one morning over our school. It was beautiful and matched our rainbow symbol and theme so well.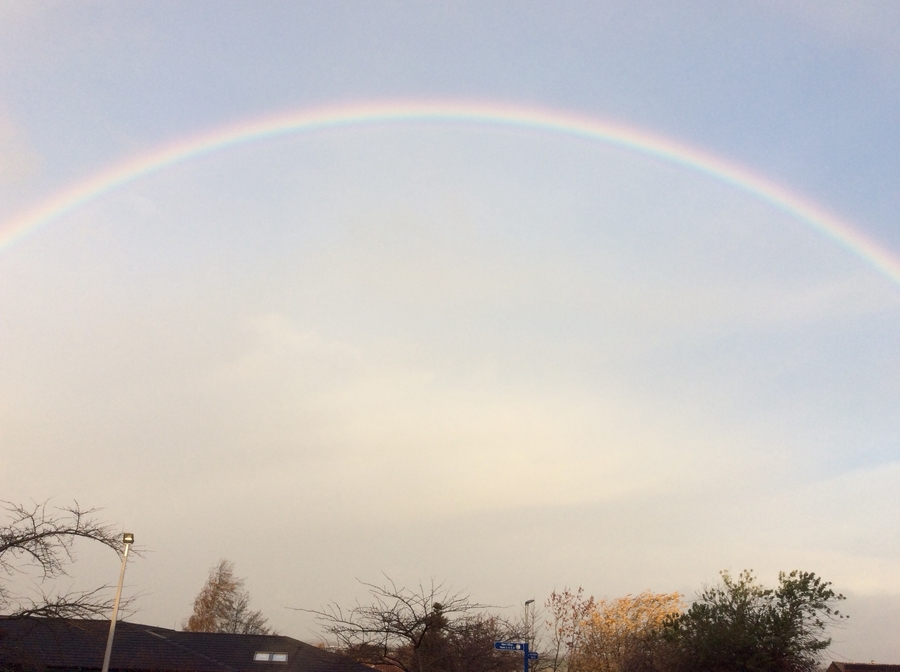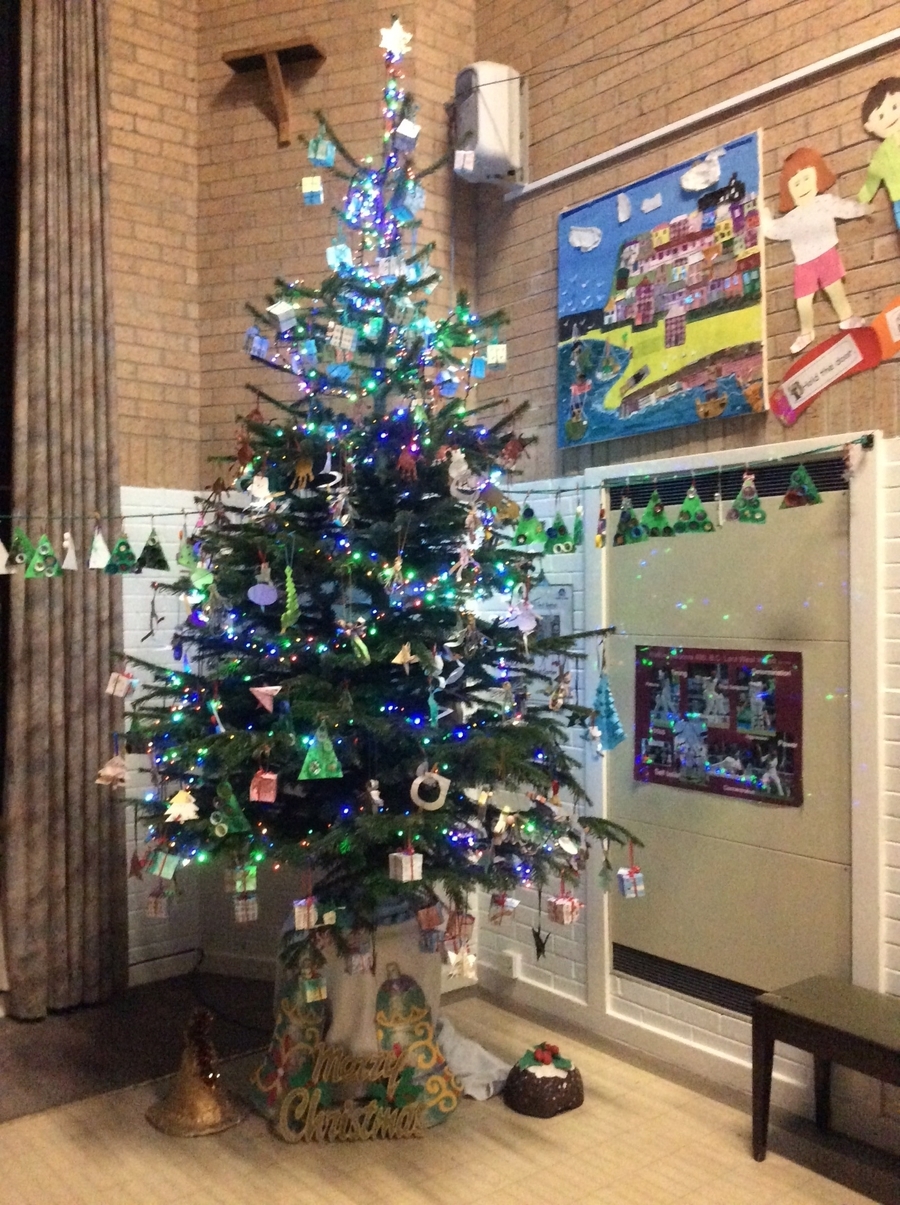 Our beautiful Christmas tree... the children have made recycled decorations as we are trying to reduce paper waste in school. Mr Munro worked hard to decorate the tree. Thanks Mr Munro!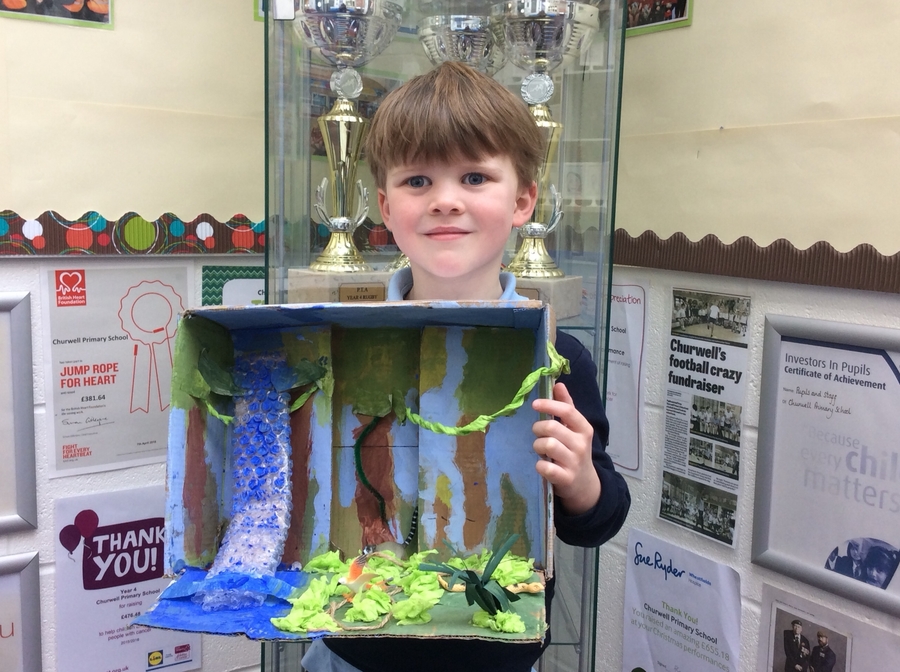 William with his Rainforest model that he made at home!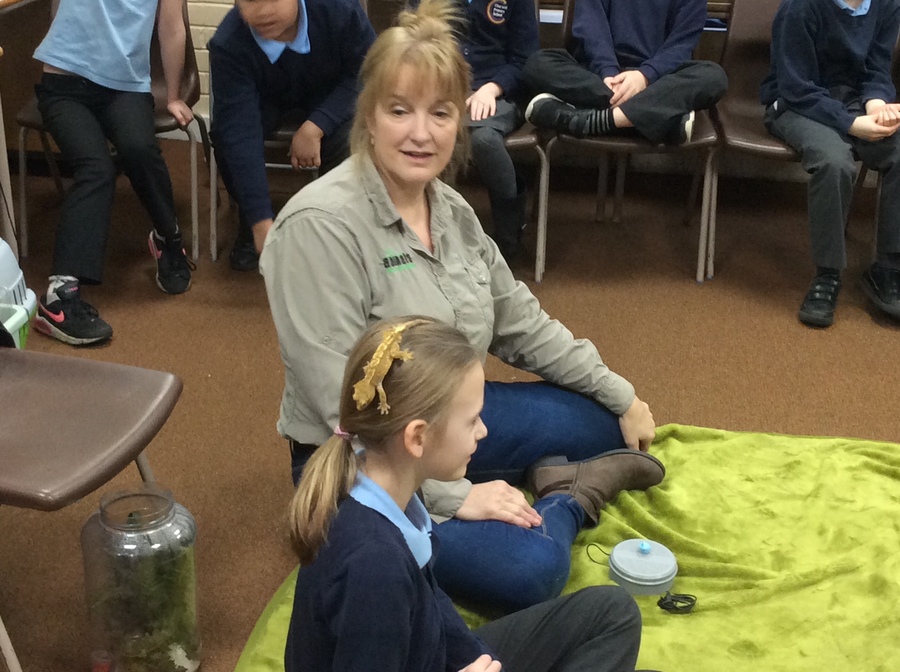 As part of their work on Rainforests, the children in Year 3 had some interesting visitors to their classroom.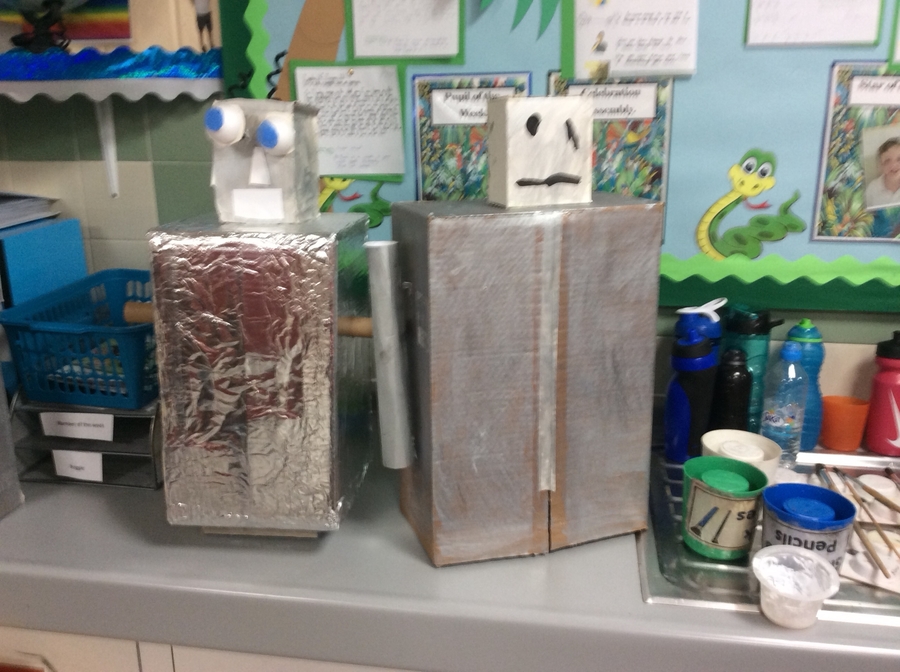 Year 4 have been busy making 'Iron Man' inspired pneumatic models. Here are some of the children painting their models.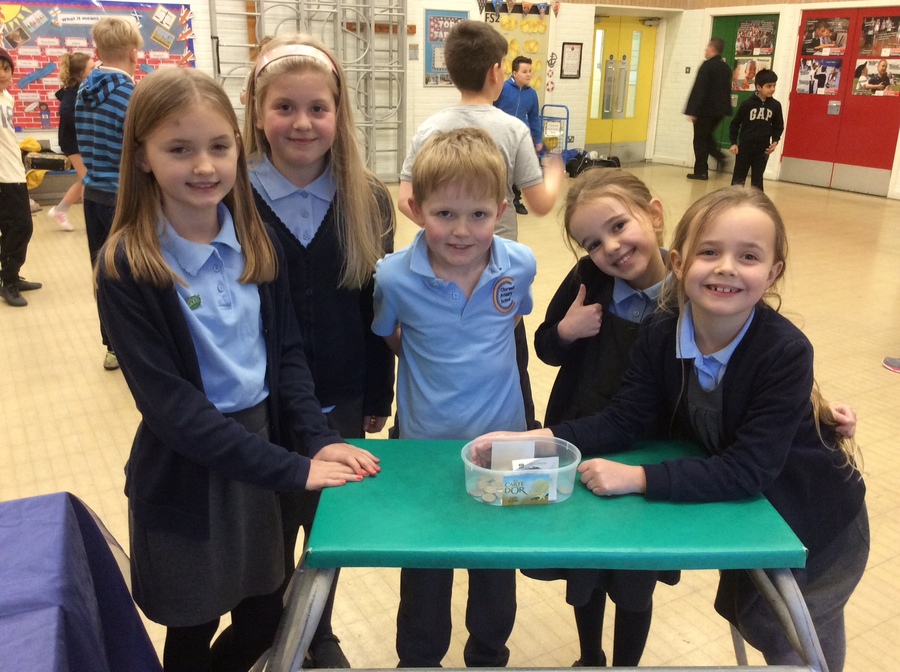 Some of the Eco Council members.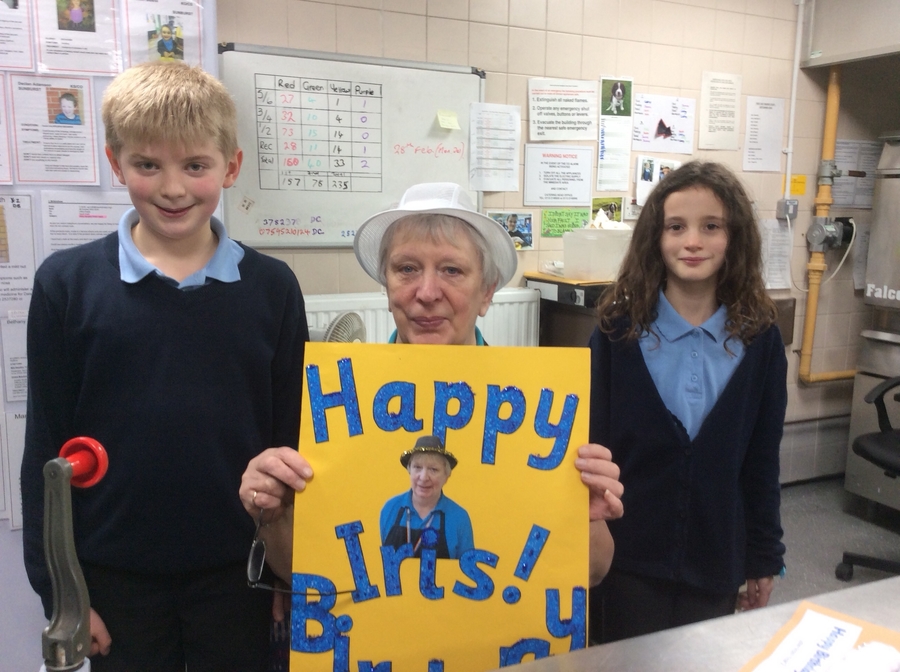 Iris, our school cook, celebrated her 70th birthday on 18th January. The children made her cards and sang happy birthday. The staff treated Iris to a special lunch as she cooks so many lunches everyday! Happy birthday Iris!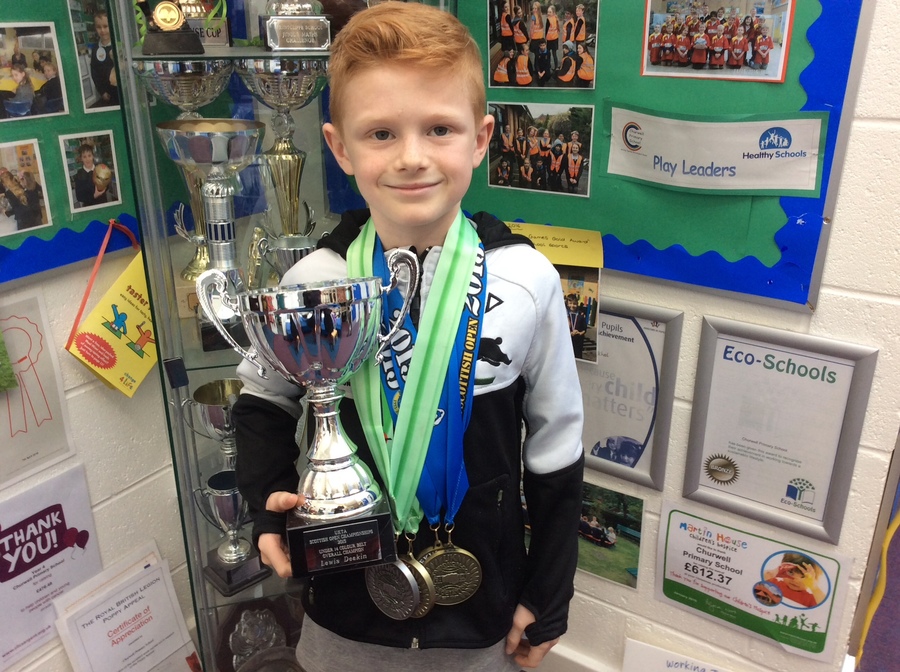 Lewis with his amazing medals and trophy for Tai-Kwondo. Well done Lewis!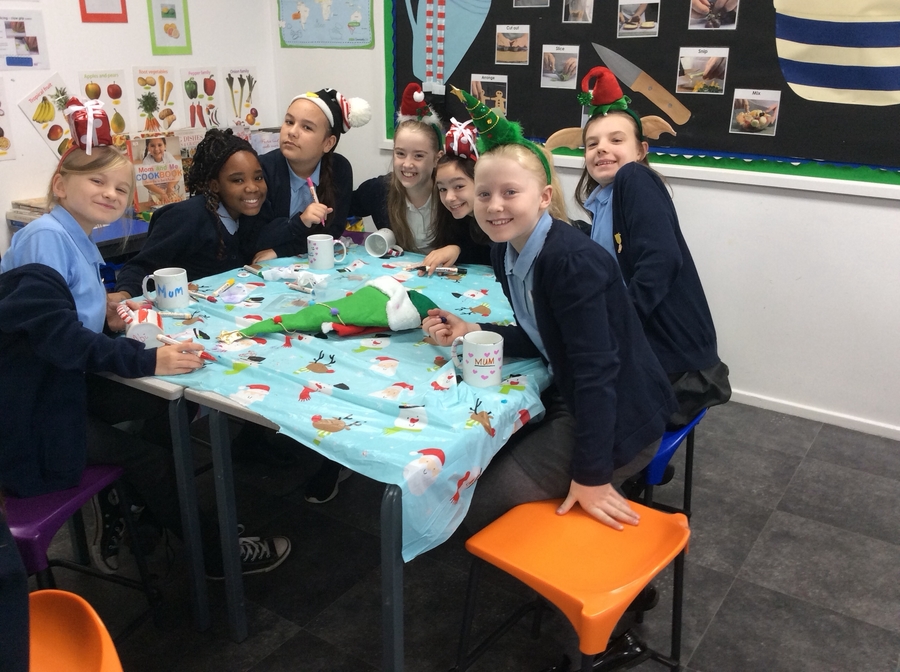 The children have really enjoyed the annual PTA Elves workshop. Thanks to our wonderful PTA 'Elves' who have supported the children all week.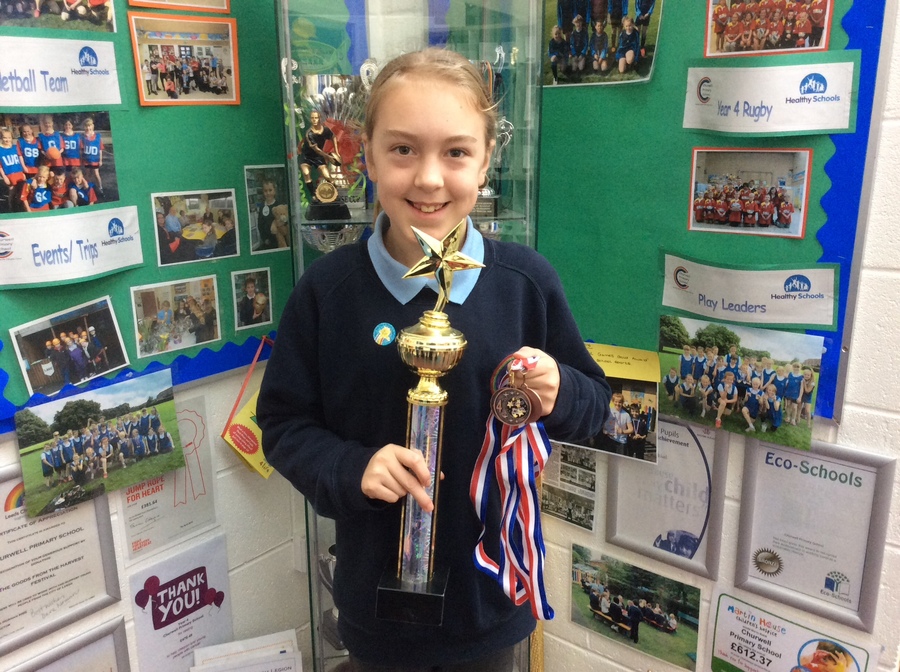 Well done to Lyla. She won three medals and a wonderful trophy for 'endeavour' at a recent dance competition.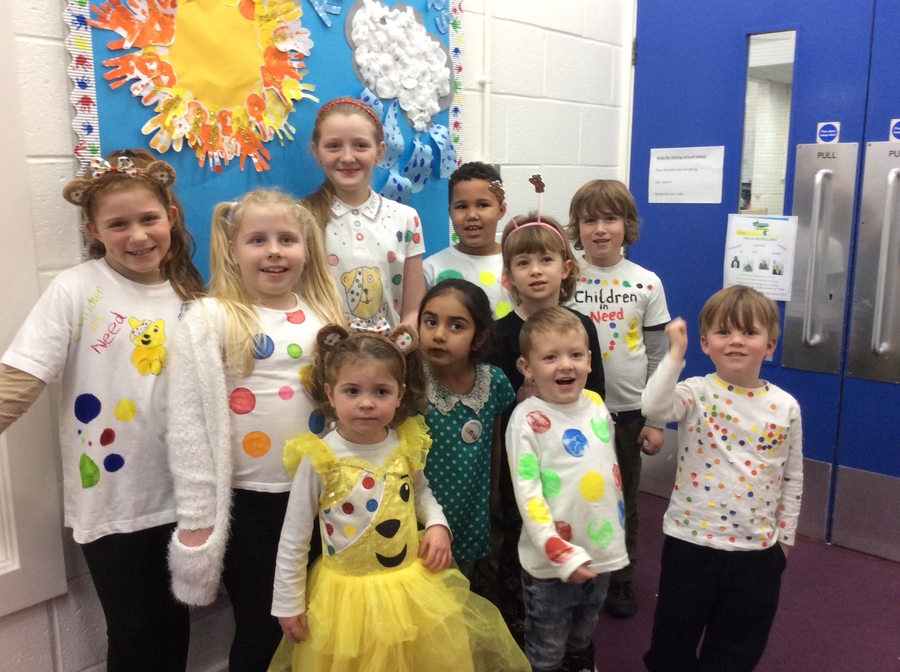 The children looked great in their spotty outfits to raise money for Children in Need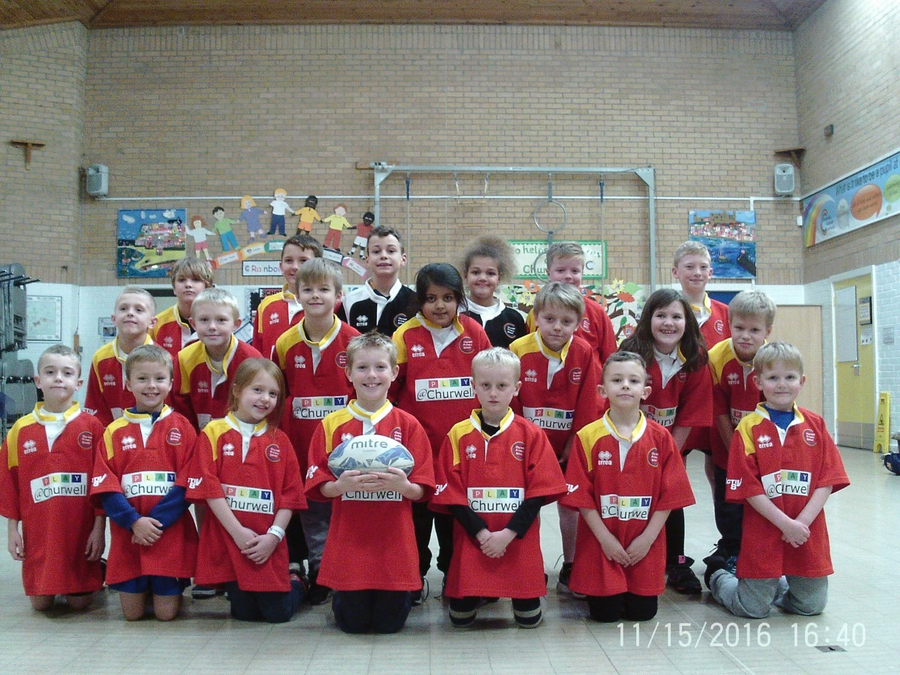 Well done to Lucy- she has been presented with a 'progress award' at her Ballet presentation. She is very proud!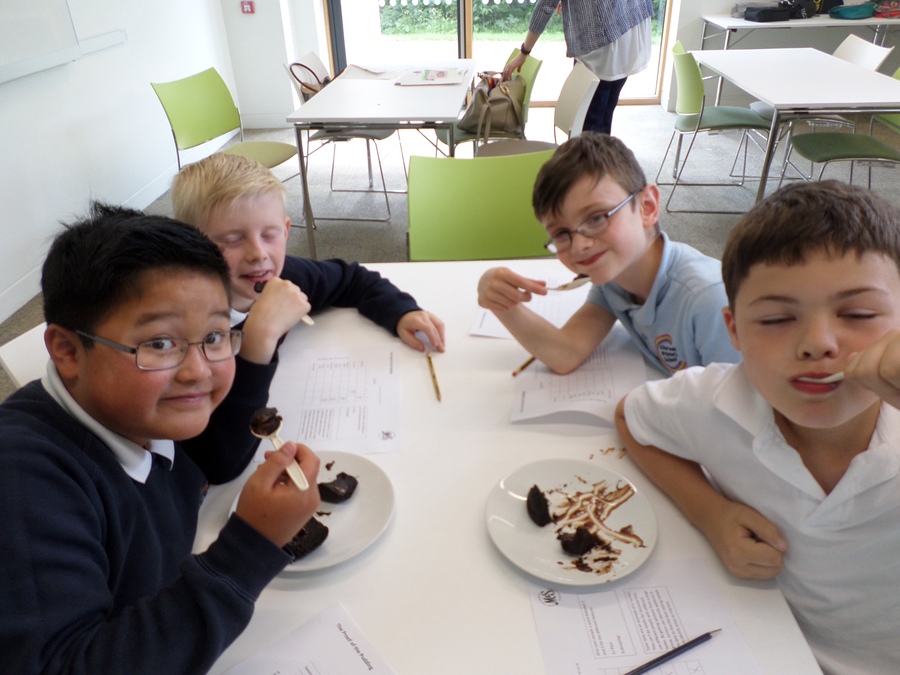 Mrs Pollard and Mrs Pearce took a group of Year 5 children on a Design and Technology trip to the Marks and Spencer Archive in Leeds. They completed various activities including creating their own dream pudding and they all seemed to enjoy the chocolate pudding tasting at the end!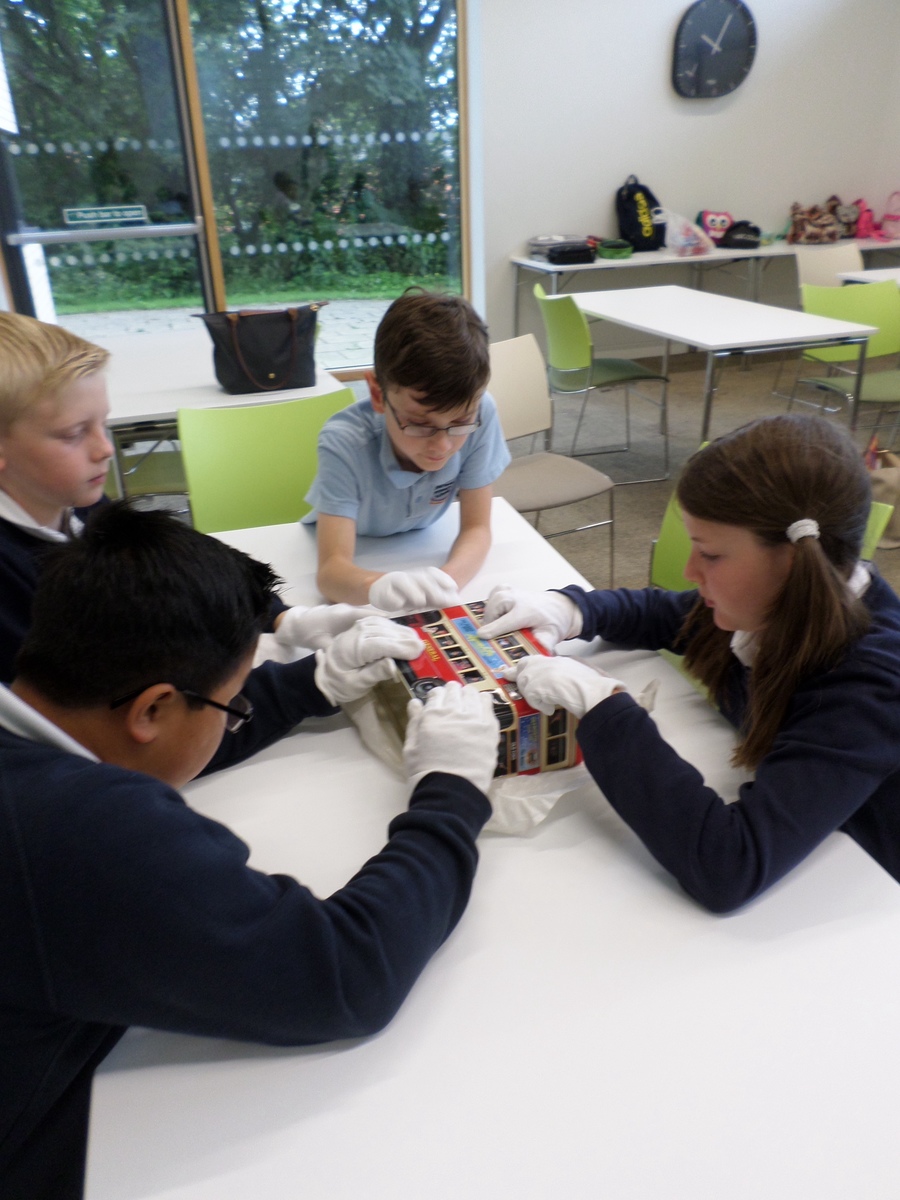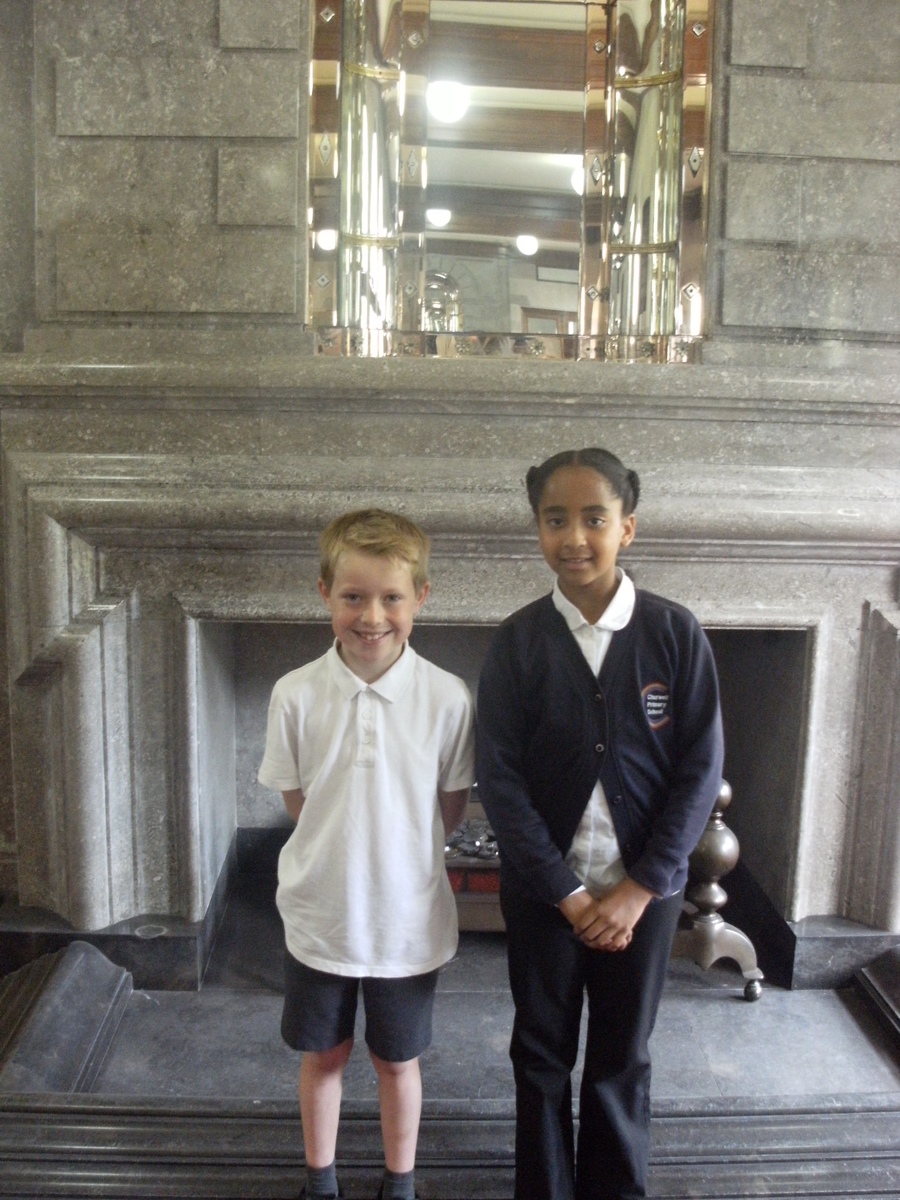 Joe and Sarah represented our school and collected our Investors in Pupils plaque at an event at Leeds Town Hall. Mrs Hutchinson and Mrs Tindale accompanied them. The highlight of the event was the 'fruit kebabs'!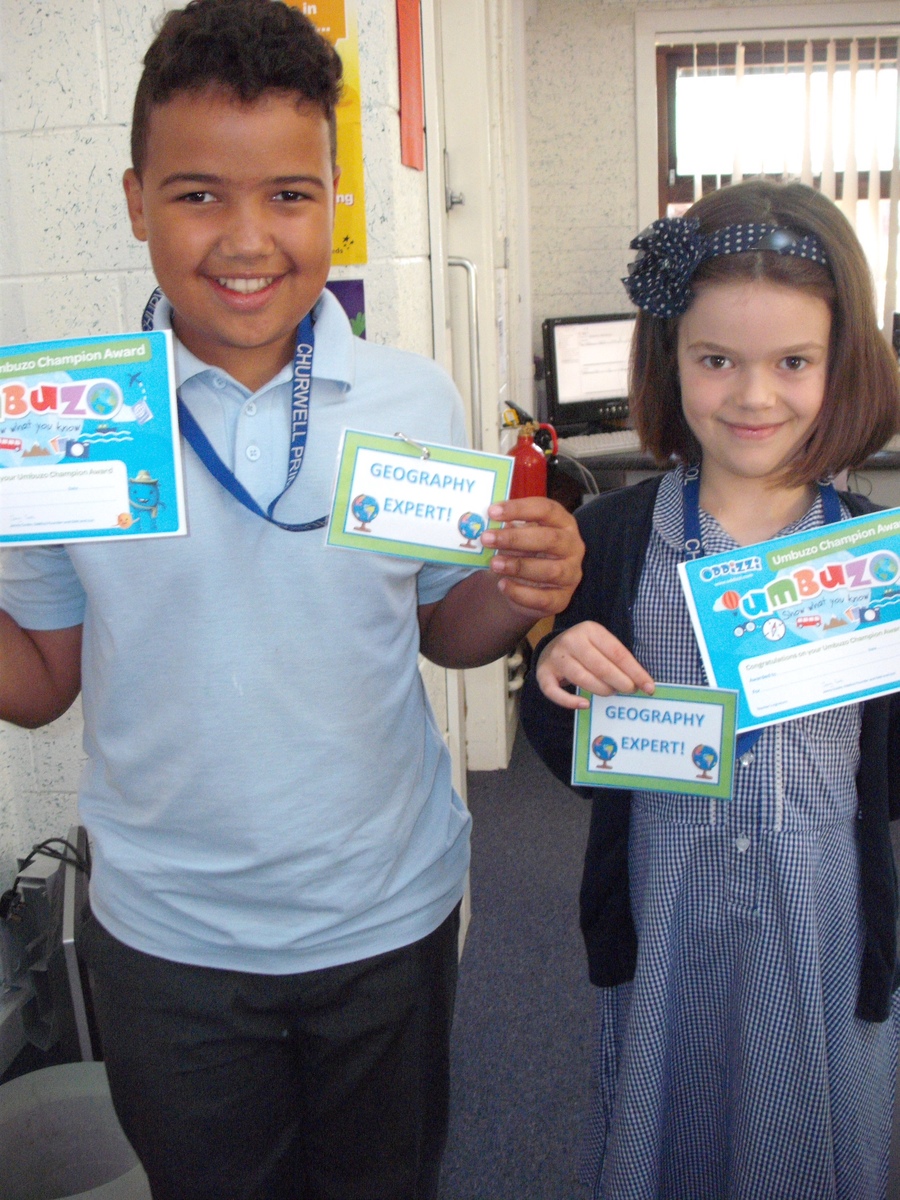 Children from across KS2 were invited to take part in an Oddizzi competition. Miss Whittle took two children from each class who were in the lead on their class leader board and they completed the 'United Kingdom' quiz on Oddizzi. The winners were Ethan Tweede and Rebecca Gould and they received a 'geography expert' badge to wear in class.
Well done!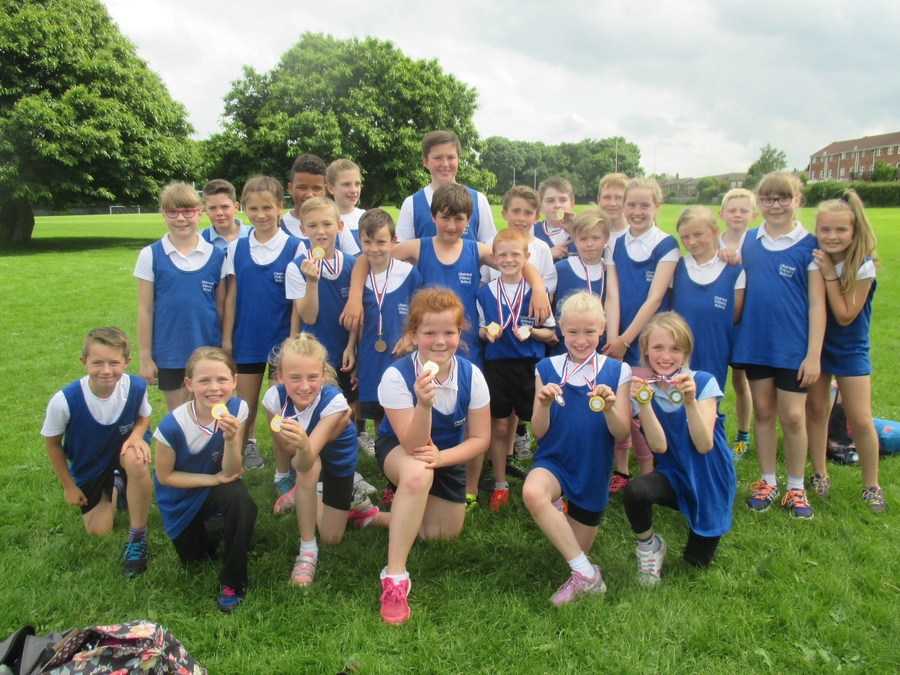 Our amazing Bruntcliffe Sports team. Great team spirit and achievements. Well done and thanks again Miss Walker for training and supporting the children.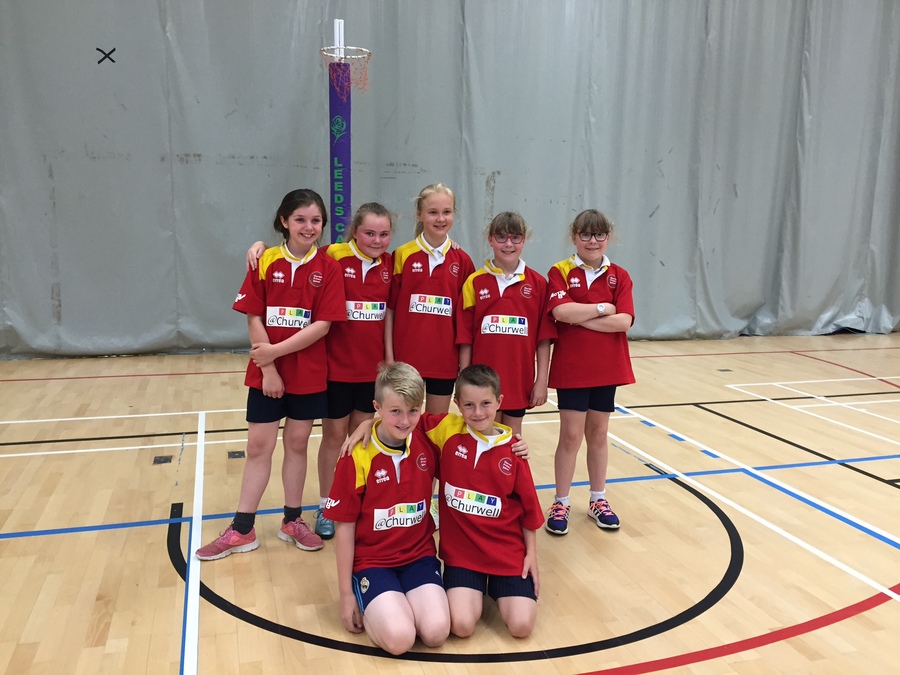 Well done to our netball team who played at Leeds Met in the High 5 tournament. Great team spirit!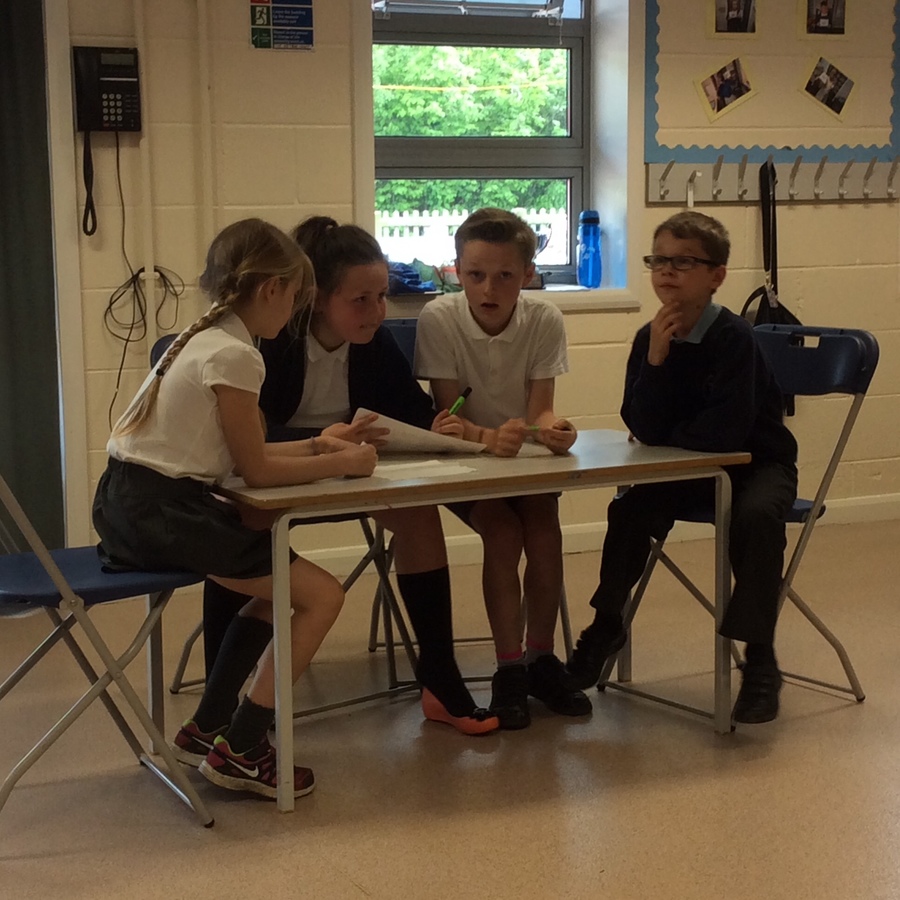 Selected children from KS2 went to Asquith Primary to compete in the Aspire Mental Maths competition. We came a very close second losing only by 1 point!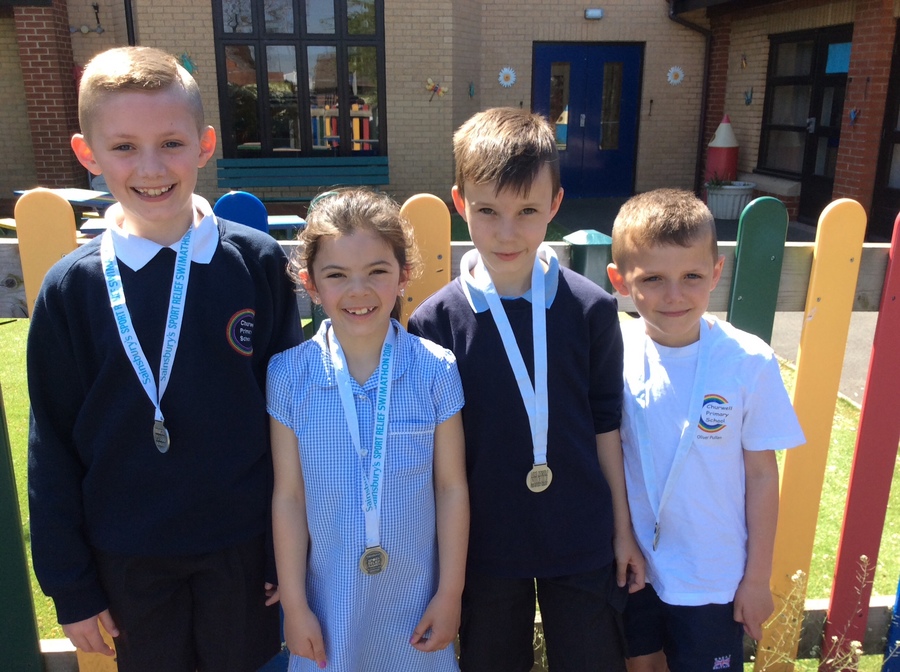 Well done to Ellis, Oliver, Abbie and Kieran who completed a swim for Sports Relief. Here they are with their very smart medals!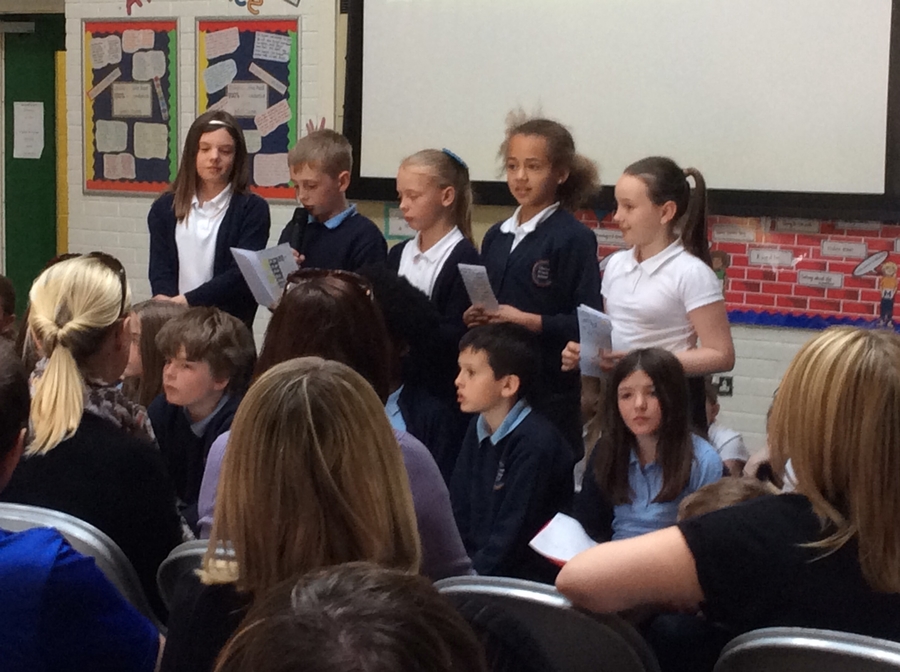 Year 5 held a Whitby 2016 presentation afternoon for parents. They shared their memories, thoughts and experiences.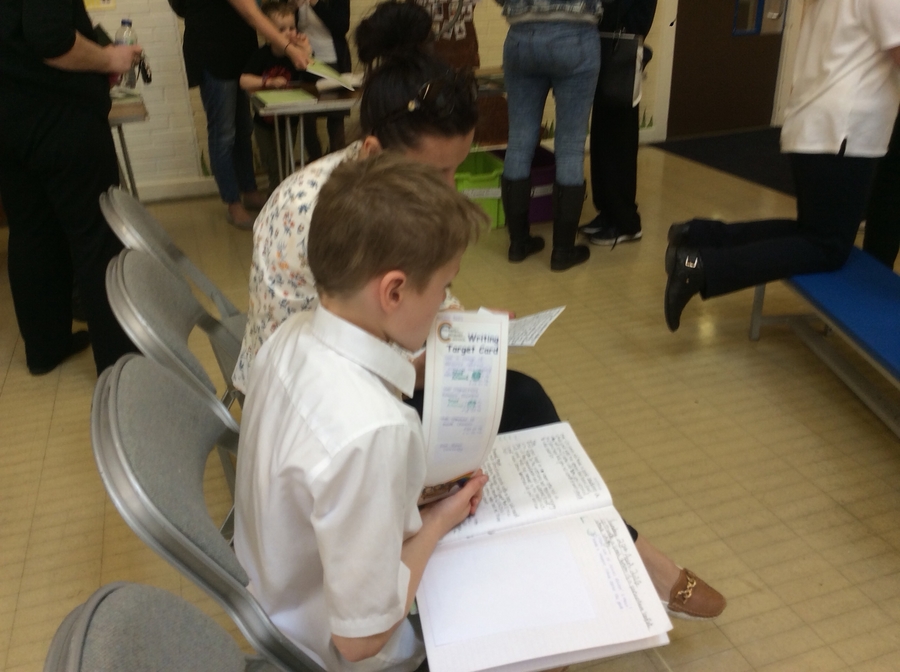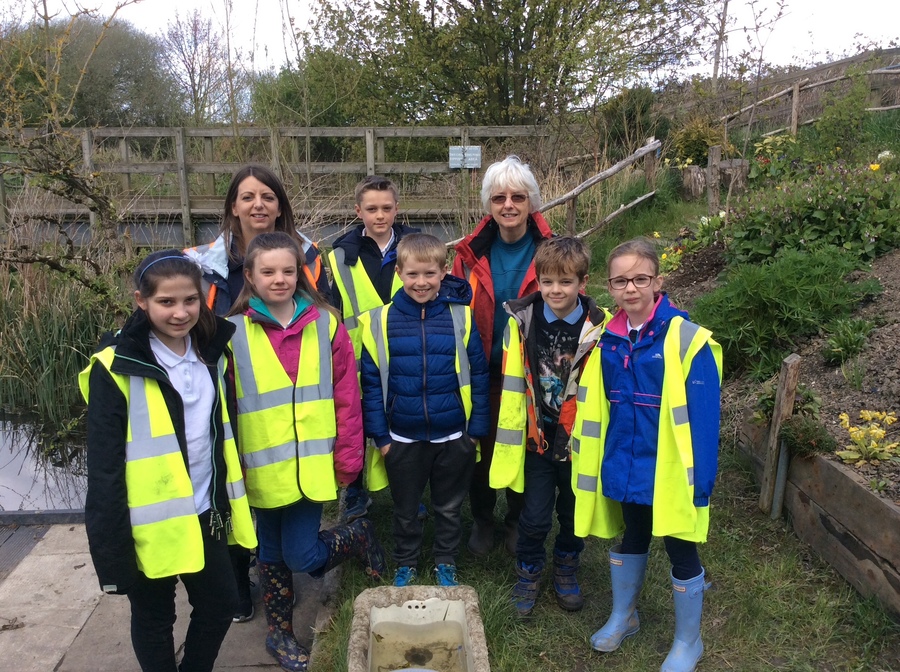 Mrs Hassall and a group of children spent the afternoon at Daffil Woods. They enjoyed the woods area and were joined by members of Churwell Action Group. The sun shone and they had a lovely time!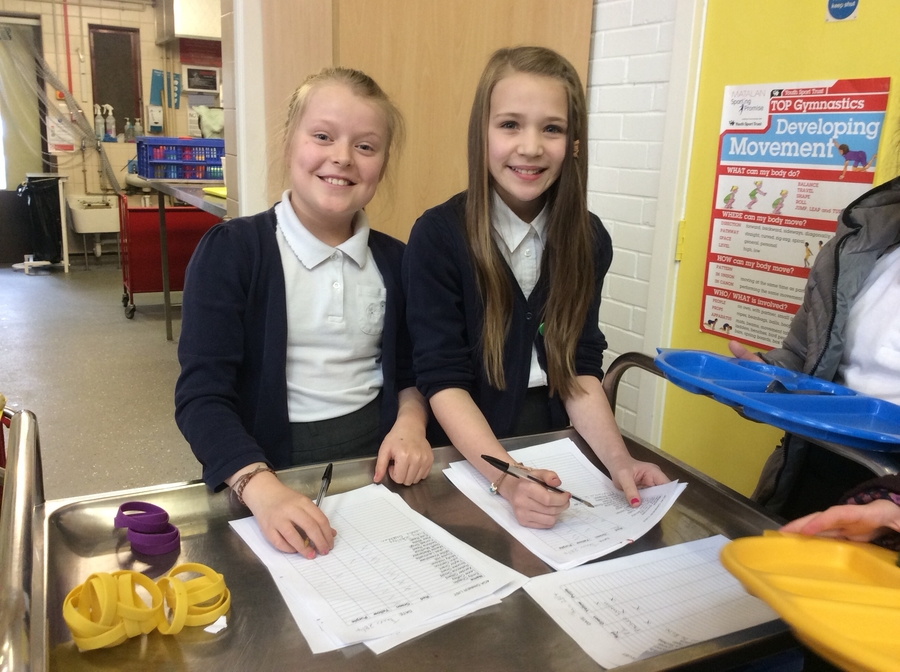 Ellie and Courtney are our new dinner band monitors. They are doing a great job - well done girls!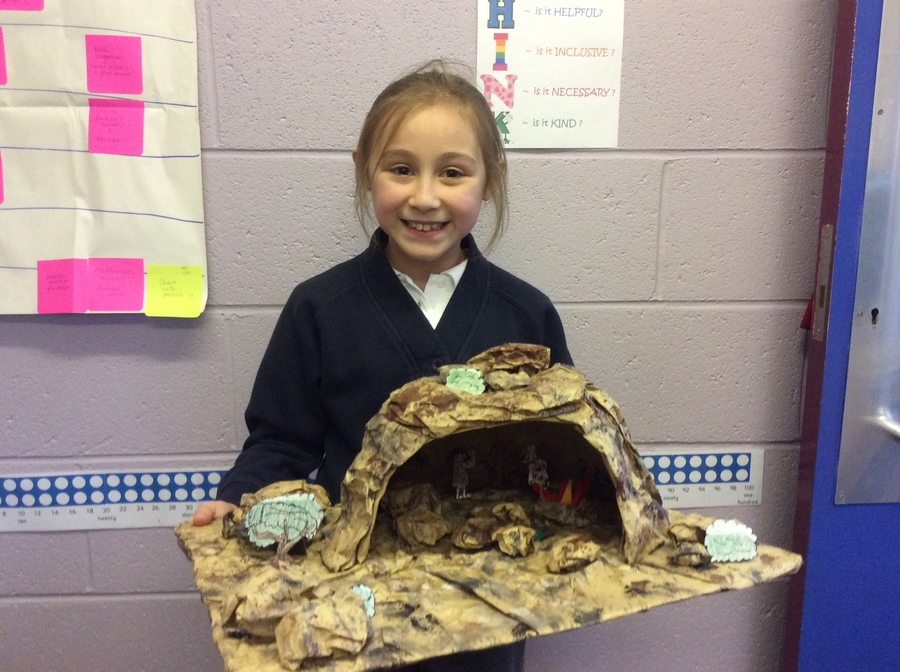 Zara with her amazing cave that she completed for homework. She has been learning about the Stone Age.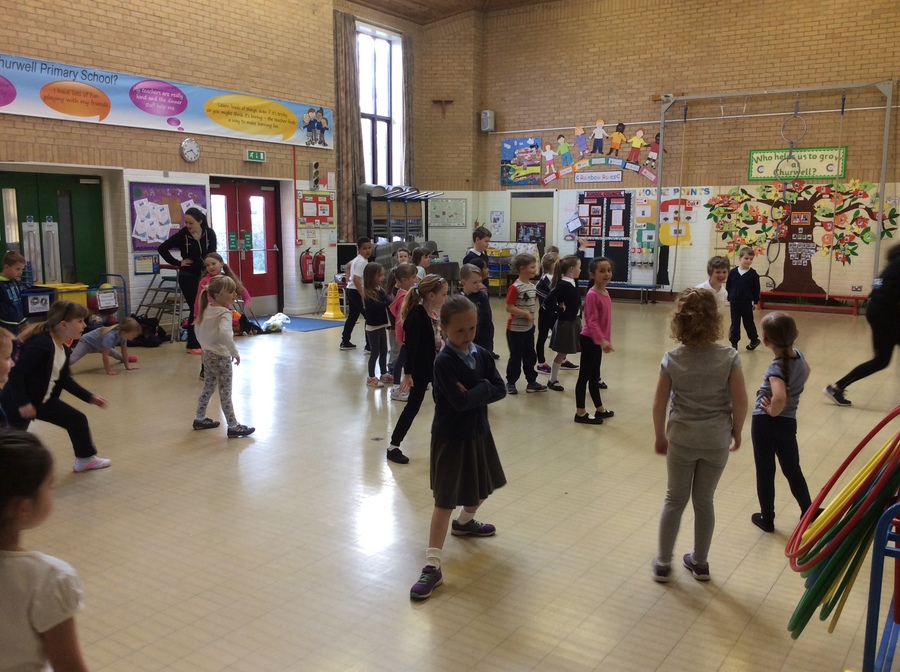 KS1 children enjoyed their first 'Breakfast Dance Club'. They all had a great healthy start to the morning and there were some cool dance moves!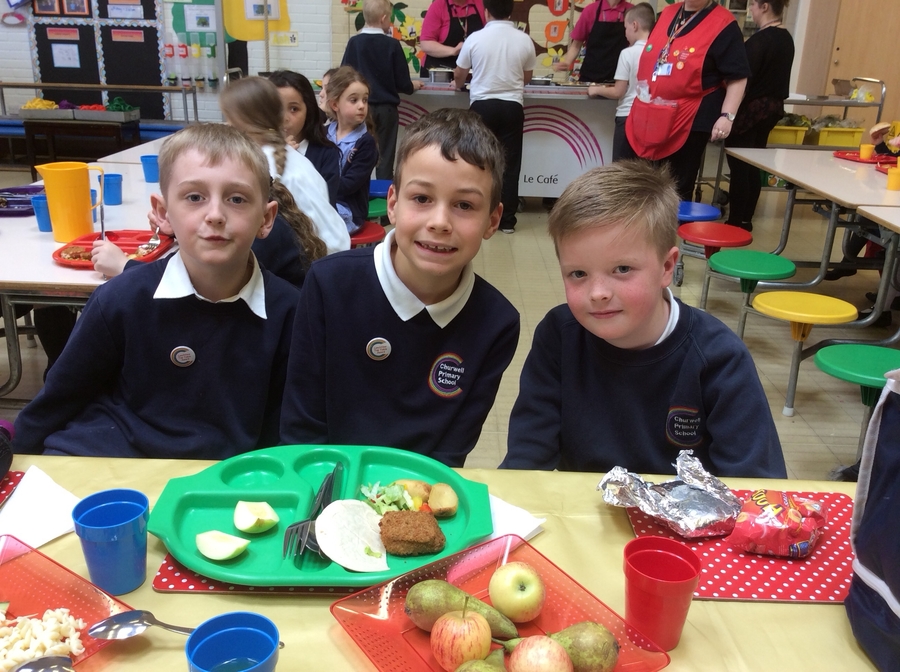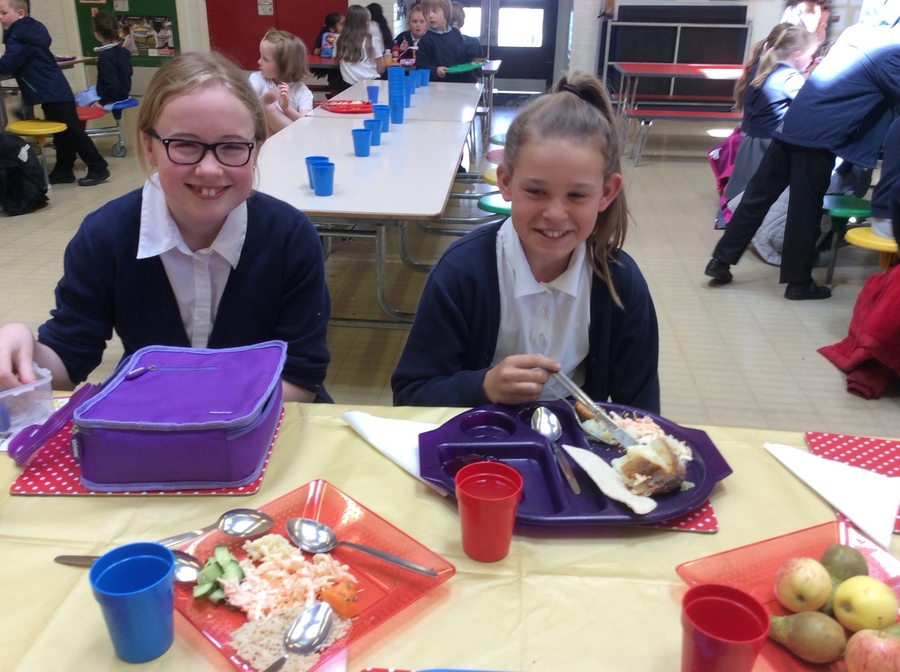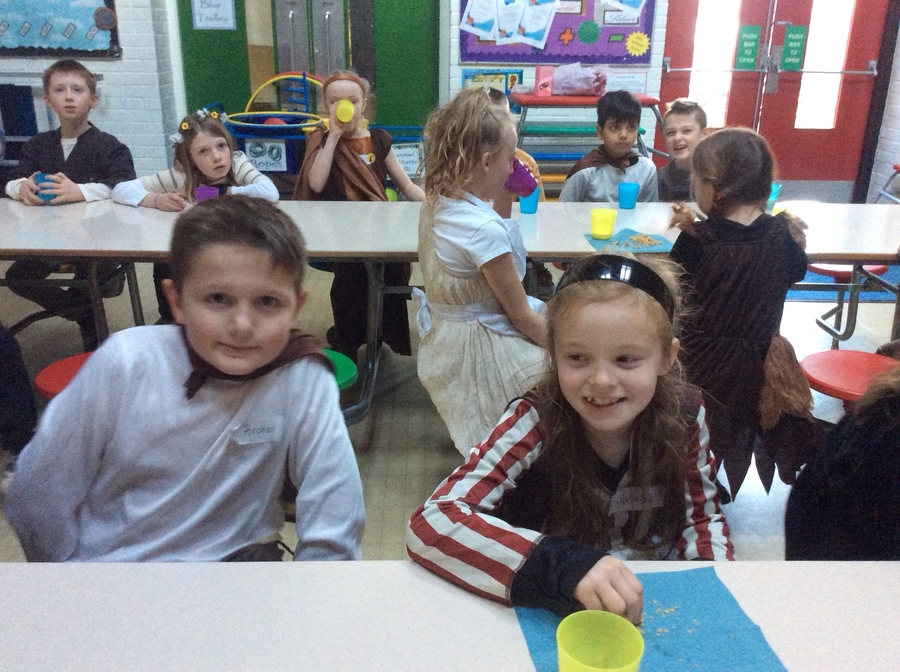 Our Lunchtime staff have been nominating children who have super manners and behaviour at lunchtimes. The winners, (see pictures above and below), earn a special pass to have their dinner with a friend of their choice at the 'Top Table'. Here are some of the Top Table superstars and their friends!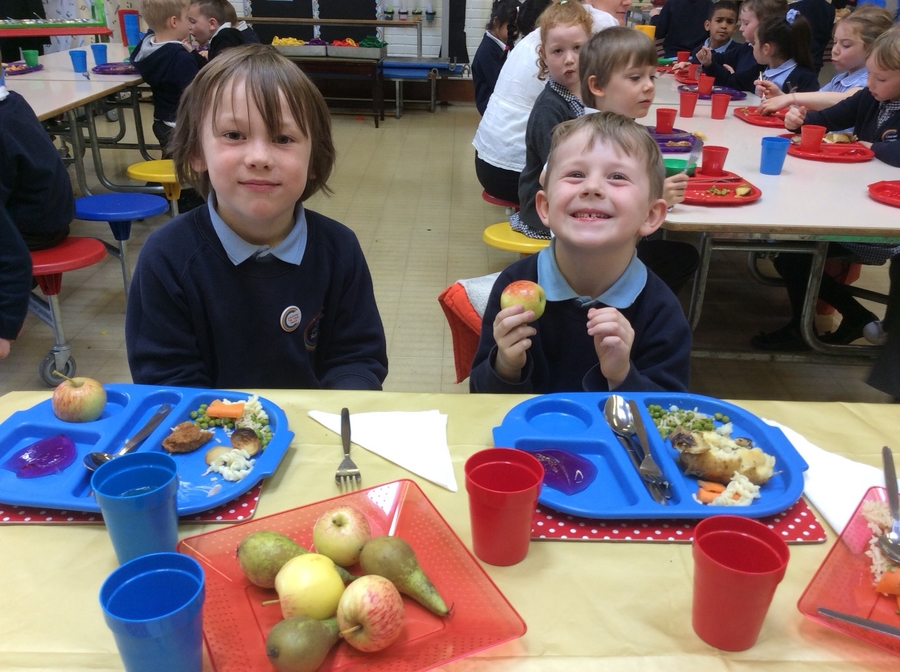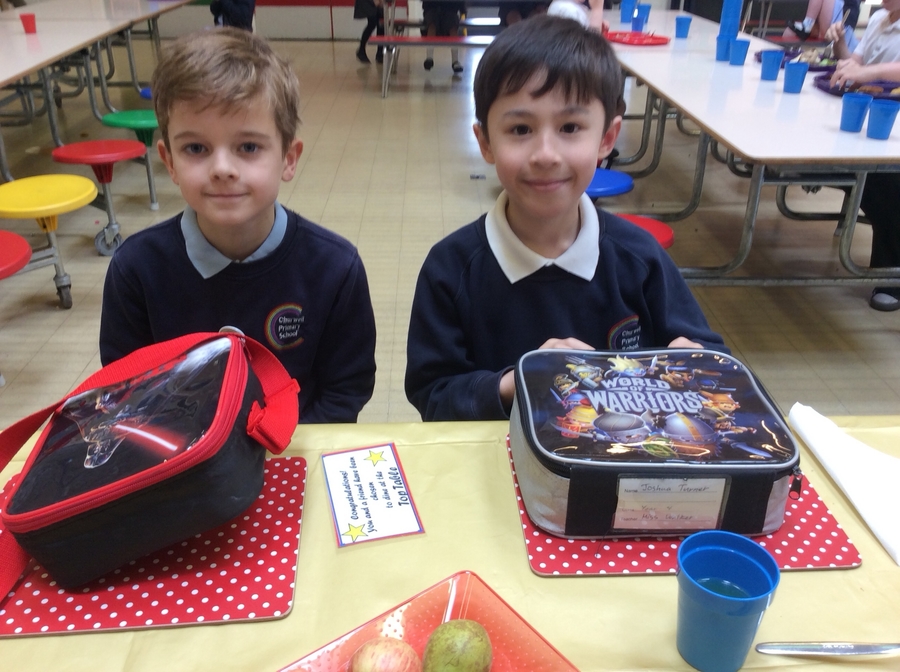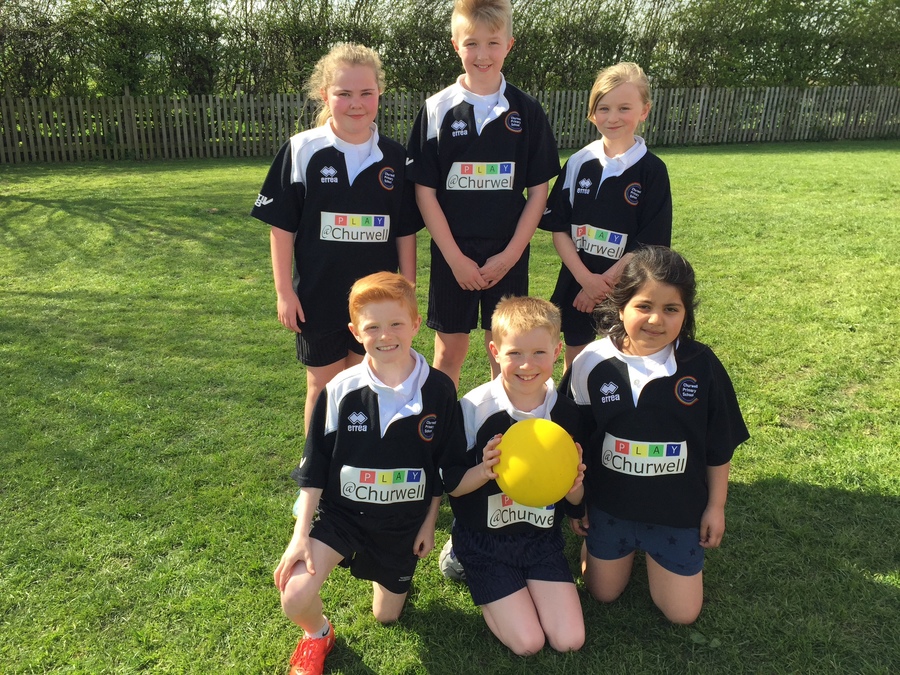 Members of the Dodgeball team that played in a tournament with other Morley schools.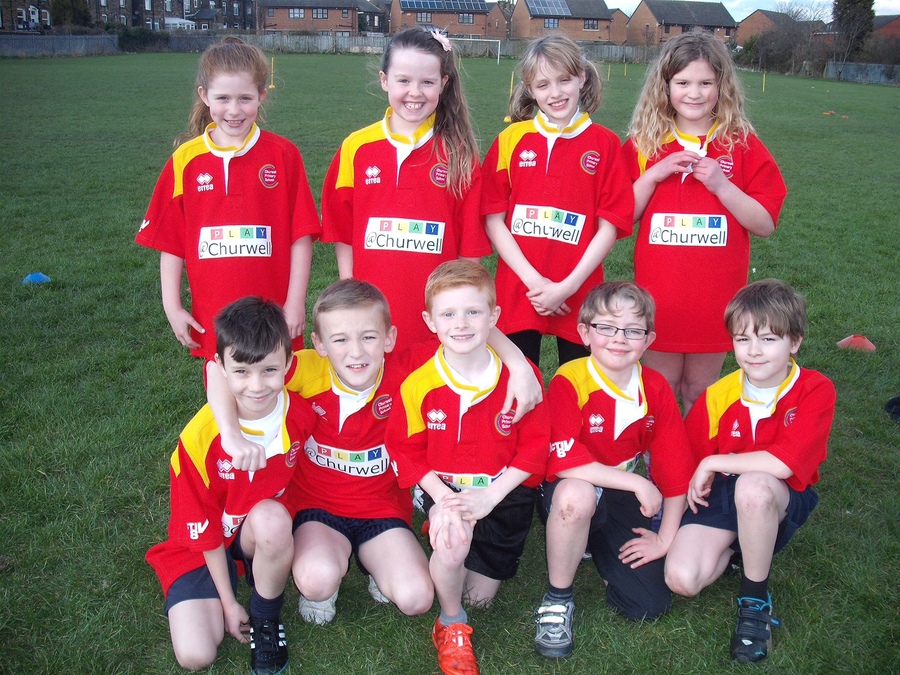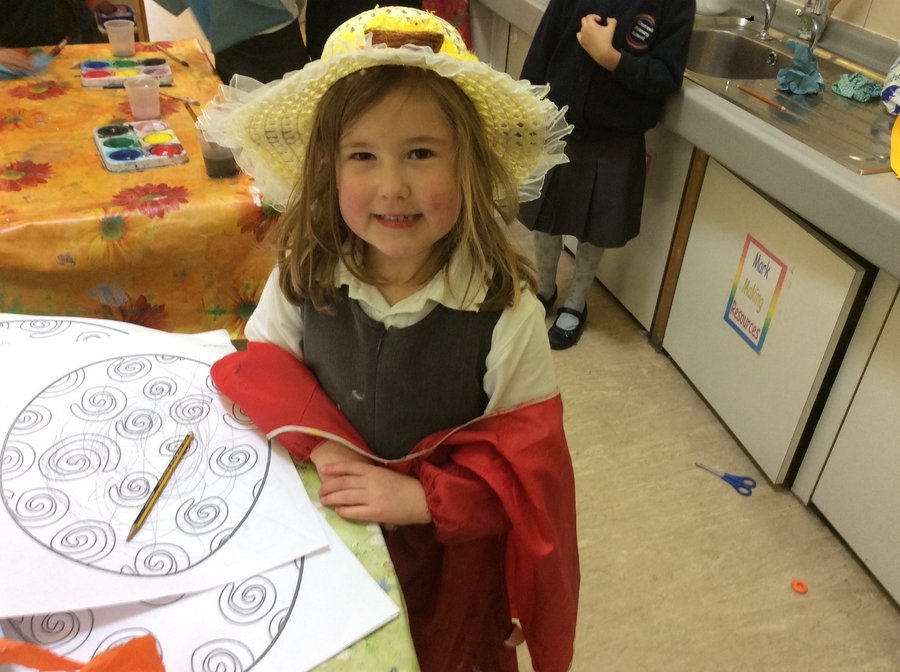 The children in Reception came to school with their homemade Easter Bonnets. They had an Easter Bonnet parade and all looked very fancy!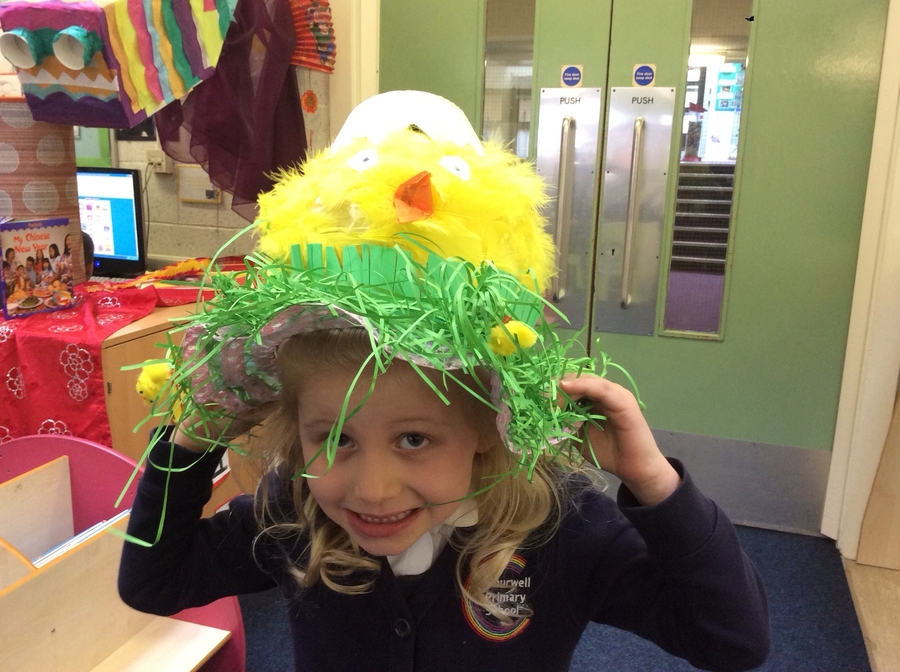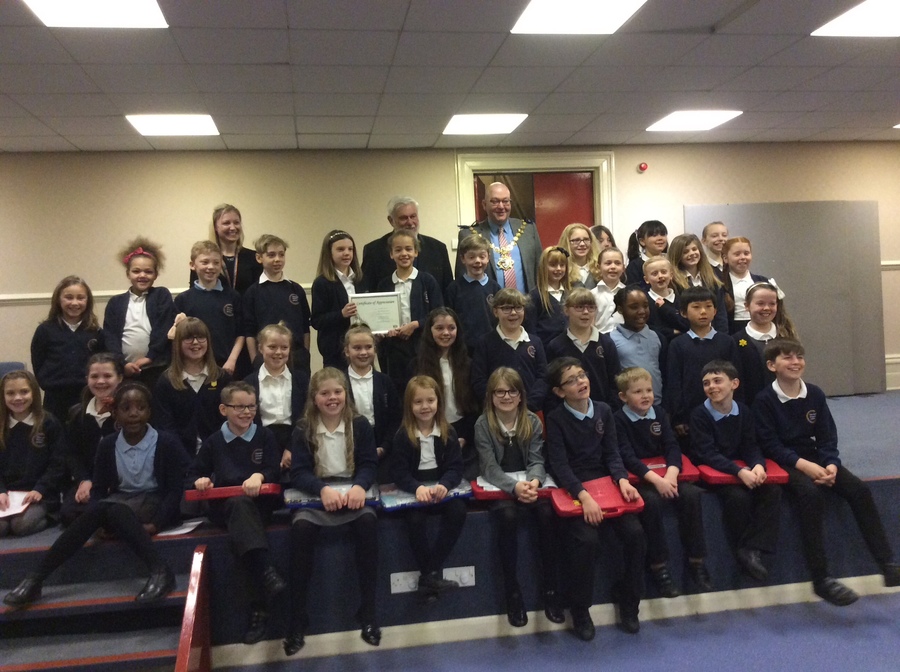 A group of children took part in the Morley Music festival on Saturday morning. The KS2 choir sang and the glockenspiel group played two pieces. All the children performed wonderfully and staff, parents and people in Morley were very impressed!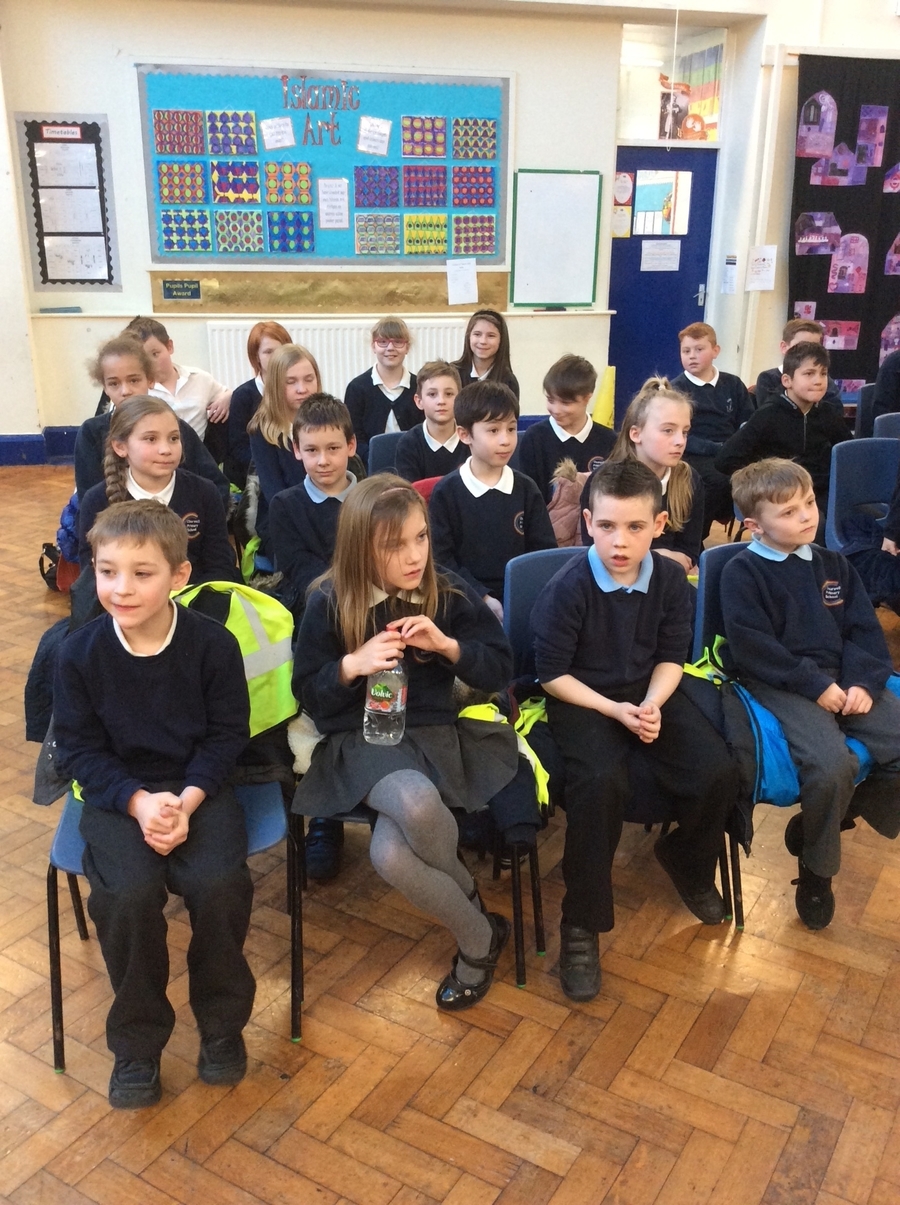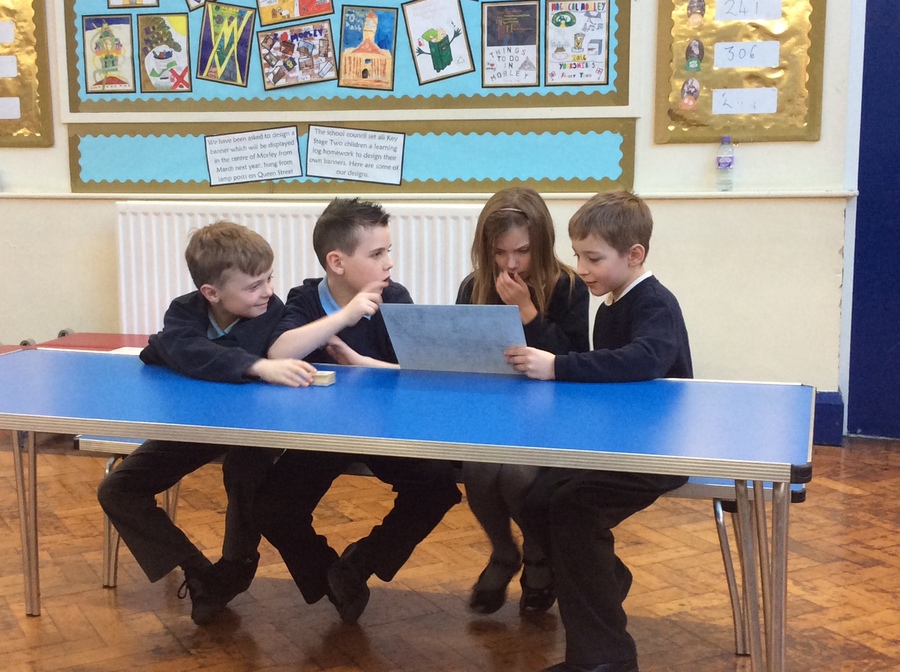 Well done to the children who took part in the Aspire Mental Maths Challenge last Thursday. The children came second overall. They enjoyed answering the questions with quick thinking and answers.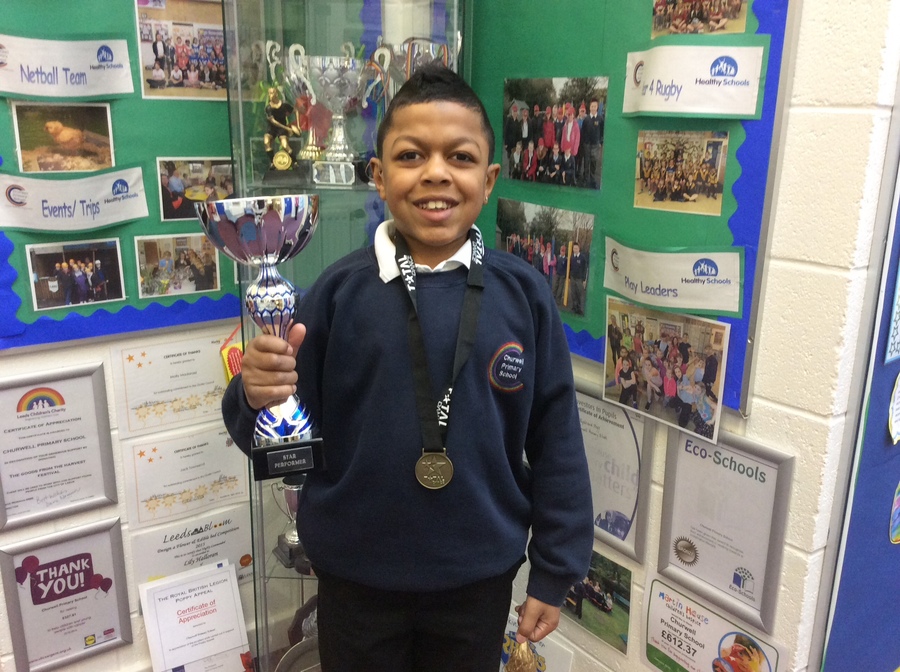 Congratulations to Tyler who won the Total Dance trophy. He is very proud of his achievement.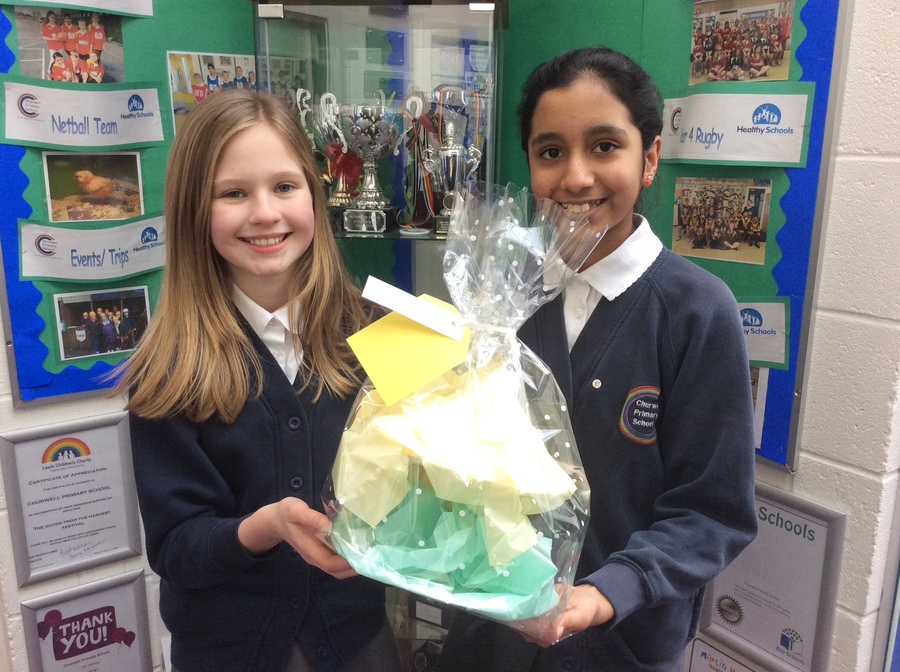 The PTA held another popular and successful Mother's Day Workshop. The children took home beautifully wrapped gifts for their special person at home.
Matthew, John, Alex and Tom are training for a Sports Relief swim in March. They aim to raise £150 for the charity. Good luck boys!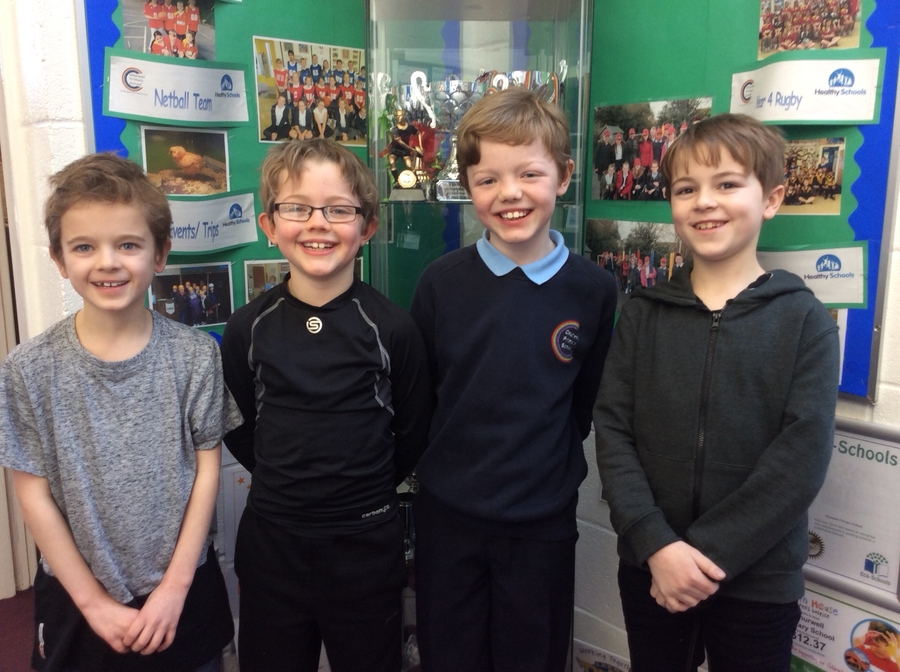 The children in Nursery have been learning about Chinese New Year. They made Chinese musical instruments and a dragons head. They came to school dressed in red or as a monkey- as 2016 is the year of the monkey!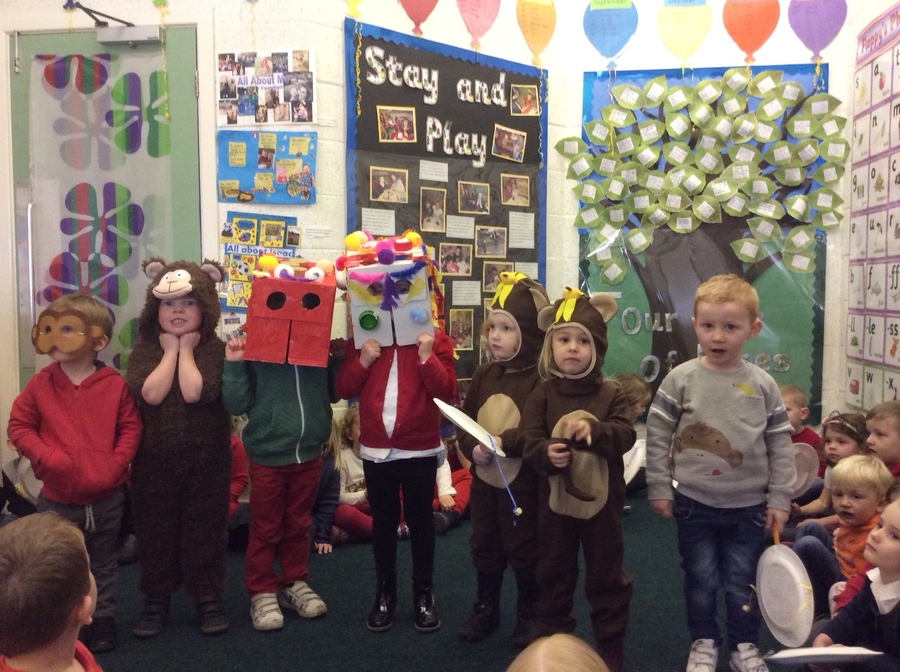 Miss Whittle and Miss Walker took a group of children to take part in an Athletics event. The team competed against 3 other schools and were pleased to achieve 2nd place! Well done to the team , who were; Amy C, Libby, Phoebe, Louise, Poppy, Erin W, Molly M, Amelia, Joe, George, Ethan, Thomas, Jack, Harry and Konner.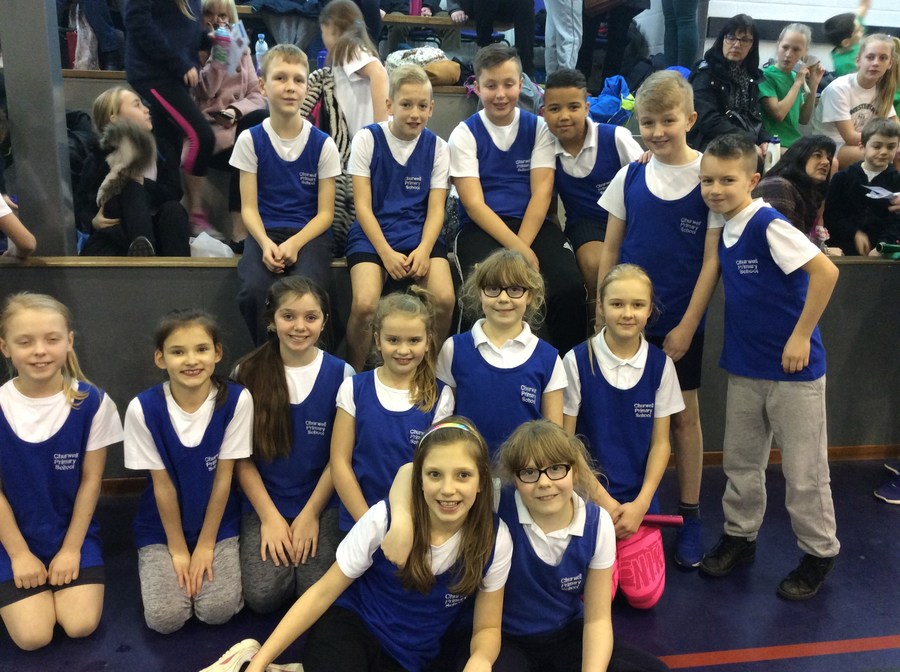 Miss Butler's class in Year 1 sent invitations for their Class Art Gallery. The children in 1DB had used paint to create paintings of their favourite toys. They were all very proud of their work!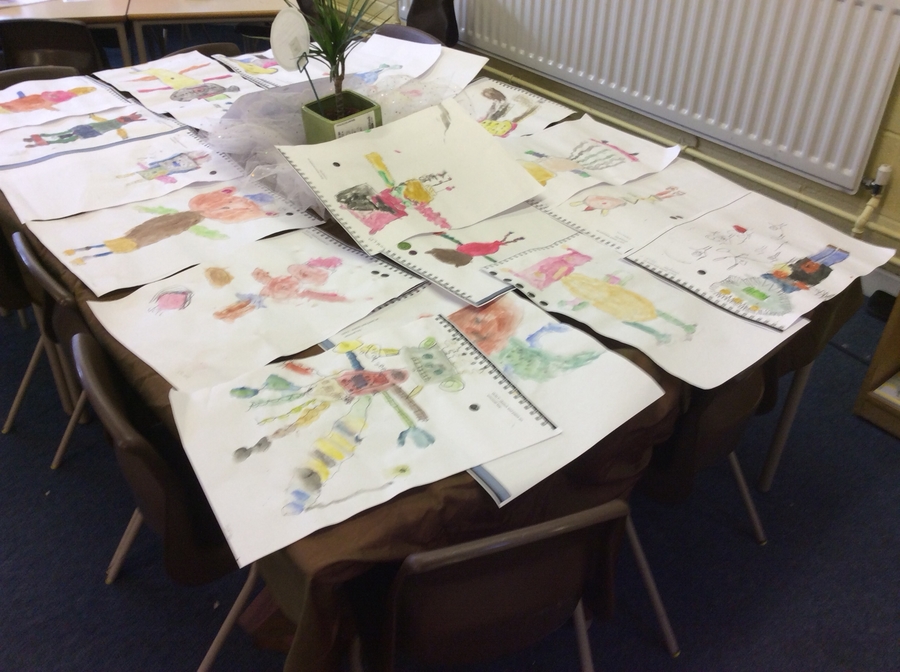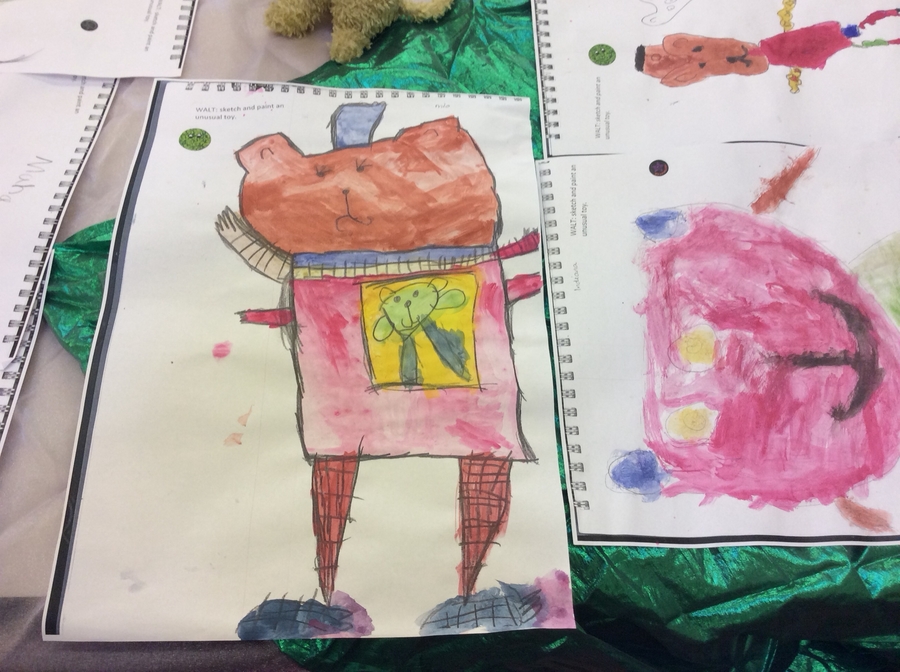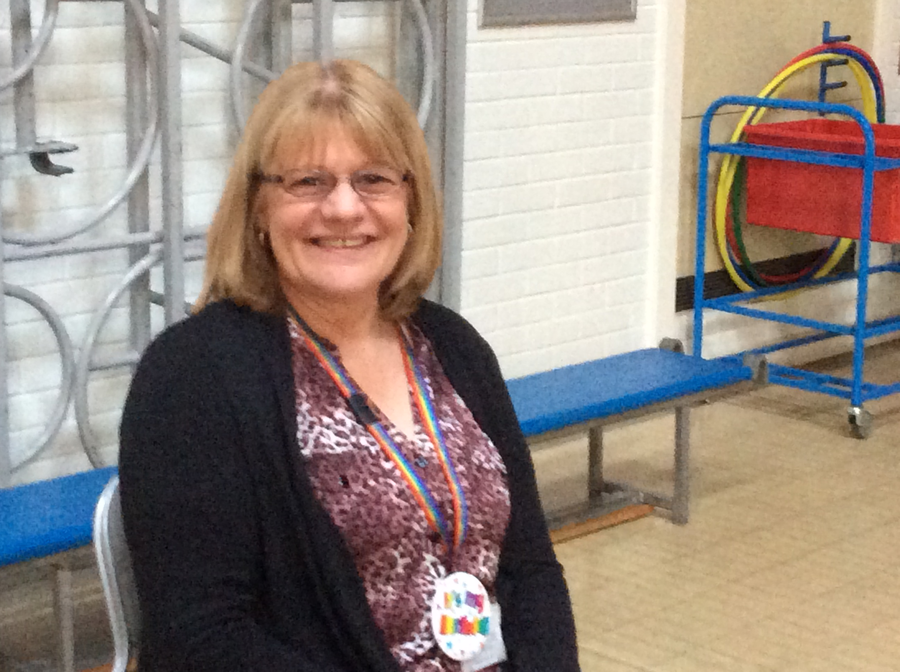 Mrs Hickes celebrated a very special birthday on Friday! The children in Year 5 and 6 sang a specially written song for her to the tune of one of Mrs Hickes' favourite One Direction songs!
The children in FS2 have been thinking about the amount of sugar in the drinks they have. This display really makes you see that water is the best for you!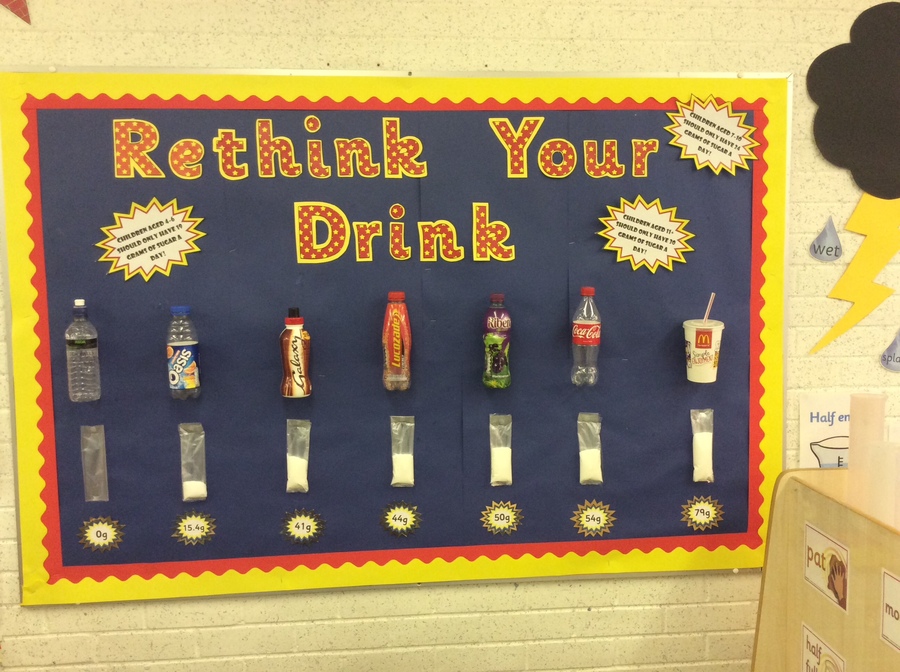 FS2 dressed up as part of their Superhero topic. Don't they look fabulous!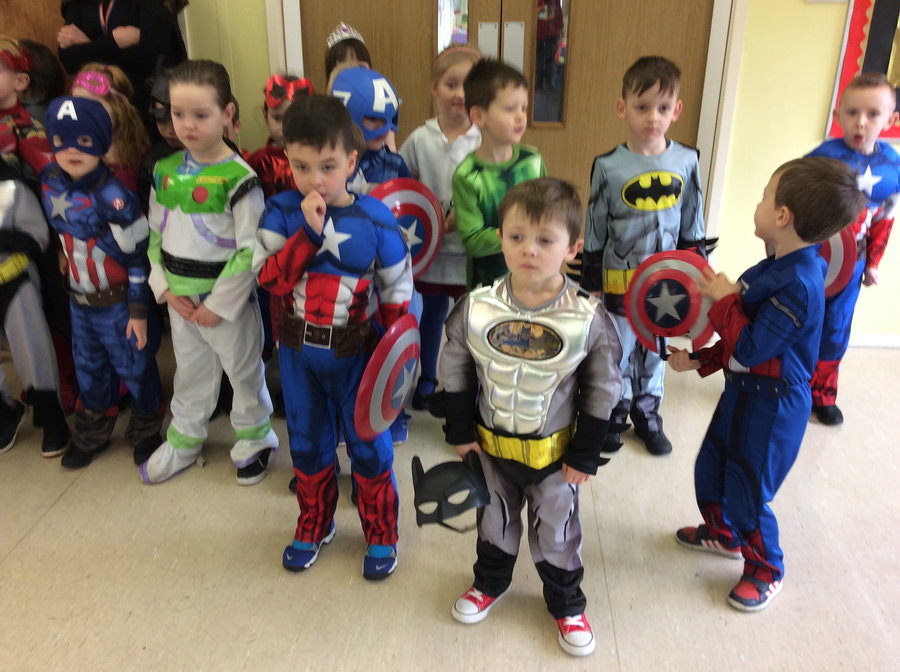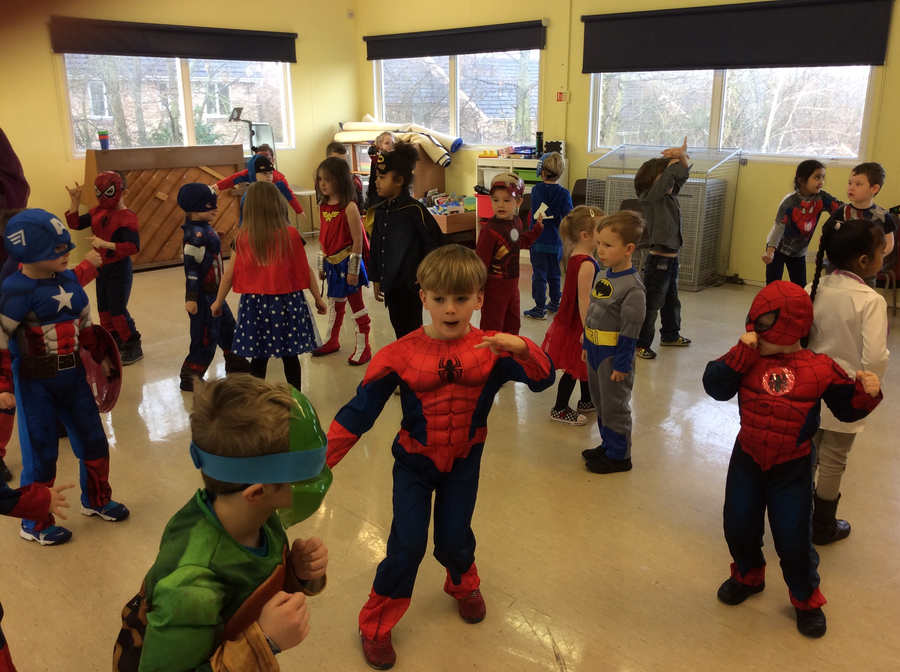 We have had a busy first week to the Spring term!
Year 4 had a visitor who talked to them about Sound. They will be using this information for their topic this half term.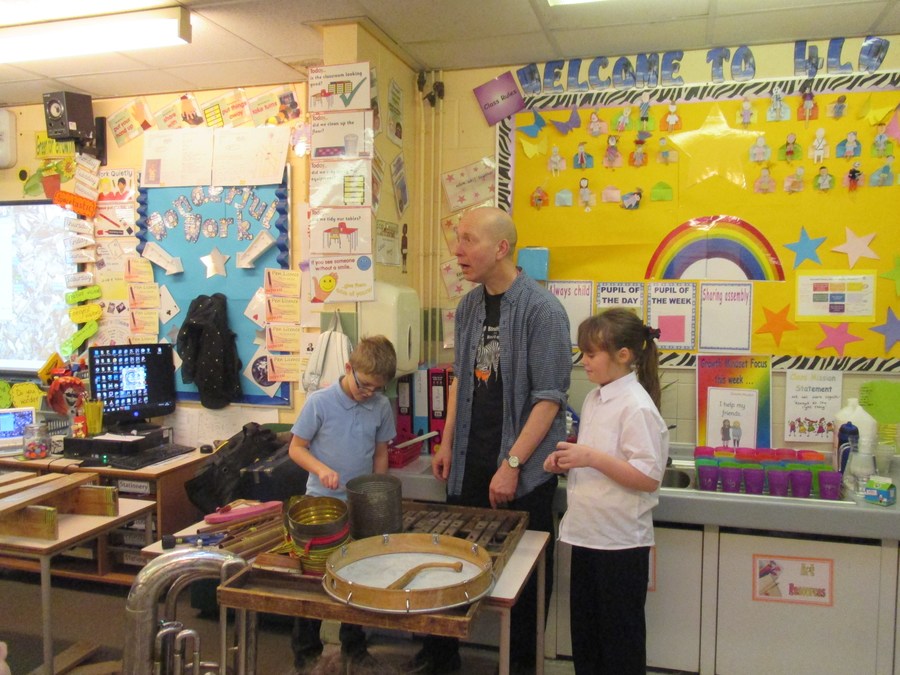 KS2 enjoyed a dance session delivered by Total Dance.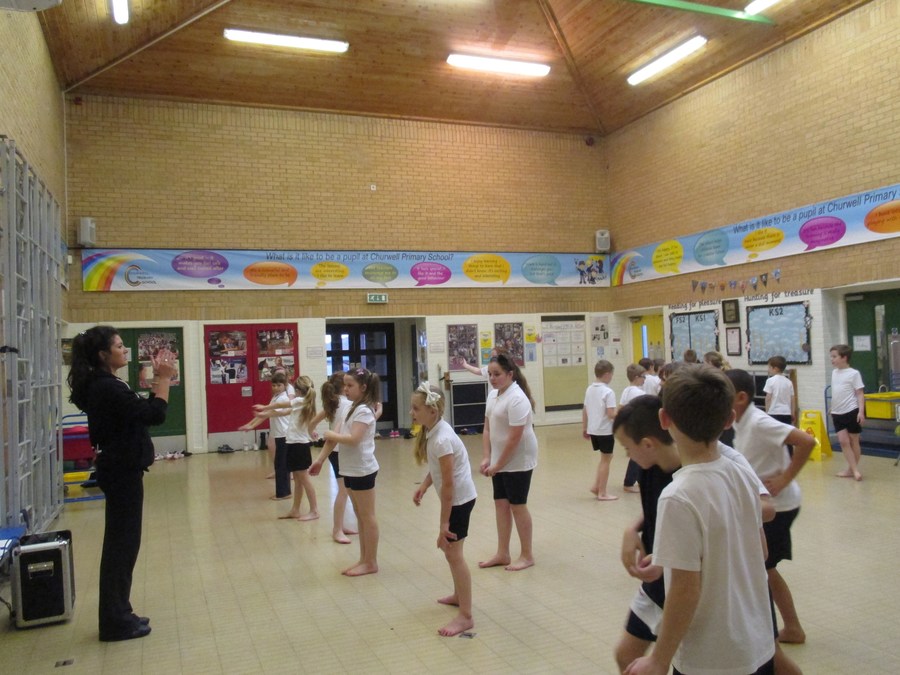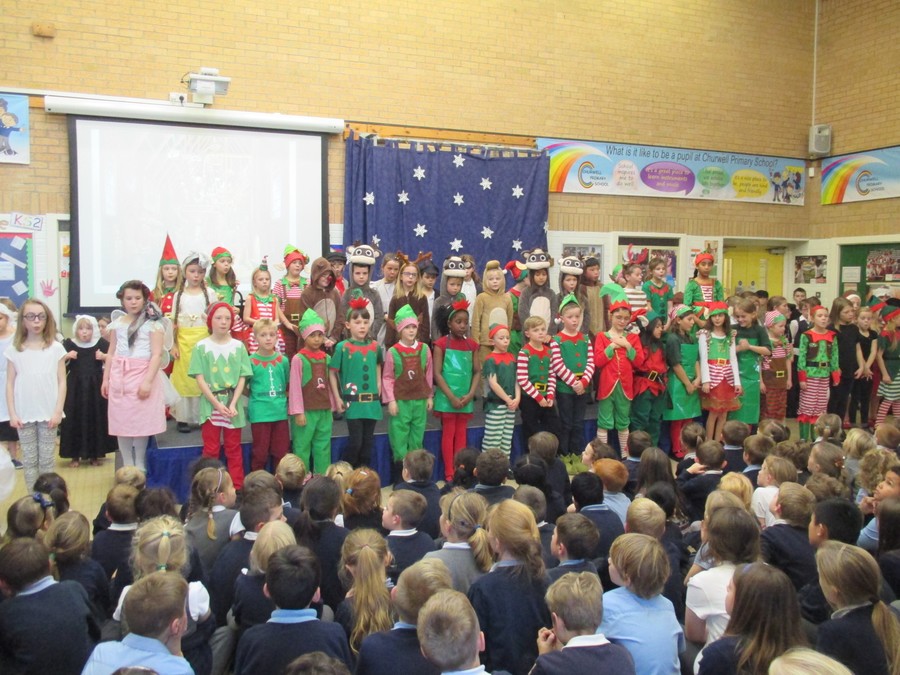 As a result of collections at our eight concerts we raised £327.81 for CLIC Sargent and £612.37 for Martin House Children's Hospice with another £120 going to St. Peter's Church. An amazing total of £1,060.18 to help others.
Thank you.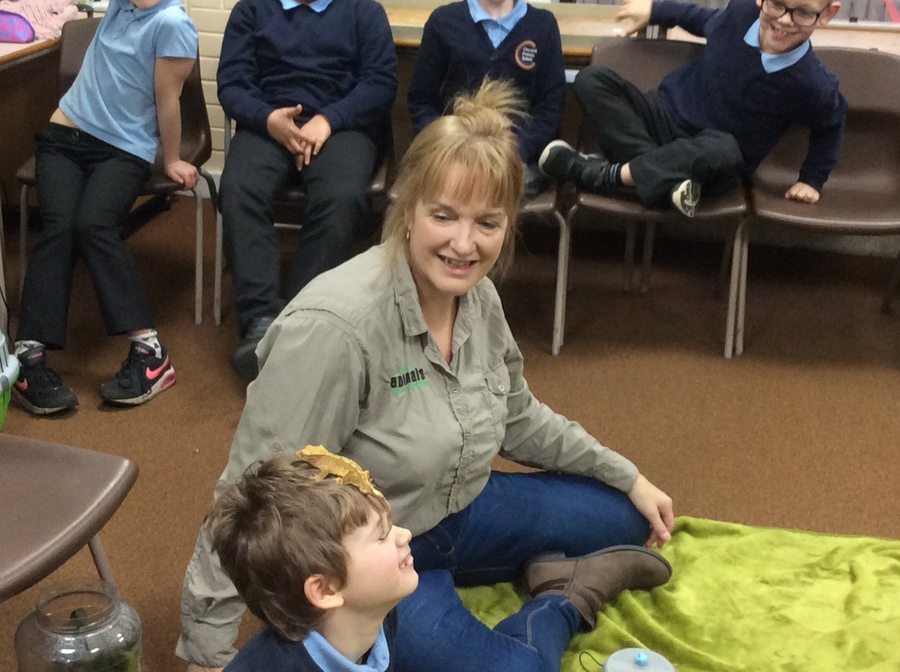 Adam had to stay really still!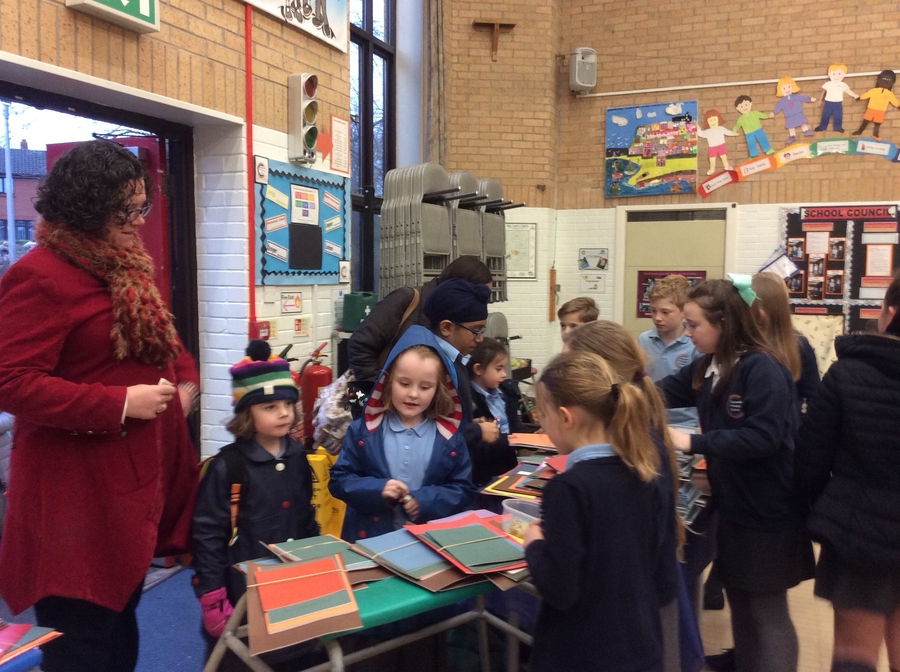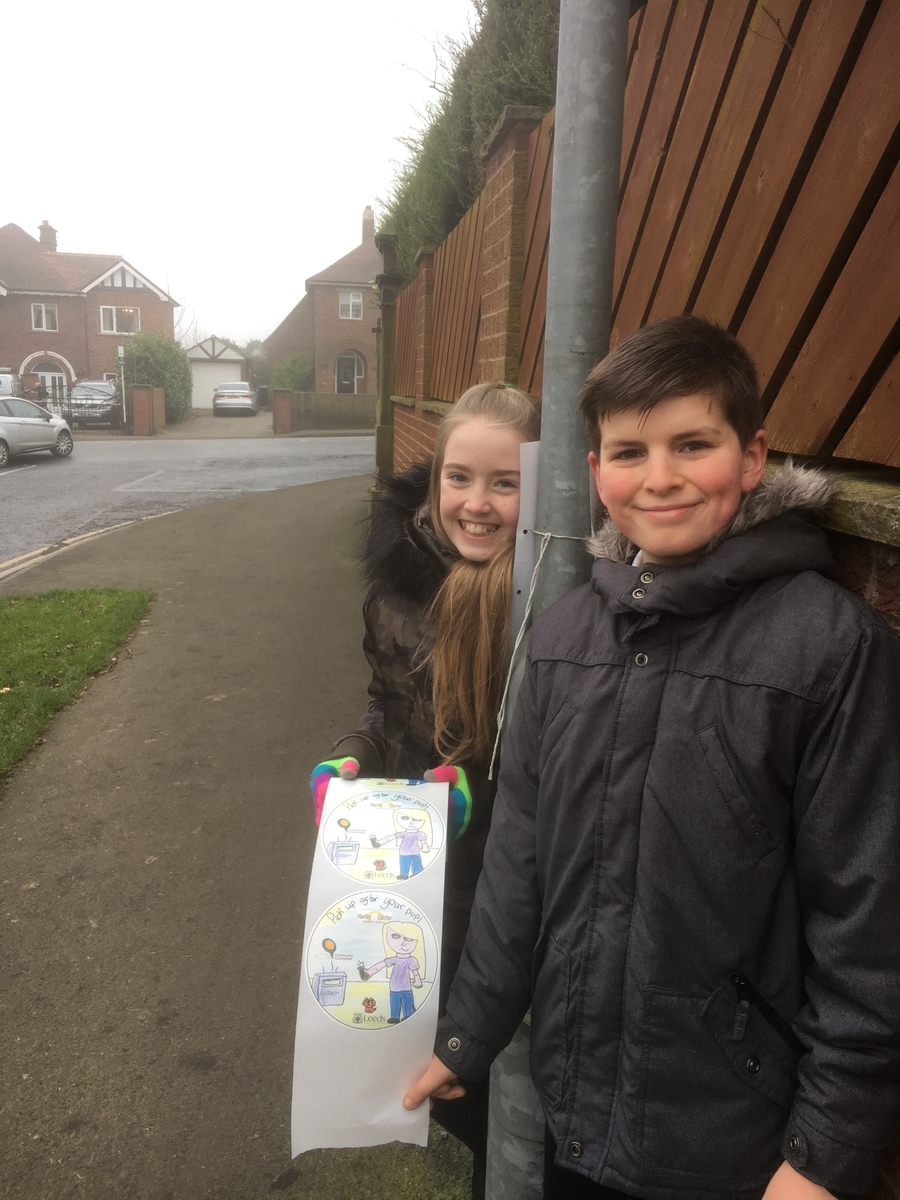 Aimee and Lucas went out into our local area to put up stickers on lamposts; this is to remind dog owners not to foul on paths and pavements. This was a project for the Morley Cluster Council last year. Mr Munro helped the children to put up the stickers in the local area.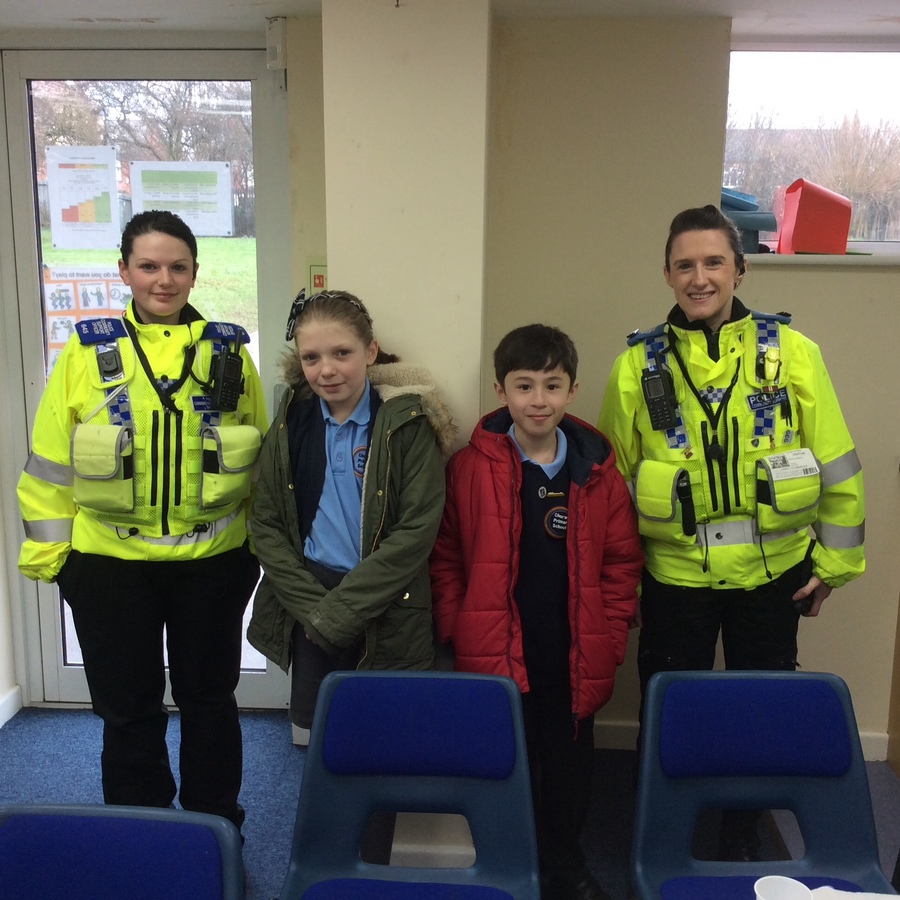 Maisie and Joshua,our Year 5 School Council representatives, went to visit Blackgates Primary. They had a tour of the school and spoke to the local PCSOs. They saw lots of great ideas at Blackgates.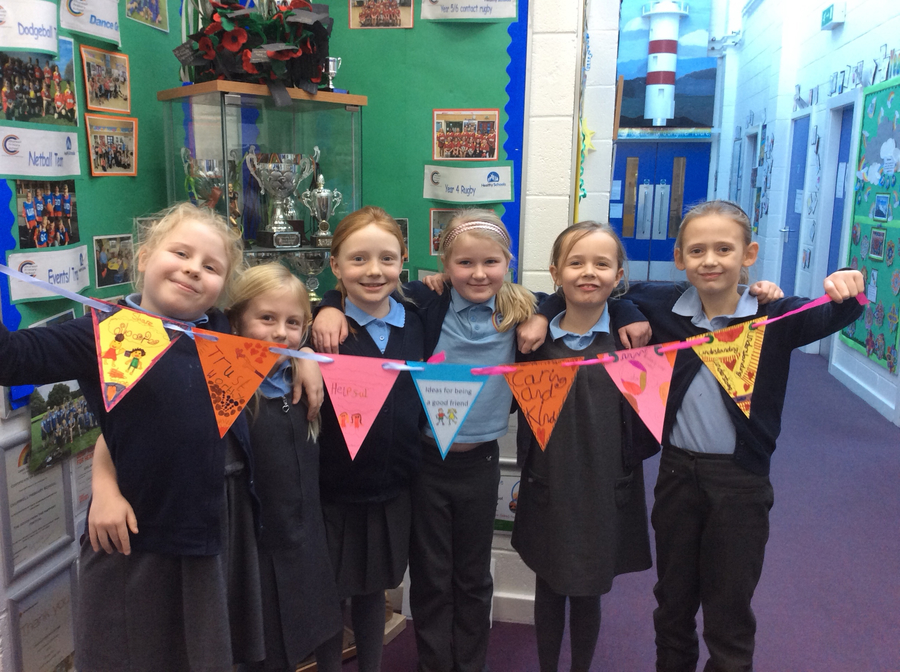 Girls from Year 3 who have worked with Mrs Hutchinson on some 'friendship' bunting which will be displayed in their classroom. We like being good friends at Churwell and looking after each other.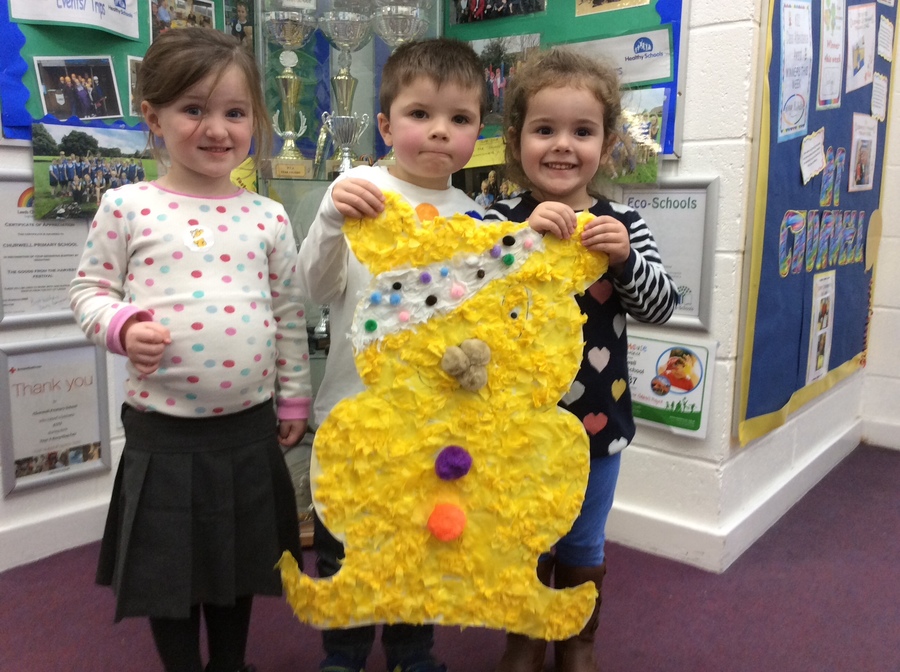 The children in Nursery worked together to make a big Pudsey Bear. The children were very pleased with their creation.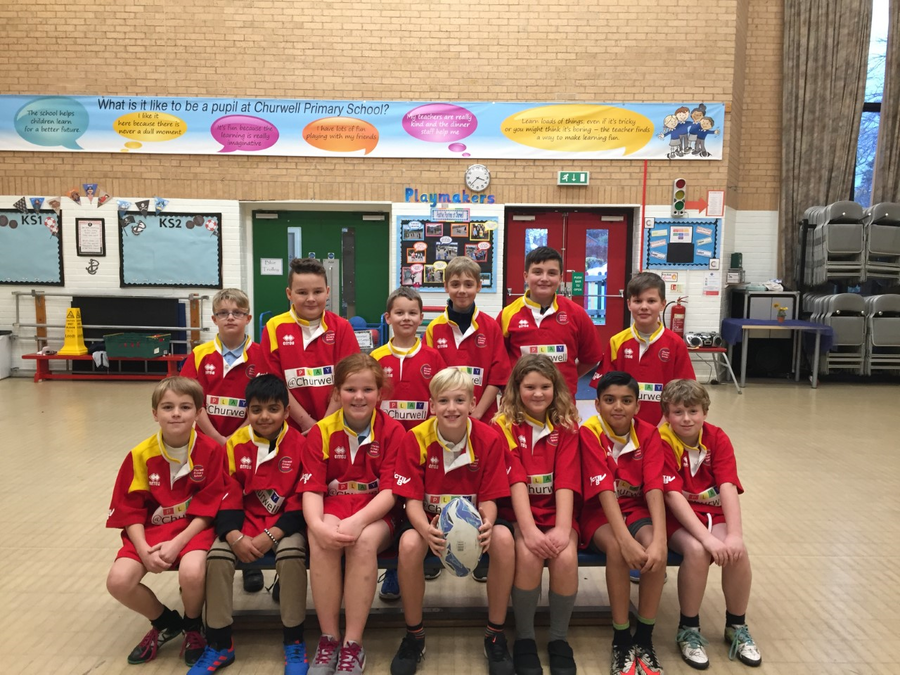 Our Year 5 and 6 Rugby team.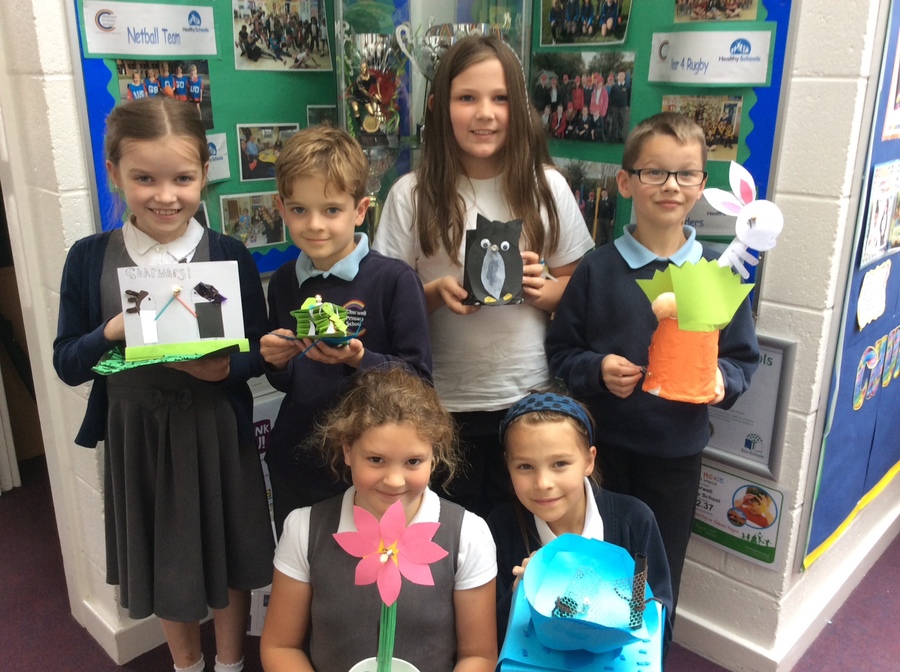 Children in Year 4 have been busy making a lamp with a working bulb. Their designs were amazing and the switch mechanisms worked very well.
We have achieved a gold 'Games Mark' award. This shows that our school promotes activity, sports and games skills.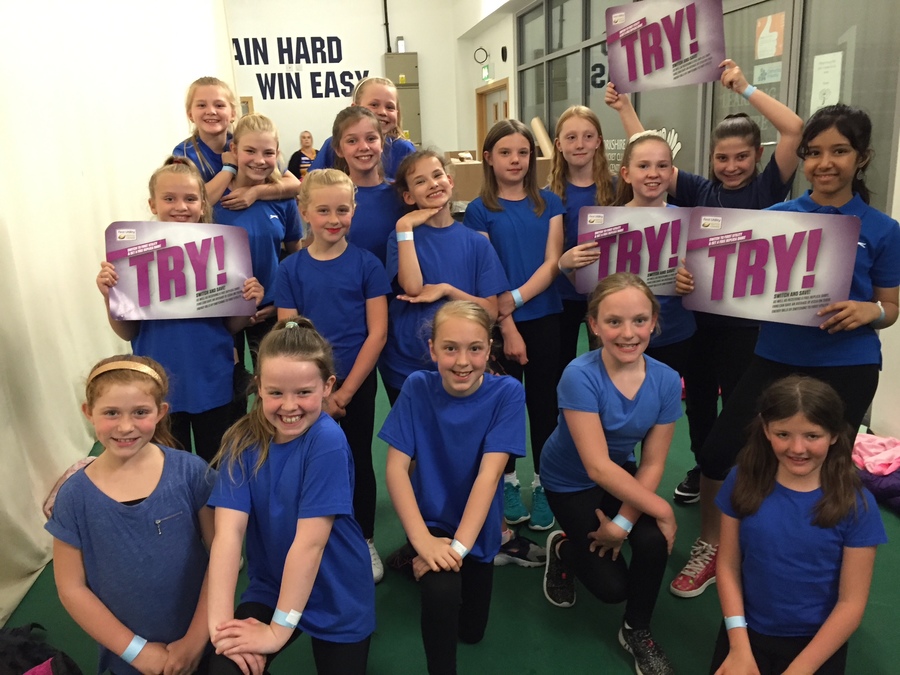 Our dance troop from years 4-6 who took part in the Dance Spectacular at Headingley Stadium.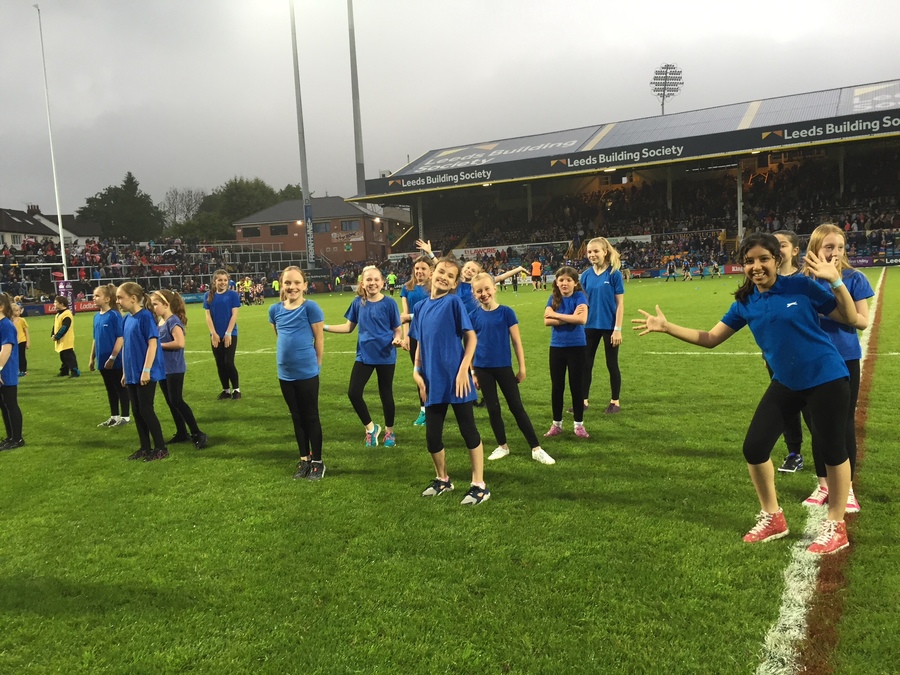 It was a bit chilly and it rained!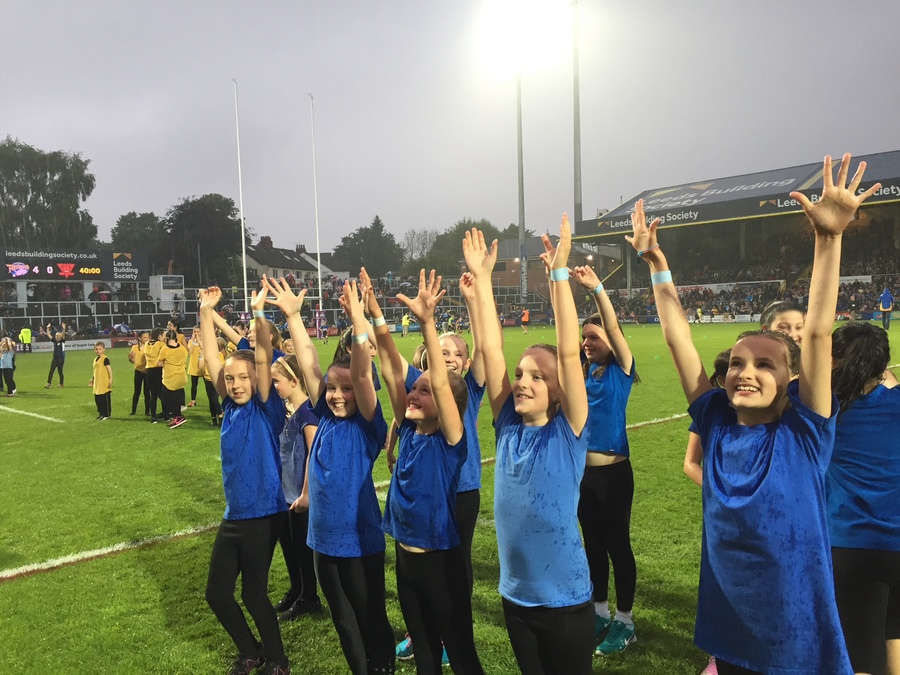 But... They kept smiling and danced in the rain. The atmosphere was electric! Well done everybody- great dance moves!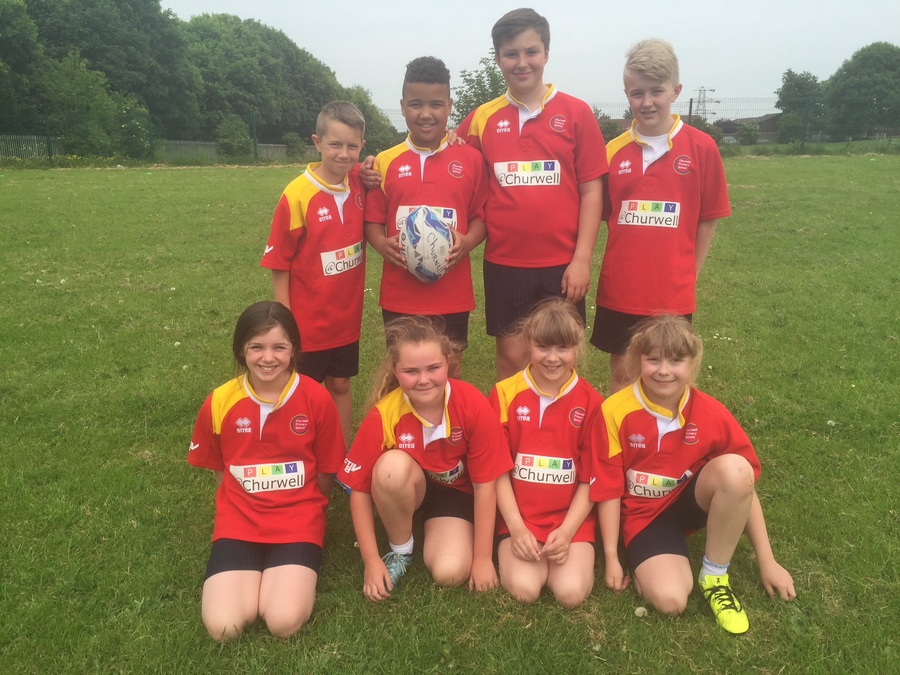 This is the team that battled it out in a contact rugby tournament at Stanningley RUFU- well done!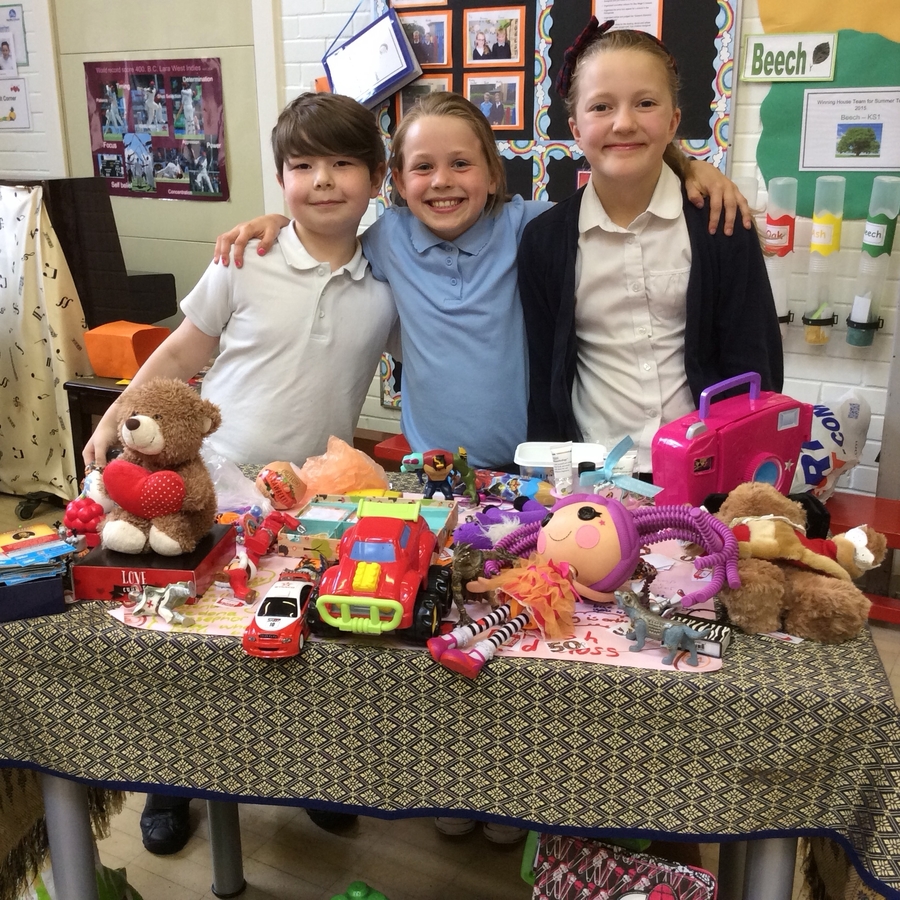 Year 4 held their recycling fair to raise money for Water Aid. There was a range of books, toys, games and uniform available to purchase.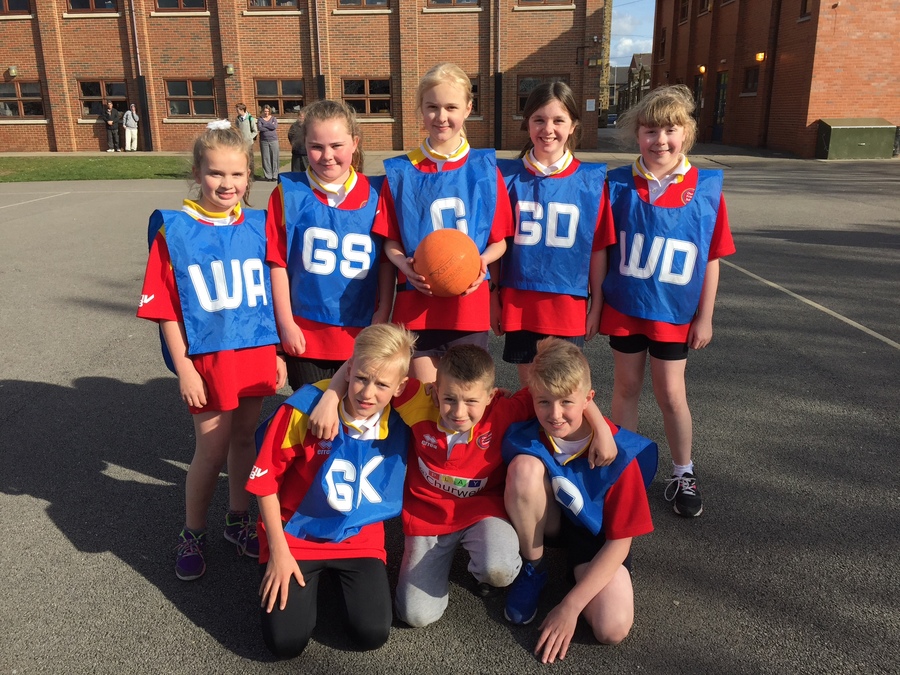 Congratulations to our Netball team who are Morley School Champions- again! Thanks to Miss Walker for supporting them.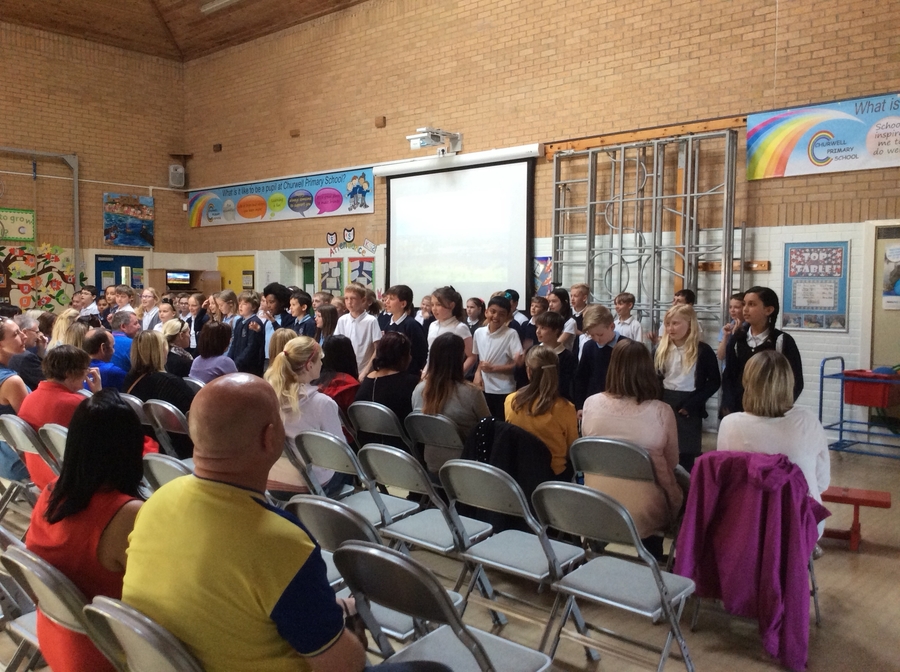 The children shared their performance poem that they composed with Conrad Burdekin last week.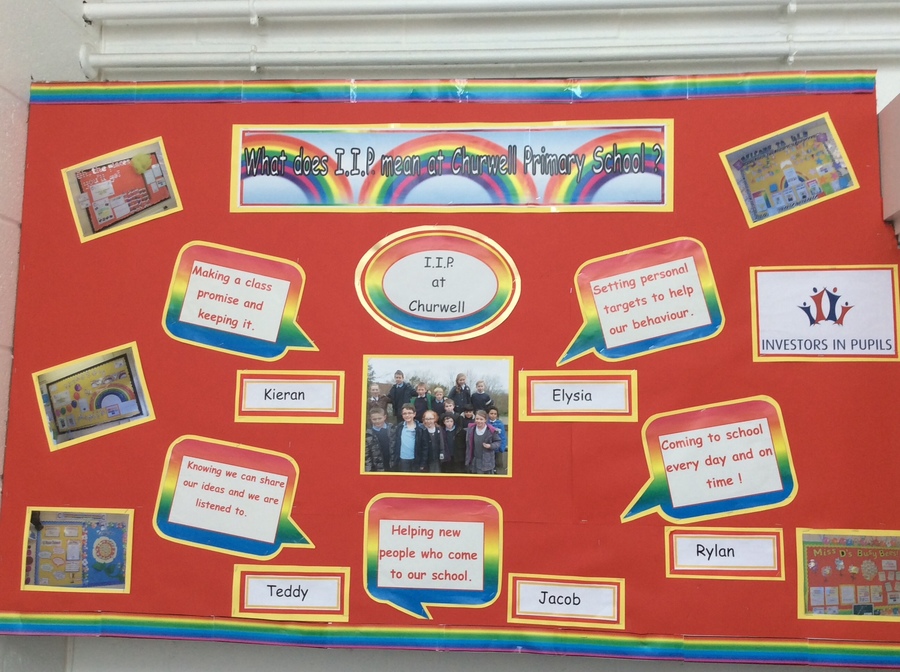 We had our IiP reaccreditation assessment on Tuesday 26th April. Mr Body, the Assessor, was very impressed with our school. He said we had fantastic children with excellent behaviour. Click on the link IiP to see his report.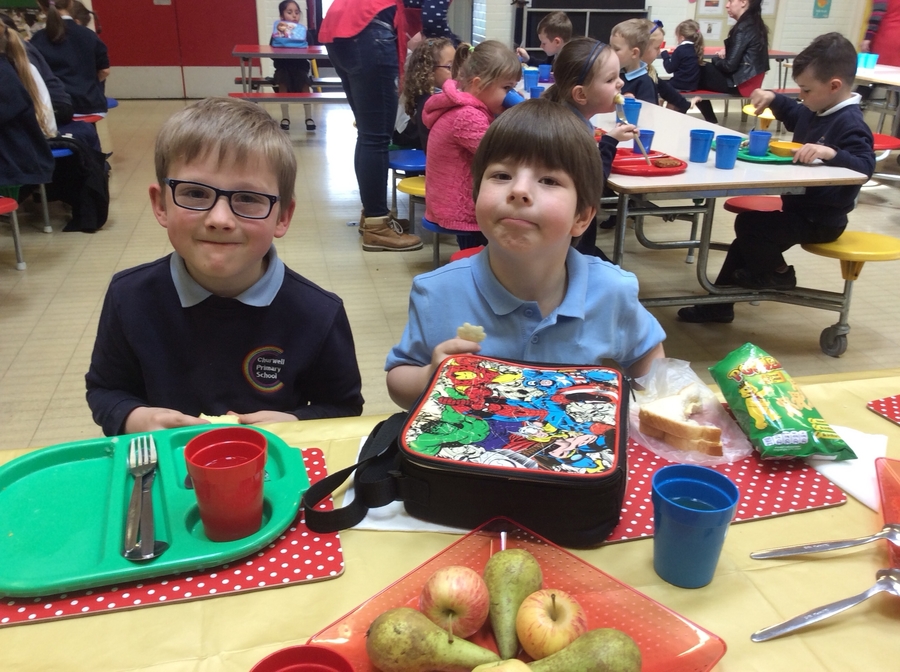 Dodgeball tournament team members. They won 5 games and lost 1.
Congratulations to the Year 4 Rounders team who took part in the Aspire tournament run by TSC. This is the second year we have won the trophy; much to Miss Walker's delight!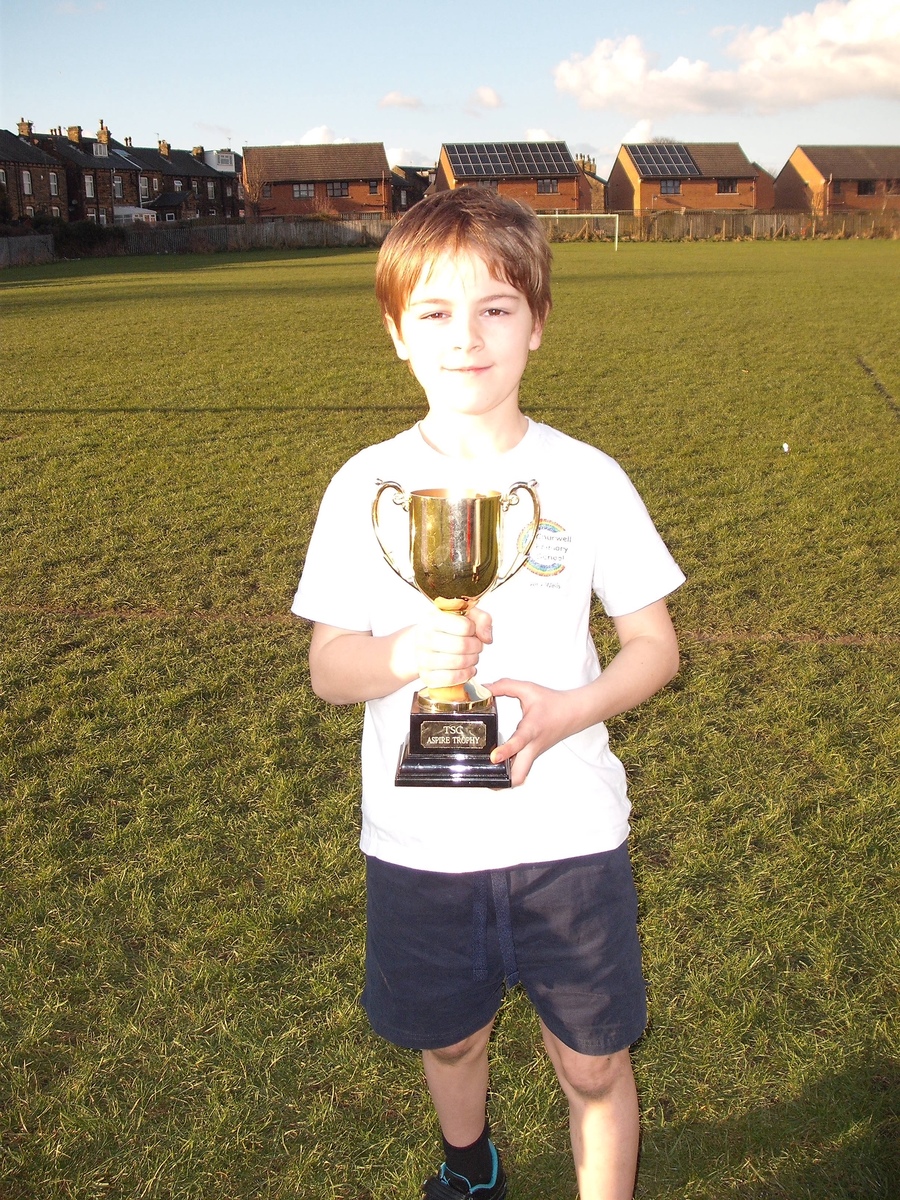 The children in Nursery enjoyed an Easter Egg Hunt. There were lots of eggs to find. The children then used them to count numbers up to 10.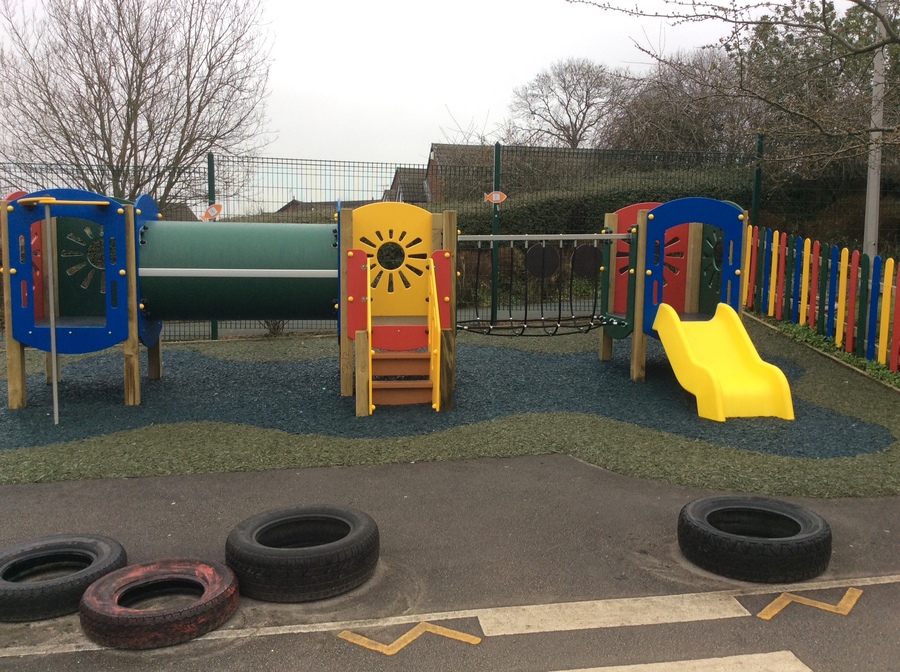 The new playground equipment in the Nursery area looks fab! The children have really enjoyed playing on it.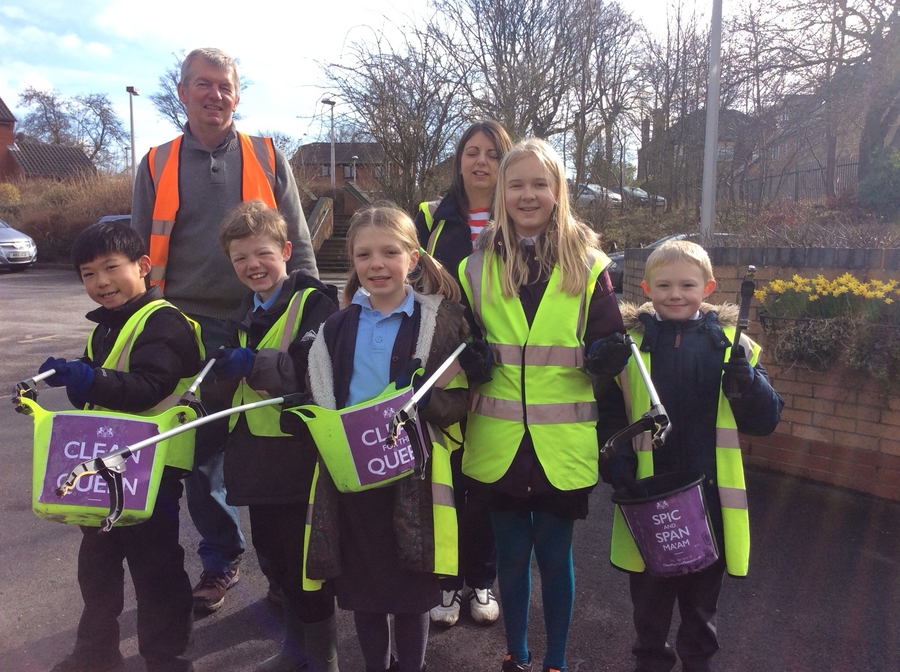 The Eco Council took part in the 'Clean for the Queen' litter pick in the local area. They collected five bags of rubbish!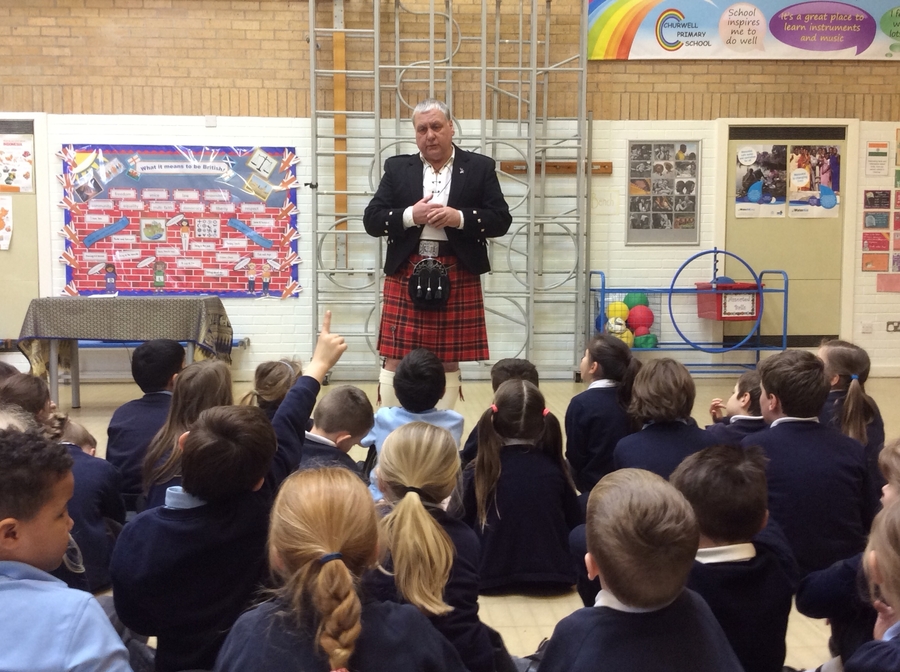 Mr Munro looked great in his kilt when he spoke to the children in Year 2. Mr Munro talked to the children about living on a island in Scotland, just like Katie Morag!
Ashton Dees has had great success swimming for City of Leeds. He has won 2 silvers and 2 gold medals at a recent competition. He has also been chosen to represent Yorkshire. Very well done Ashton!
4GA have been busy making musical instruments for their Learning Log homework. The children used different materials to create a wonderful range of instruments.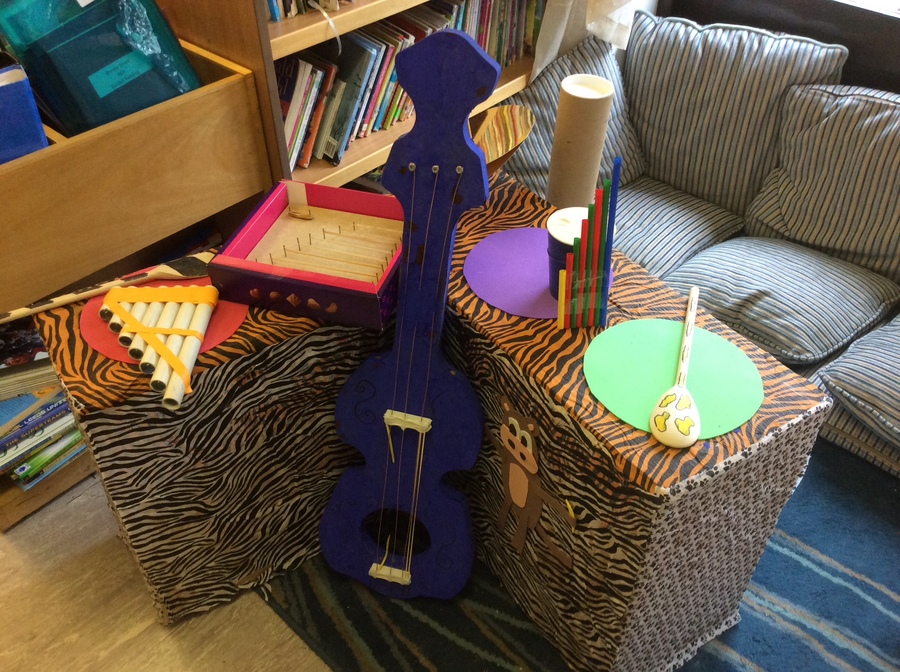 Some of our Governors spent a day in school. They spent time in the classroom, playground, joined in with activities and even had a school dinner! The Governors really enjoyed their day and got a 'feel' for a typical day at Churwell.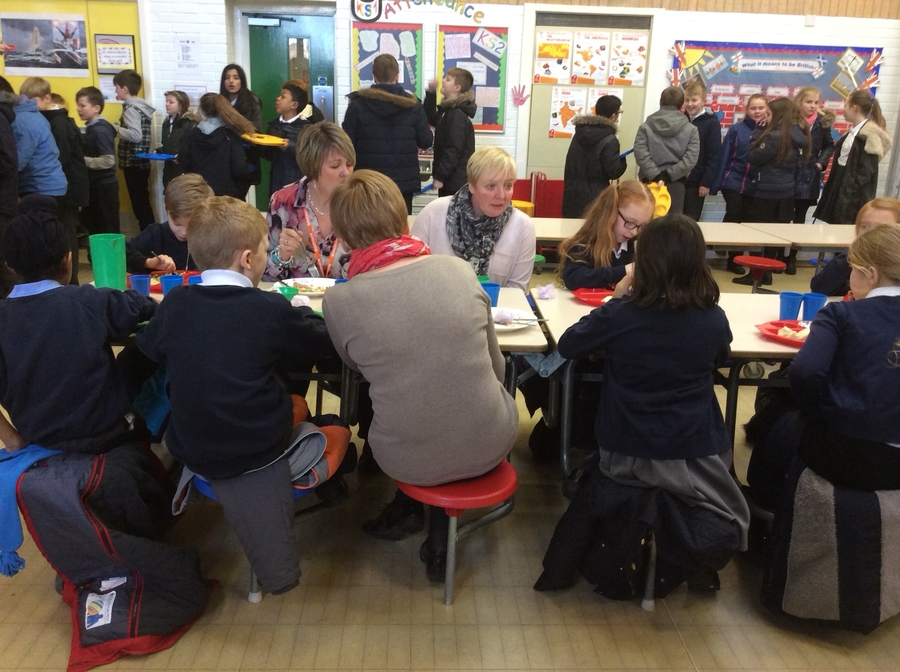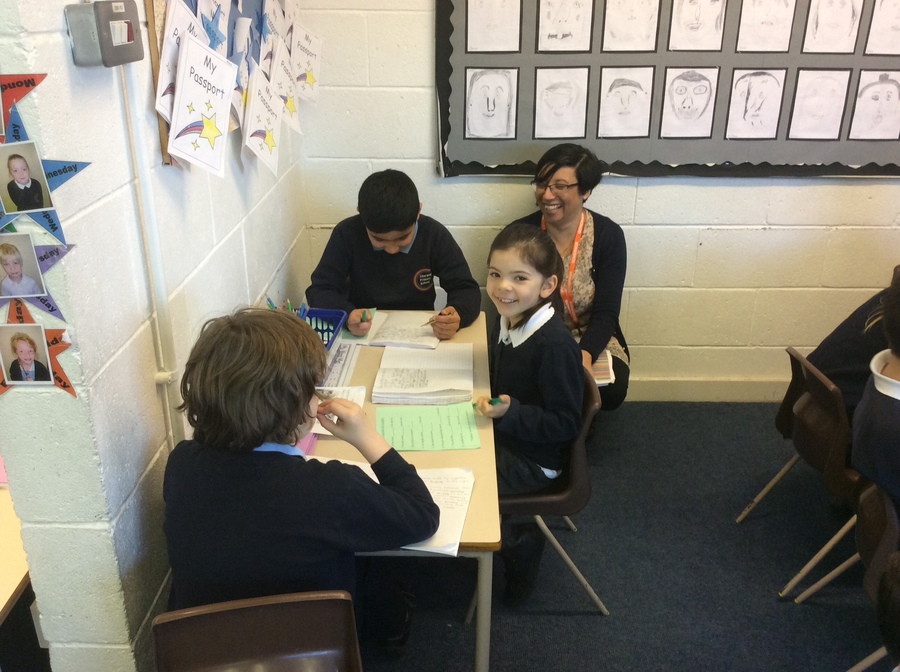 Year 6 children went on their residential trip to Robinwood. The group arrived safely at about 11.30am. They had a steep climb to their accommodation! The children were allocated their rooms and after lunch began their first activity. It was cold but dry for the three days so plenty of warm layers were needed!
Our Christmas tree 2015 - the children in each year group used recycled material to make our tree decorations.
It looks fabulous!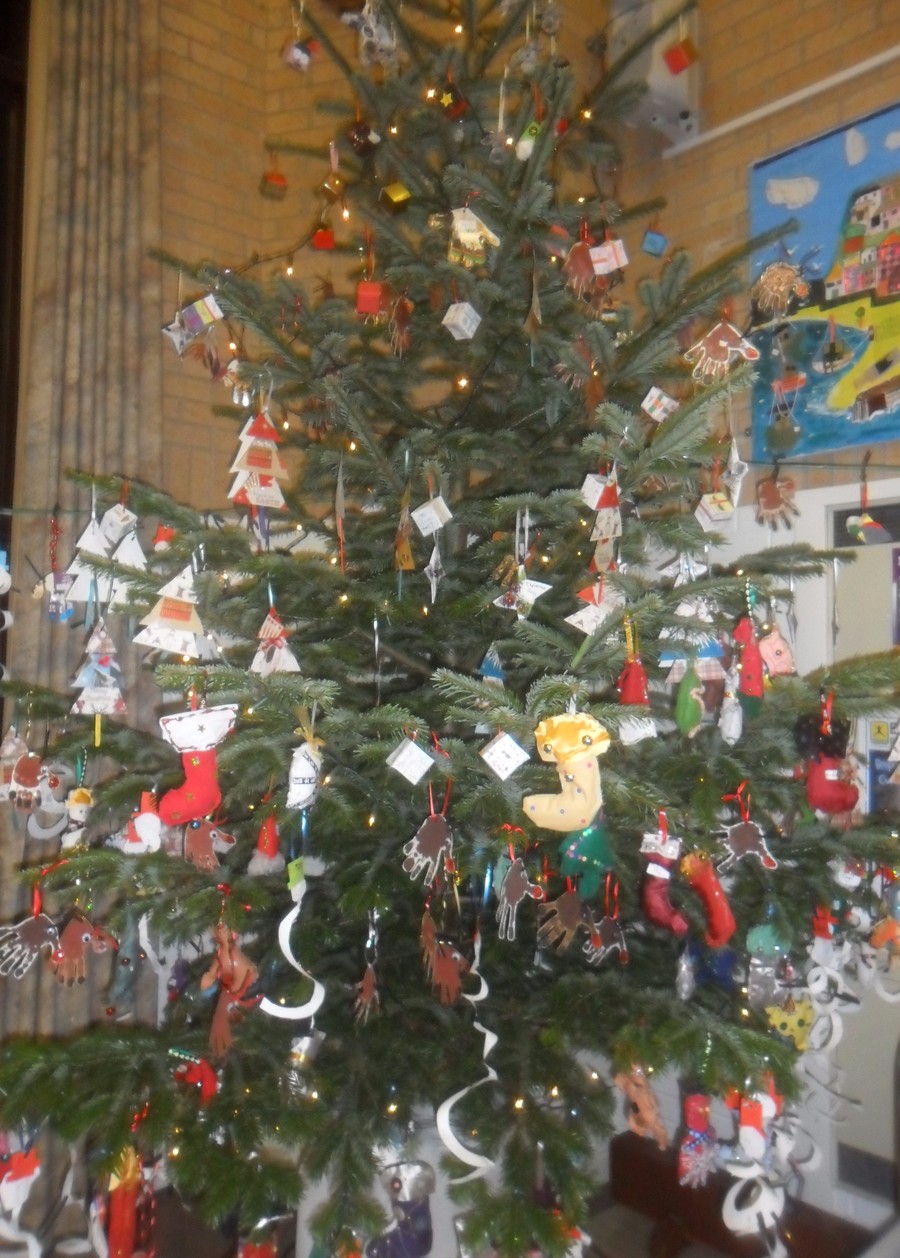 Children in Need 2015 - dress as you please day with stripes raised £454.44 including the £108 from the PTA Cake Sale.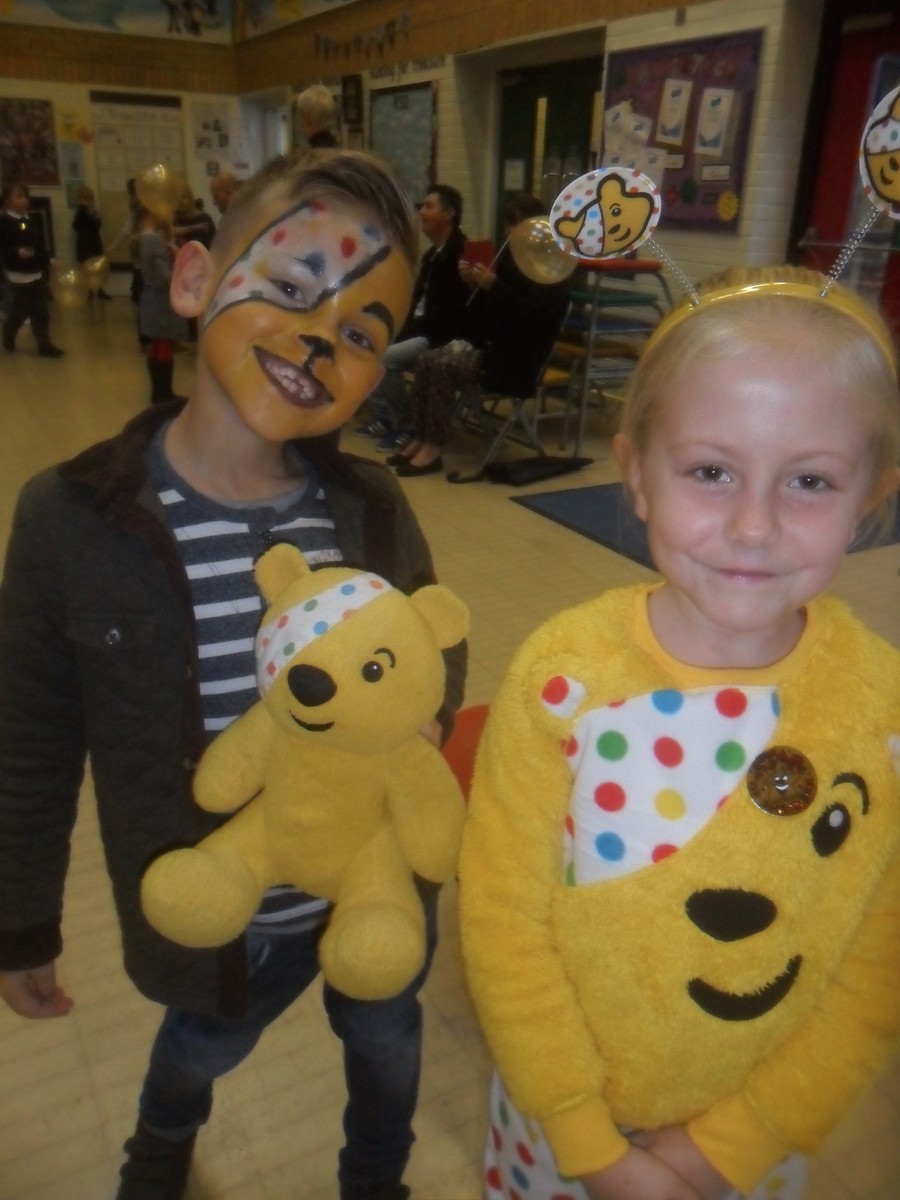 Churwell Primary School attended the Remembrance Service at Churwell Cenotaph on Sunday 8th November at 9.30am. Below is a picture of Ethan and Olivia representing Churwell Primary School at the service.
Our Poppy Appeal for 2015 raised £307.20.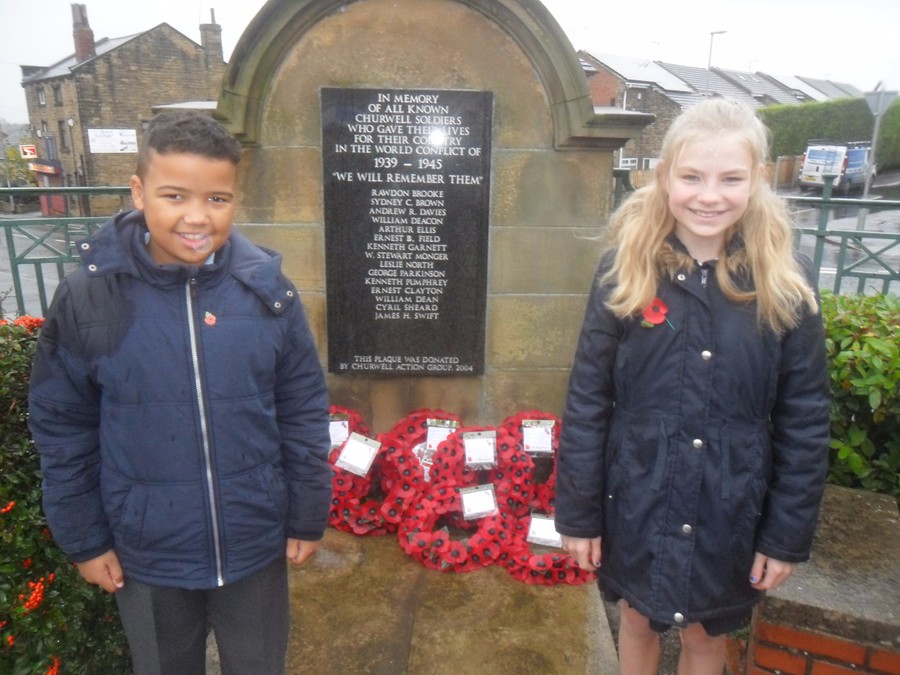 Churwell Primary School have made a small Remembrance Garden near our main entrance to school, under the notice board. Mason and McKenzie enjoyed preparing the ground and planting it out.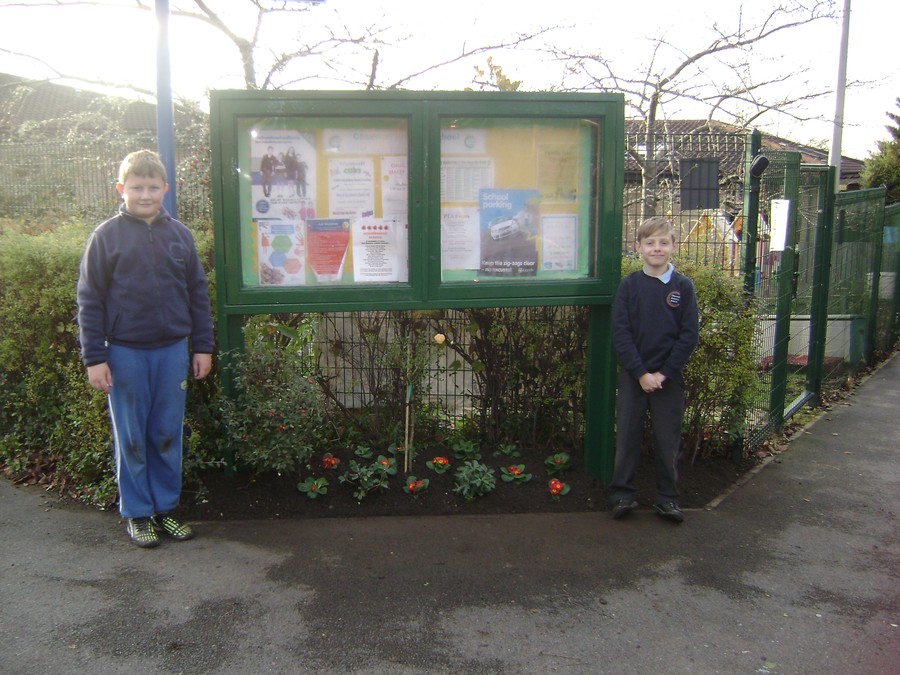 Isha performing an Indian dance to the KS1 children.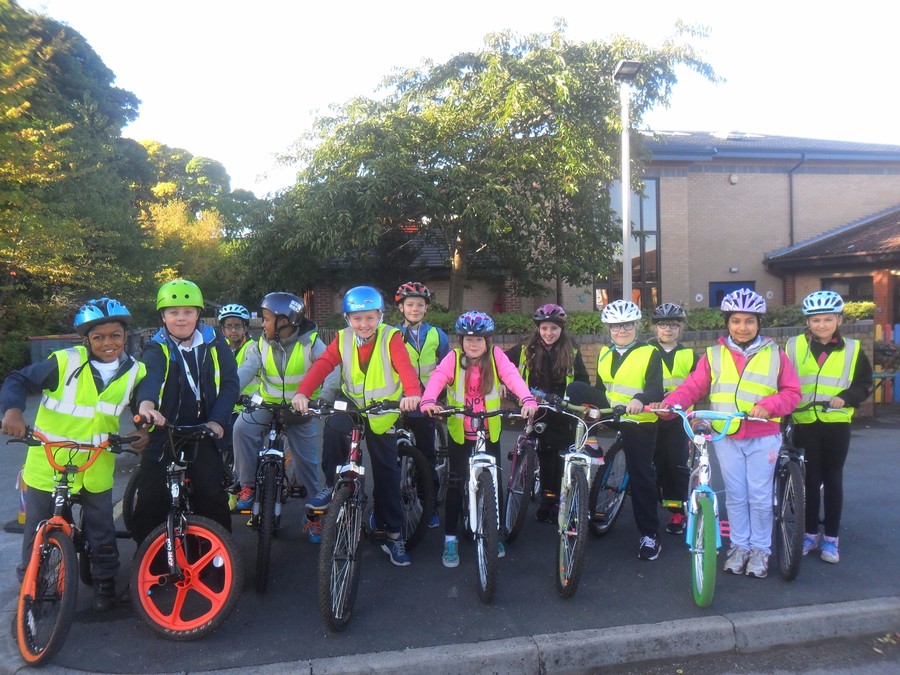 Year 6 taking part in the Leeds City Council 'Bikeability' scheme. Over the week 36 children will be trained.
KS2 presented their 'Song for Peace' assembly to parents and carers. Over 60 parents attended to listen to the recorder group play 'Peace perfect peace'. The children also sang 'I've got peace like a river' and the 'Song for peace'. The readings were taken by our Head Boy and Girl and our Deputy Head Boys and Girls.
Children in Year 3 - making purses in their art and design lessons.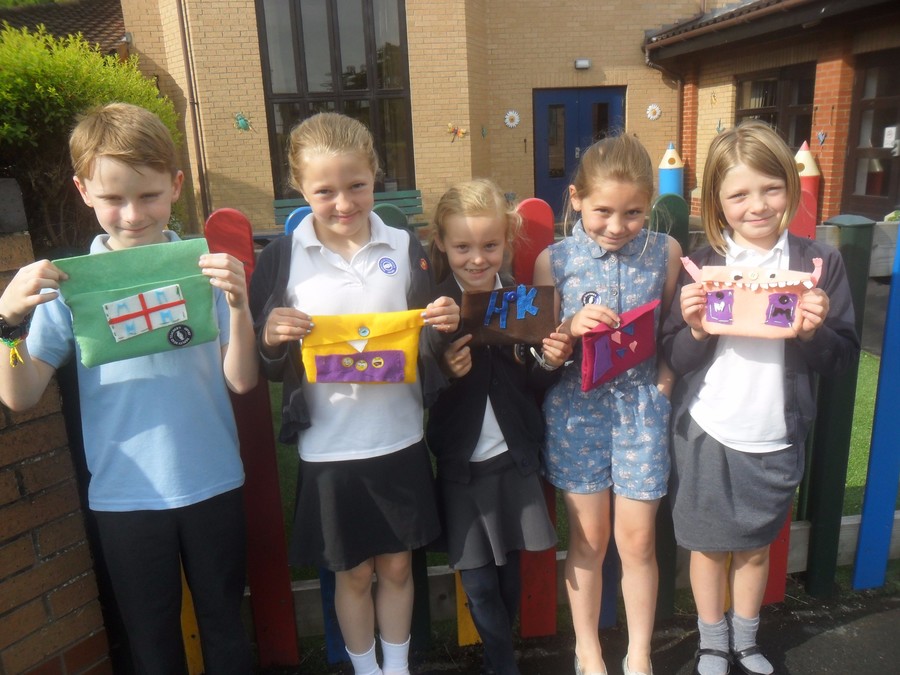 38 children, in KS2, take part in the Morley Junior Schools Sports Day - the Churwell team below.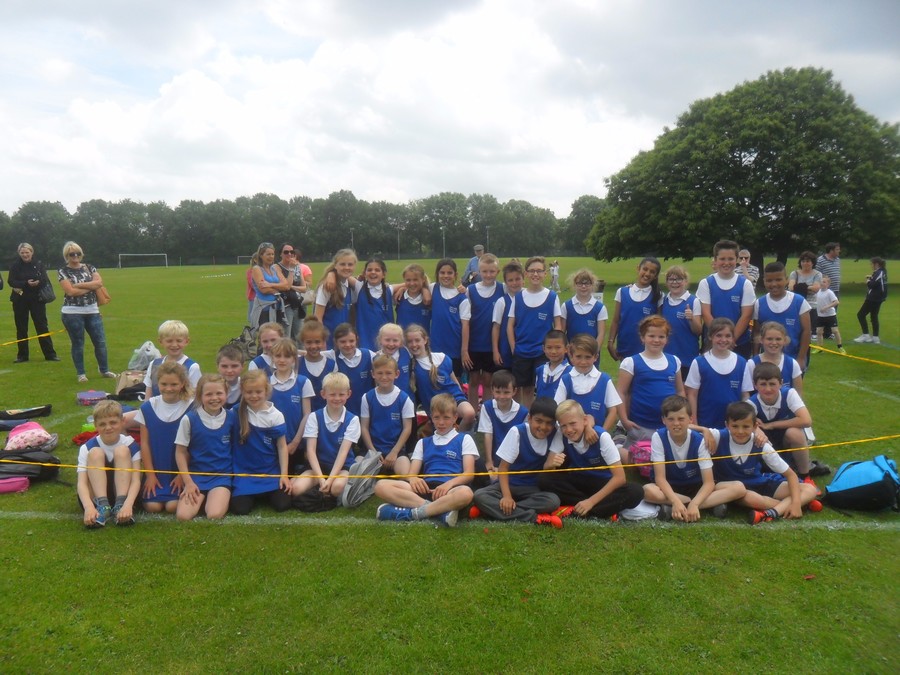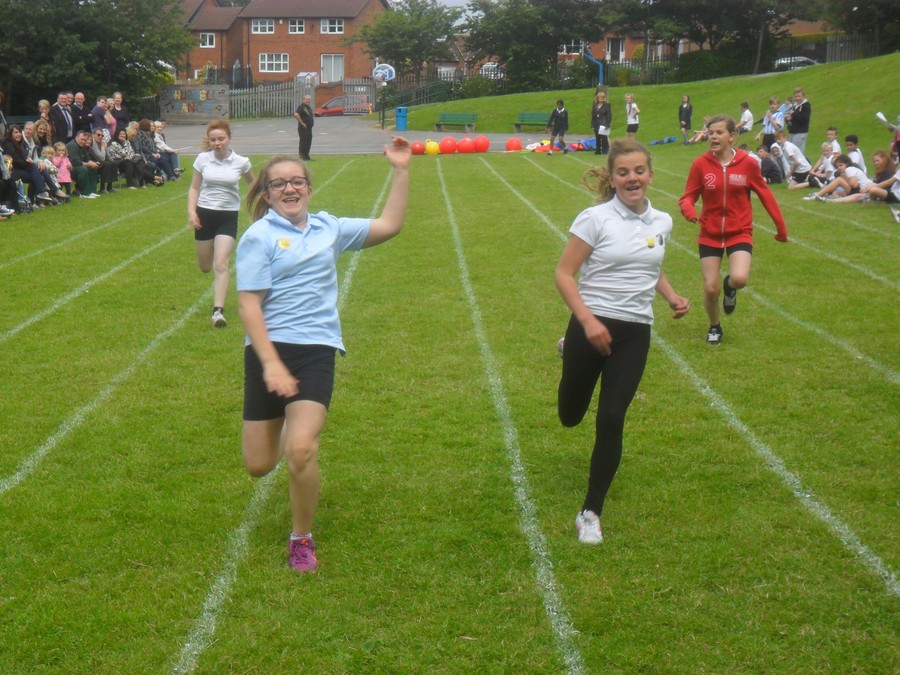 It's the start of Sports Days and true to form the weather is unpredictable. Sun followed by heavy showers. Year 6 did manage their sports, only for heavy rain to fall right at the end! Ahh well.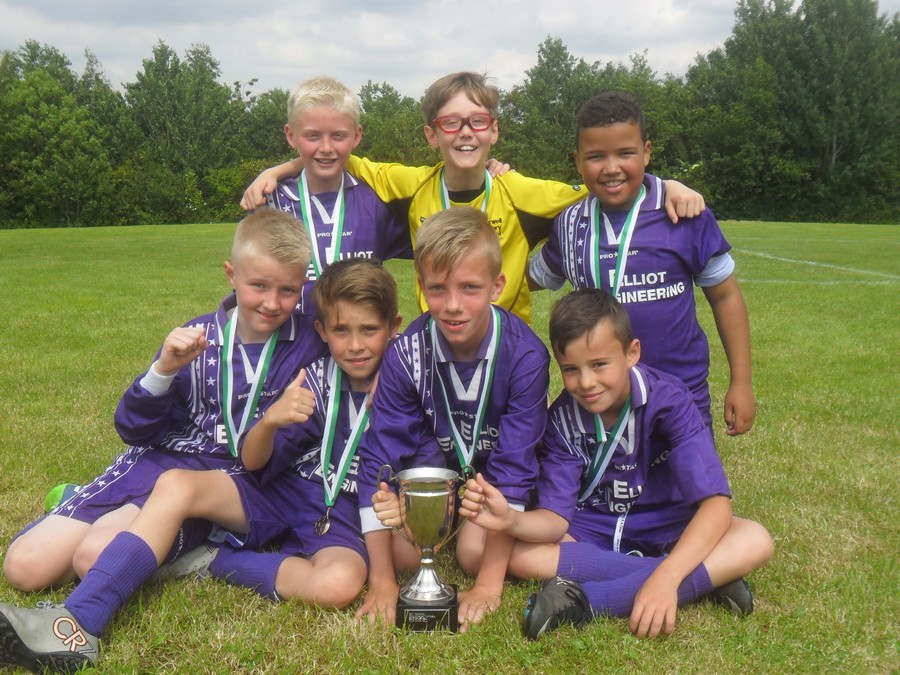 The U11 6 a side team retained the ASPIRE Springfield Cup by beating Morley Victoria 1 - 0 in the final. The Year 5/6 team played against Year 6 children but still came out on top. The cup is played between Asquith Primary, Fountain Primary Churwell Primary and Morley Victoria Primary. Churwell have won the competition 4 times since it was first started five years ago. Well done.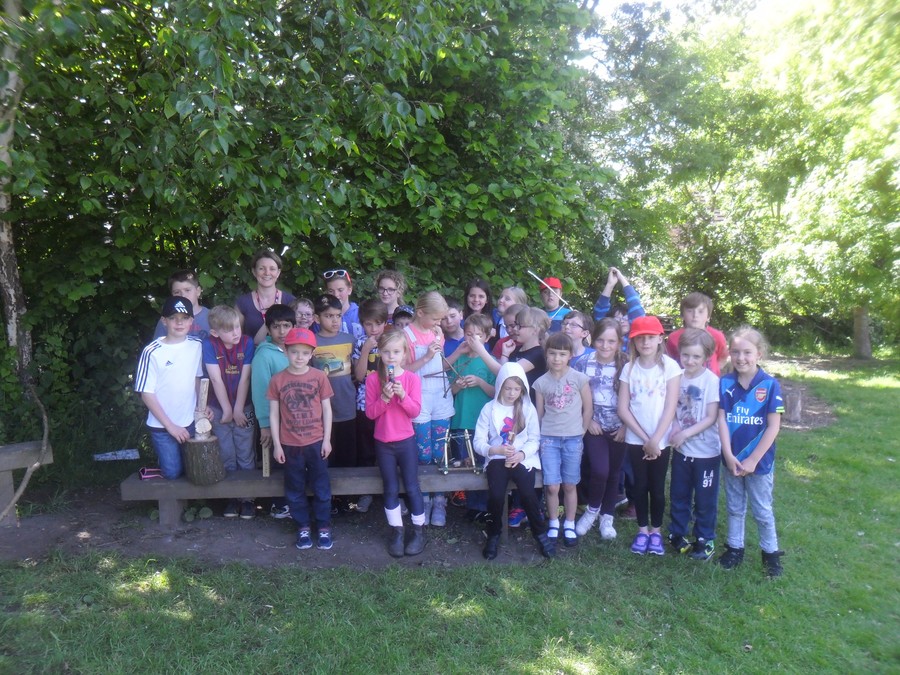 The Sticky Business Workshop involved a group of 30 children, across KS2, in a one day programme designed to stimulate creativity, problem-solving team work and enterprise through a D/T challenge. Click on Sticky Business for more information.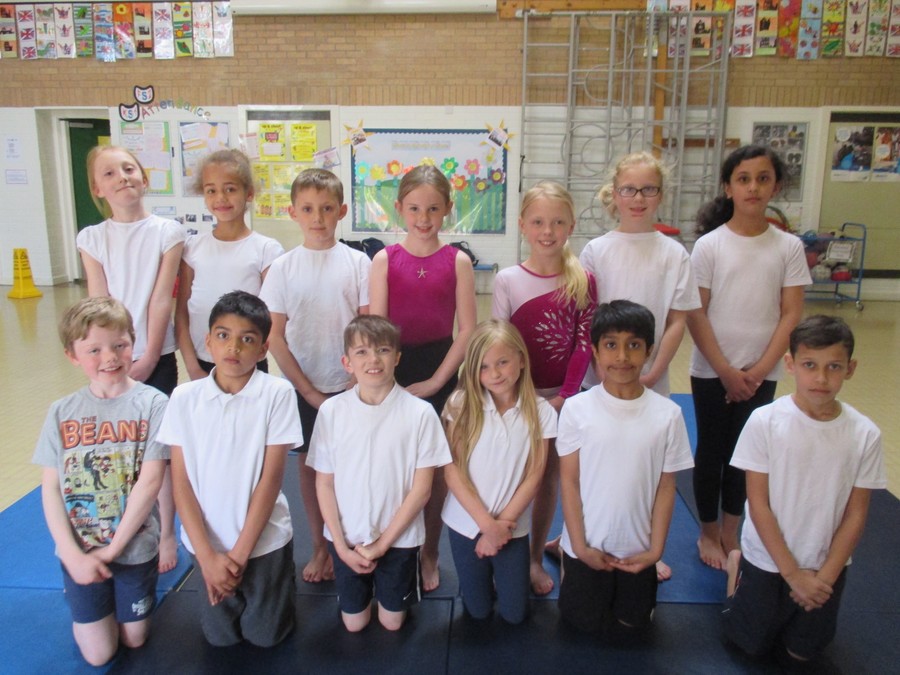 Our newly formed Gymnastics club run after school each Friday and taken by Miss Walker.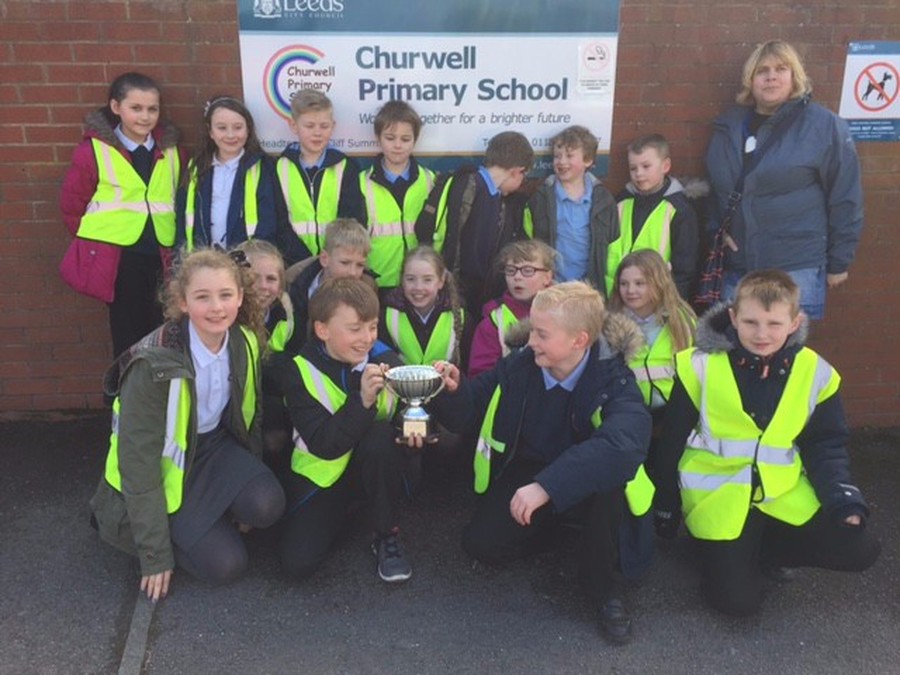 Our Maths Challenge Team which has four children each from Year 3,4,5 and 6 in it won the ASPIRE Mental Maths Challenge for the Spring term.
Following on from this our Year 4 Rounders Team won the ASPIRE Rounders competition.
Great teamwork in both events!
The ASPIRE schools are Asquith, Churwell, Fountain and Morley Victoria Primary Schools.
Red Nose Day raised £427.76. The PTA cake and bun sale for Red Nose Day made £108 which was added to this overall school total. This was on top of the £1,023 collected for Barnardo's in our Care and Share appeal. Thank you for your support. Amazing!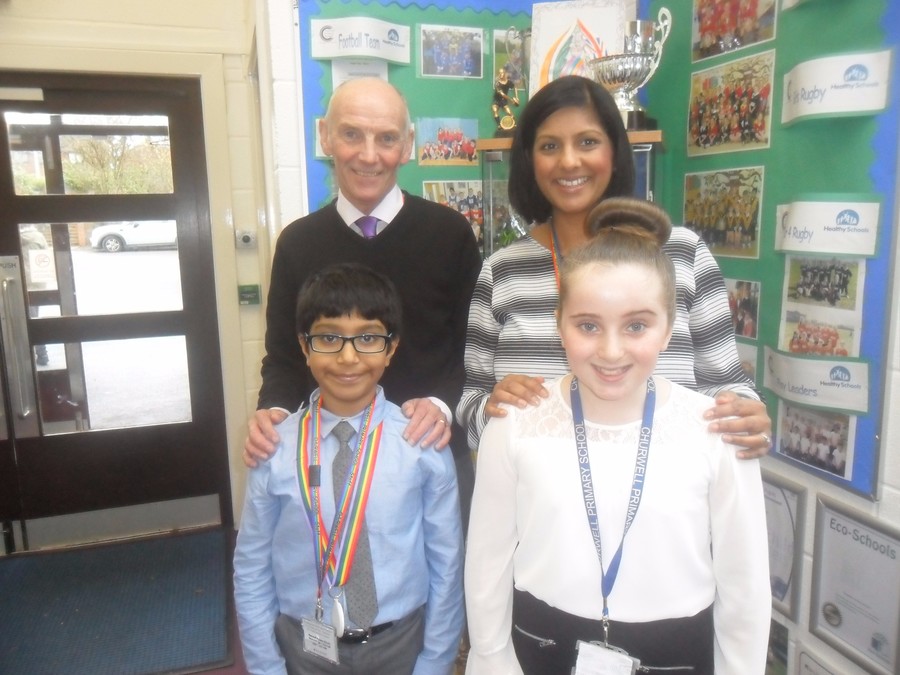 On Thursday 19th November we had a Takeover Day in school. On the day pupils got to experience what life was like as a teacher or as someone else who works in the school.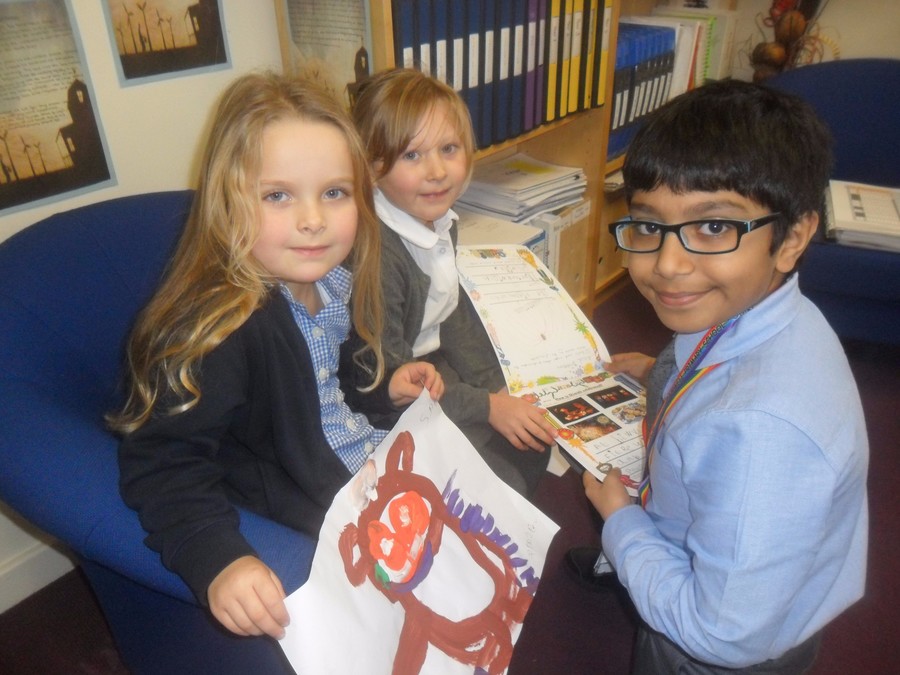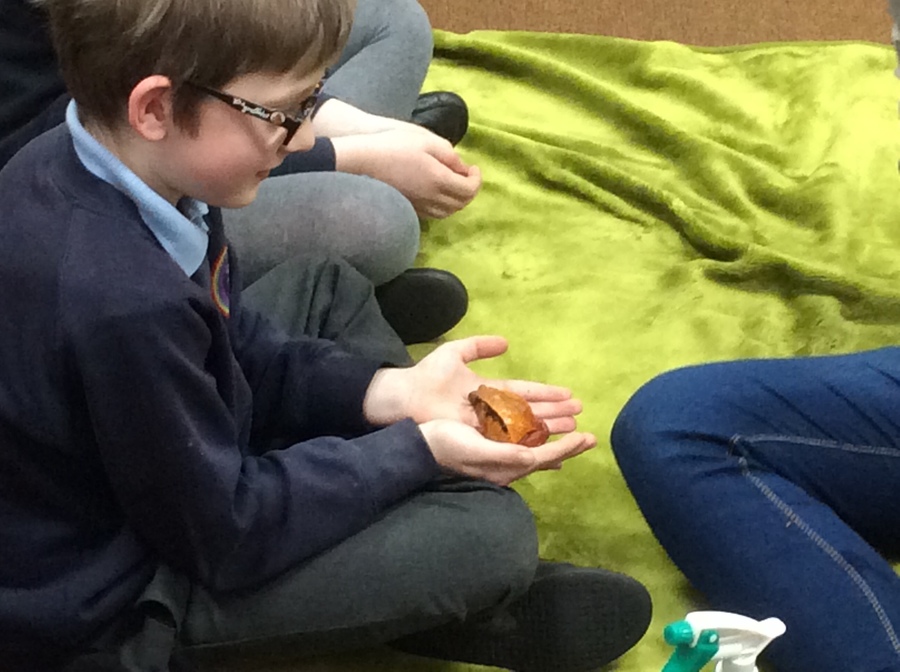 Reece held a Tomato Frog; it was very jumpy!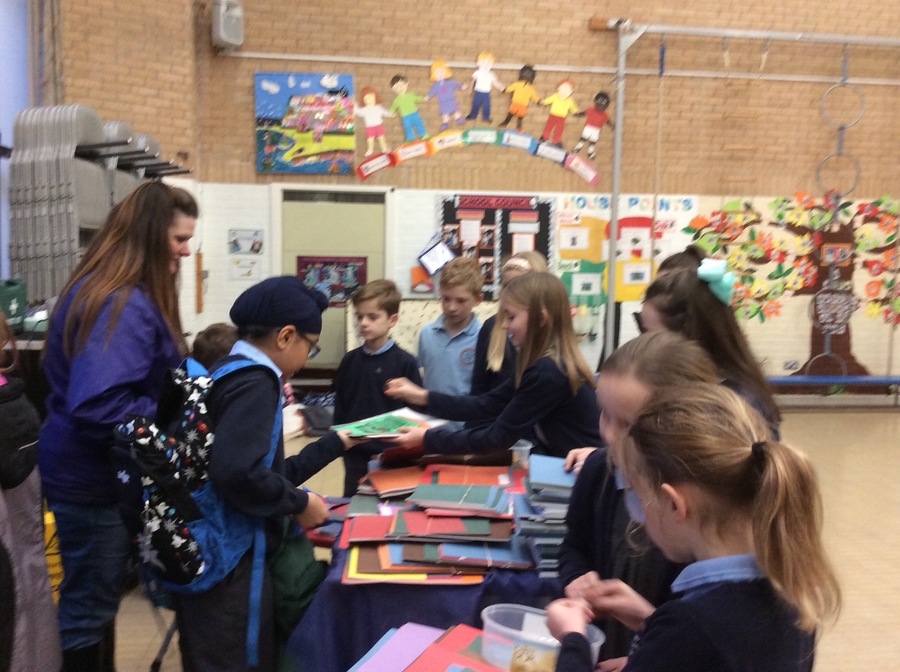 Our Eco Council held a exercise book sale after school. They sold old/spare books for 50p. The sale was very popular and demand was high! They sold out and raised £163 for Eco Council projects around school and in Churwell. Well done Eco Council!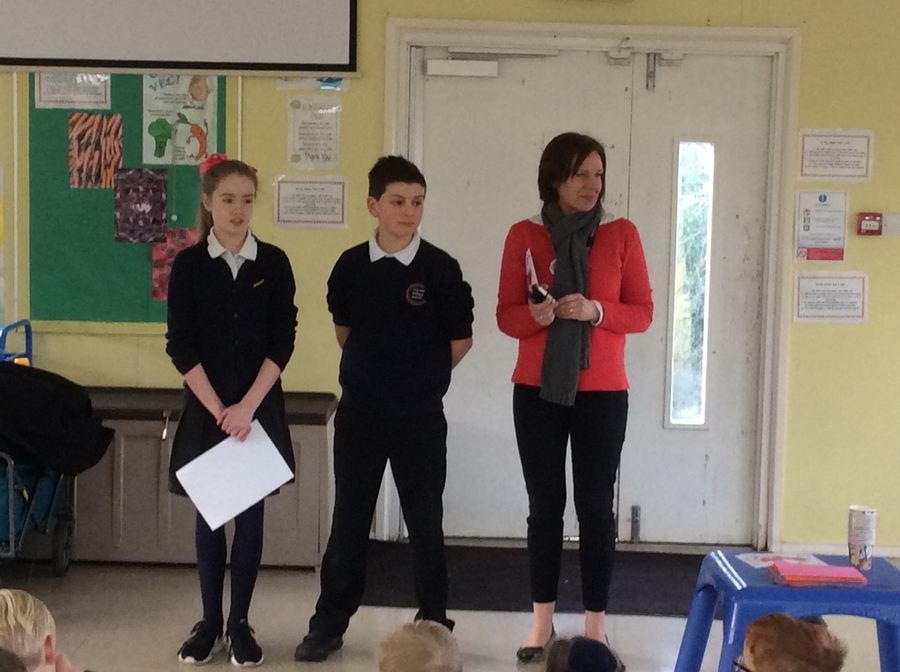 Aimee and Lucas, our Morley Cluster Council representatives, introduced a poster competition in assembly.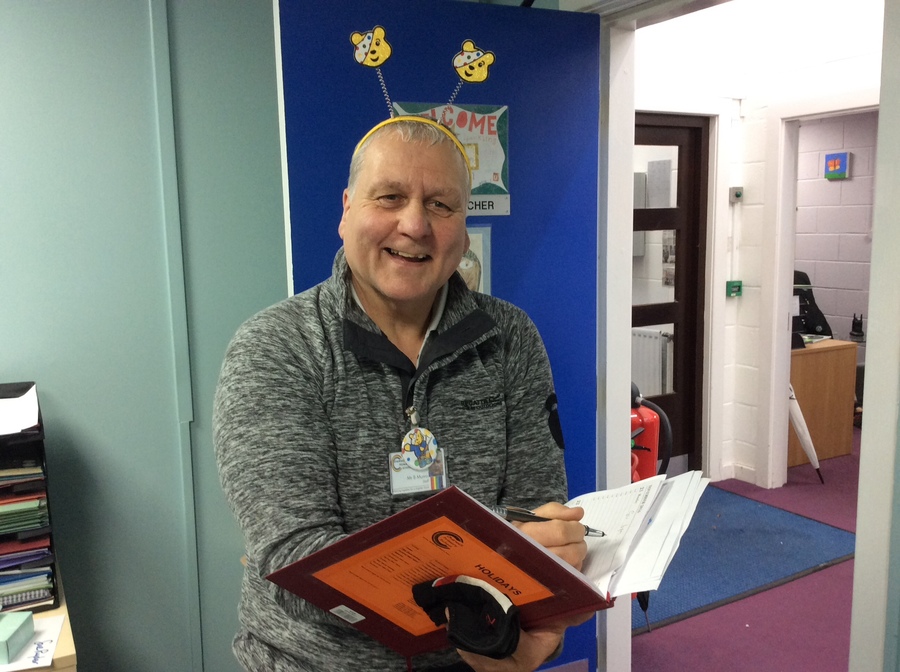 Mr Munro joined in the fun by wearing a Pudsey Bear band!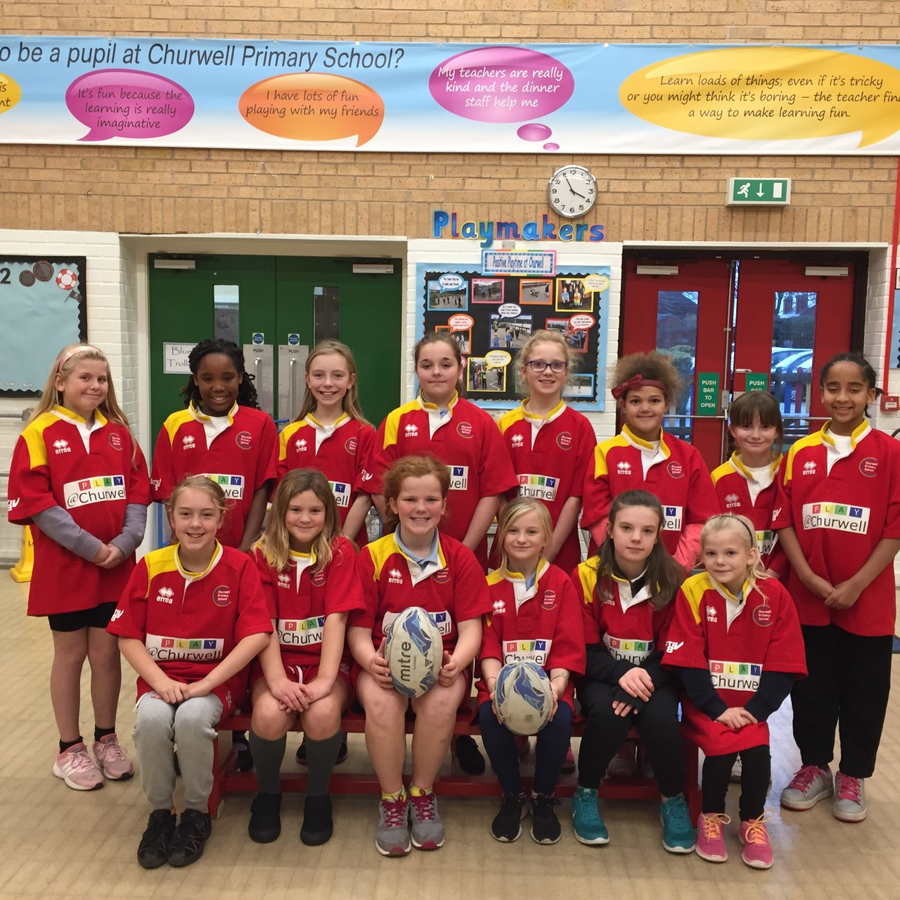 A group of children from years 4-6 took part in the Tag Rugby festival at Stanningley RUFC- Miss Walker is very proud of you!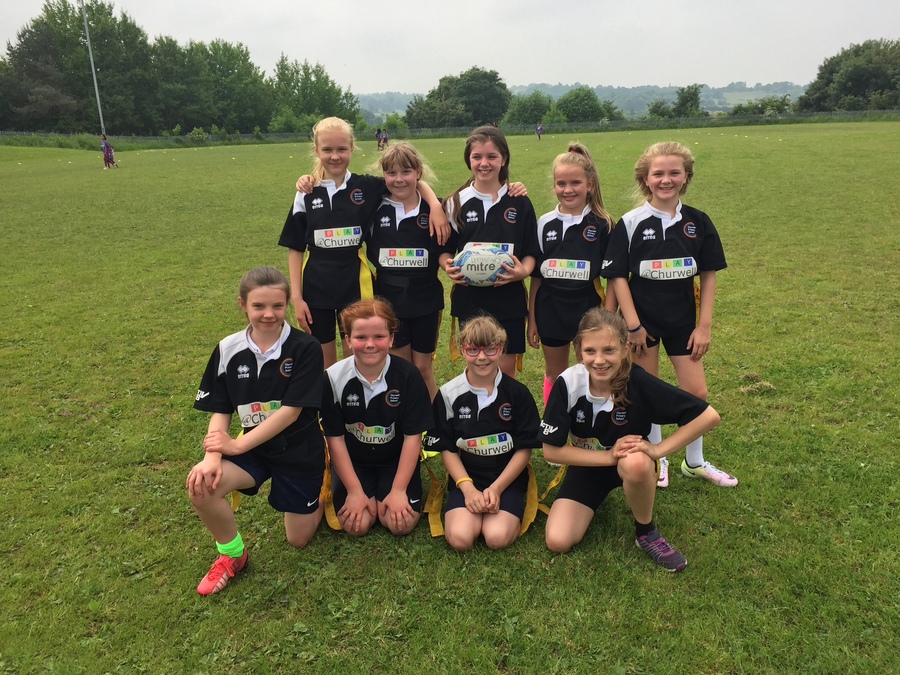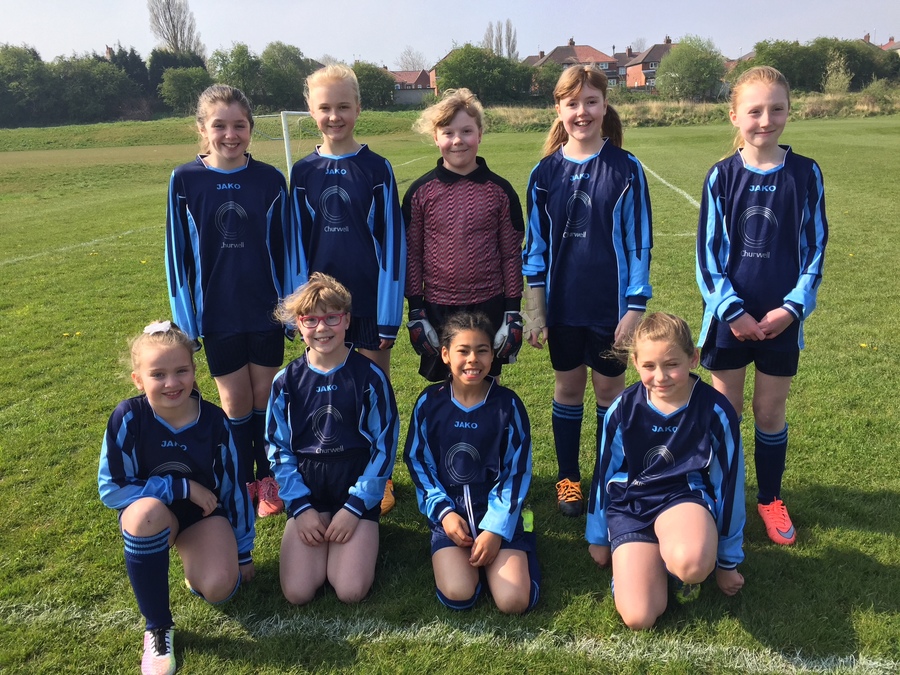 Well done to our football team who enjoyed competing at Tingley.
Mrs Tindale and Mrs Hutchinson have completed some 'Lego Therapy' training. This will help some of the children in school. Well done to both of them!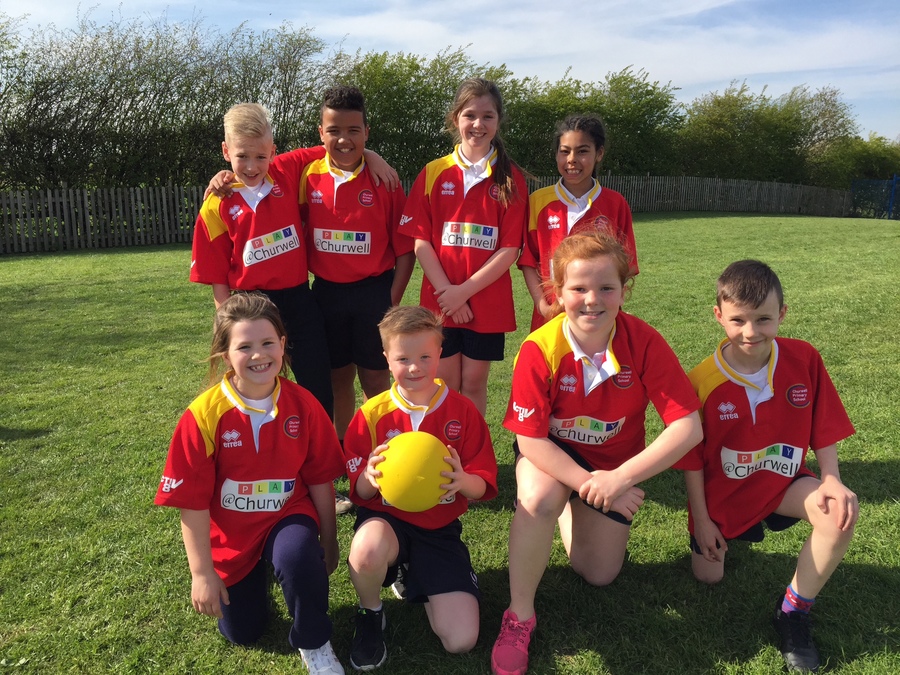 The teams played Dodgeball at a tournament at Birchfield Primary. 16 teams played 56 games!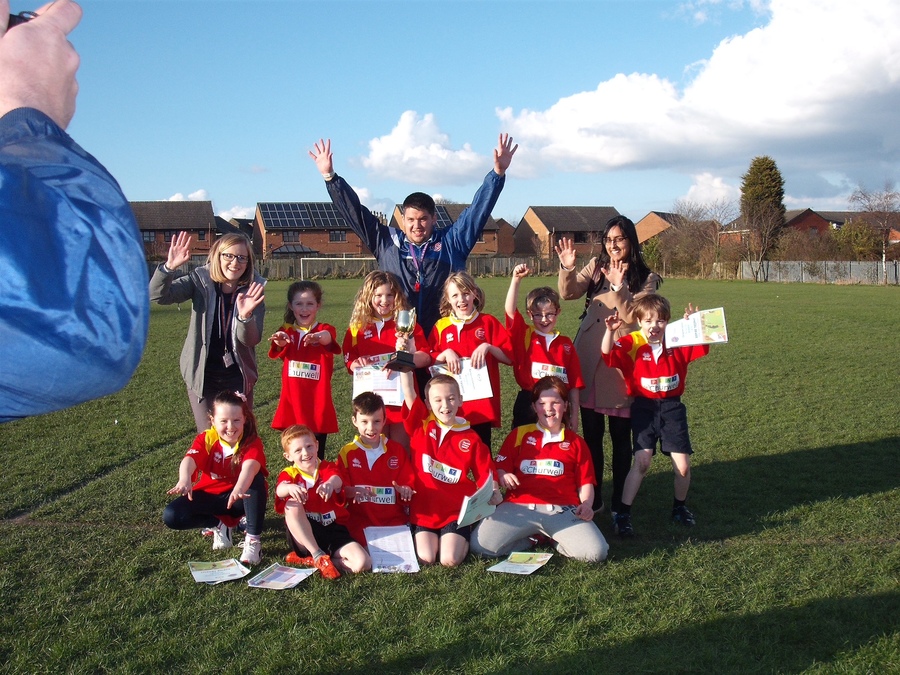 Well done to Lyla Barnaby who passed her Ballet exam with a merit. Here she is with her certificate and trophy.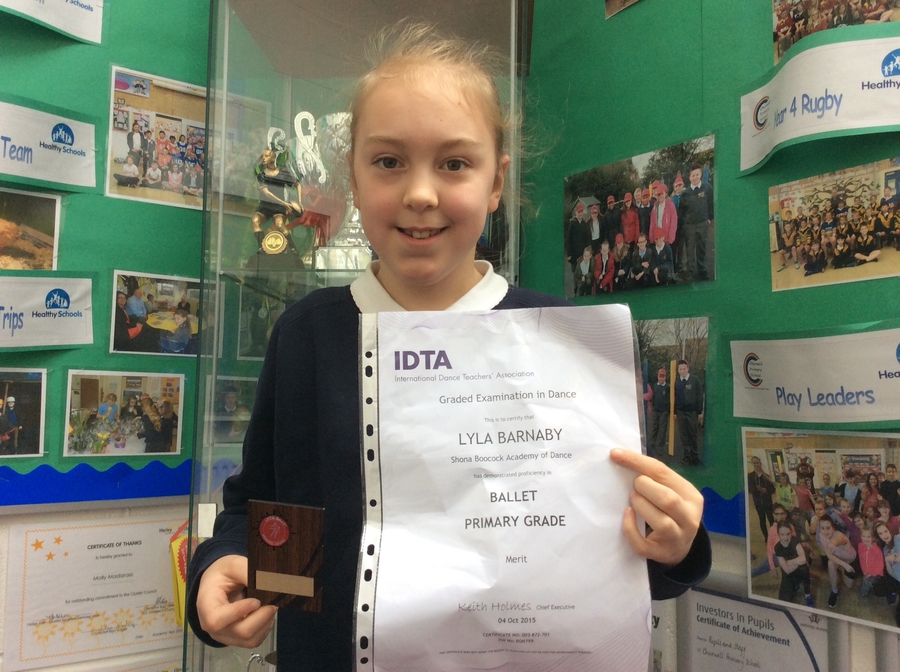 Churwell U11 Football Team 2015/2016 final league position Played 12 Won 6 Drawn 1 and Lost 5. Points 19. The team finished sixth in the league with our top scorer being Leo (front row first on the left) scoring 12 of the 16 goals.
Missing from the picture are Lily, Mohammed and Chris.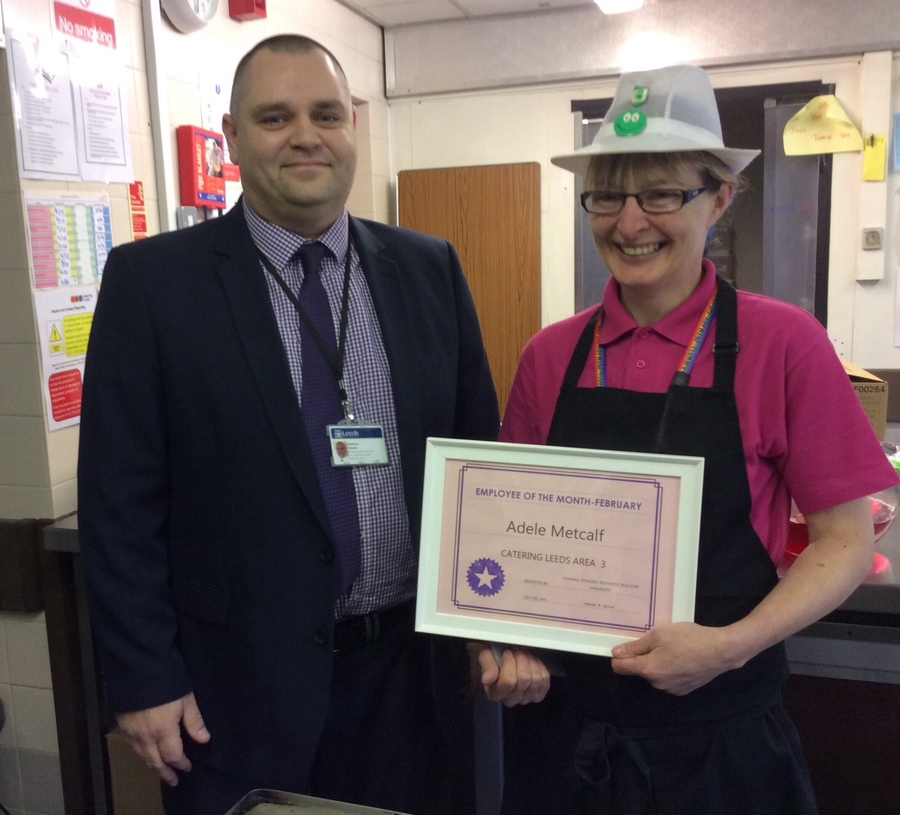 Congratulations to Mrs Metcalfe. She has won 'Employee of the month' Thank you for all your hard work in our school kitchen.
The children in Year 4 dressed up as Anglo Saxons and had a banquet to end their unit of work. They have also made broaches and decorated them.
As part of Year 1's topic on Toys the children had a visit from a woodwind group. The group played music and showed the children lots of old toys. Play the video clip below to hear some of the music. The children had a great time!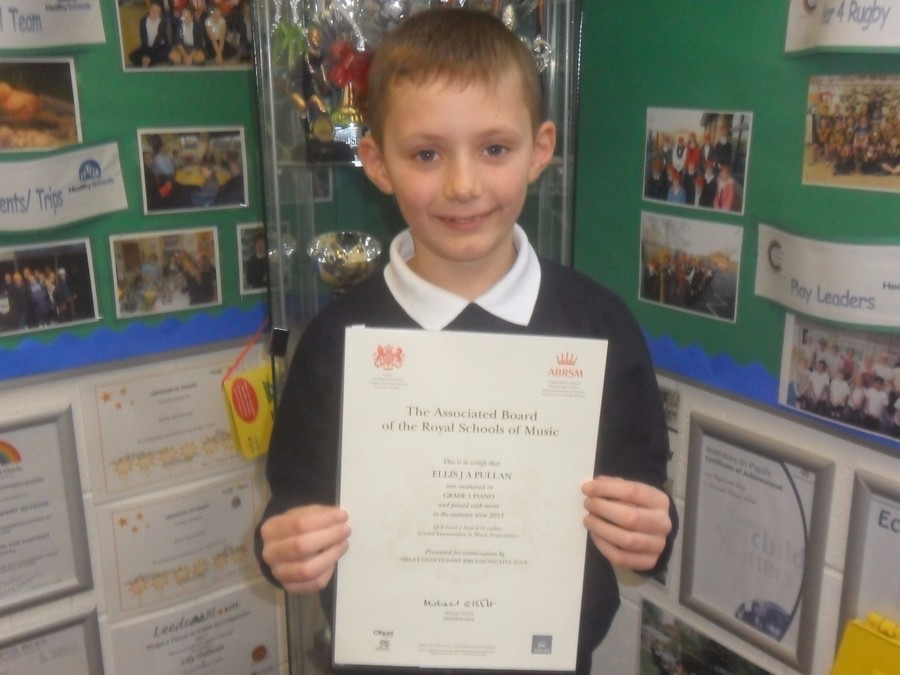 Christmas congratulations to Ellis for passing his Grade 1 piano exam. Well done Ellis and it shows practice makes perfect!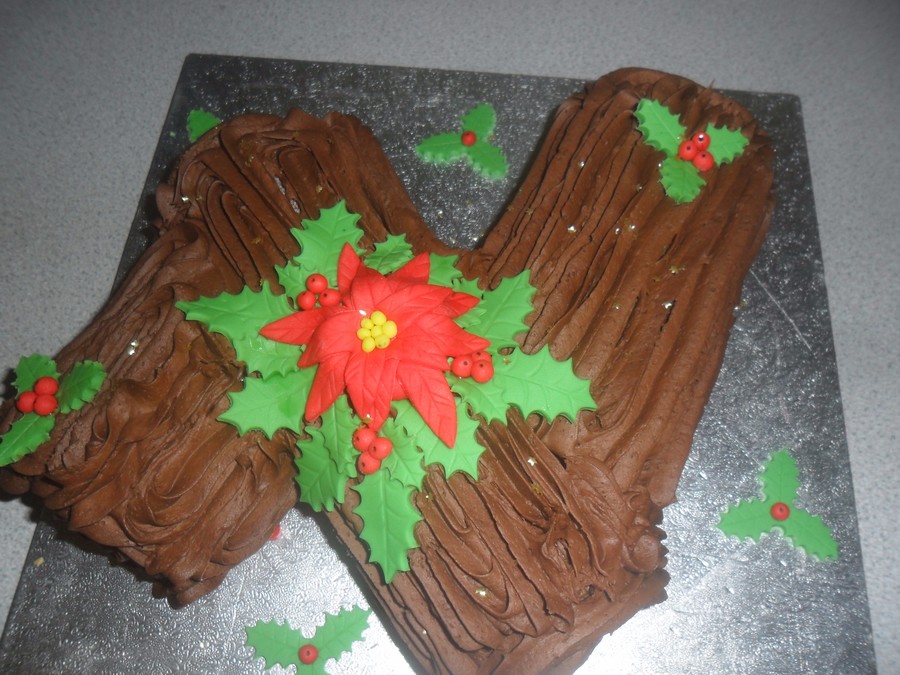 A Christmas Log made by our ICT Technician for the staff - it looks wonderful!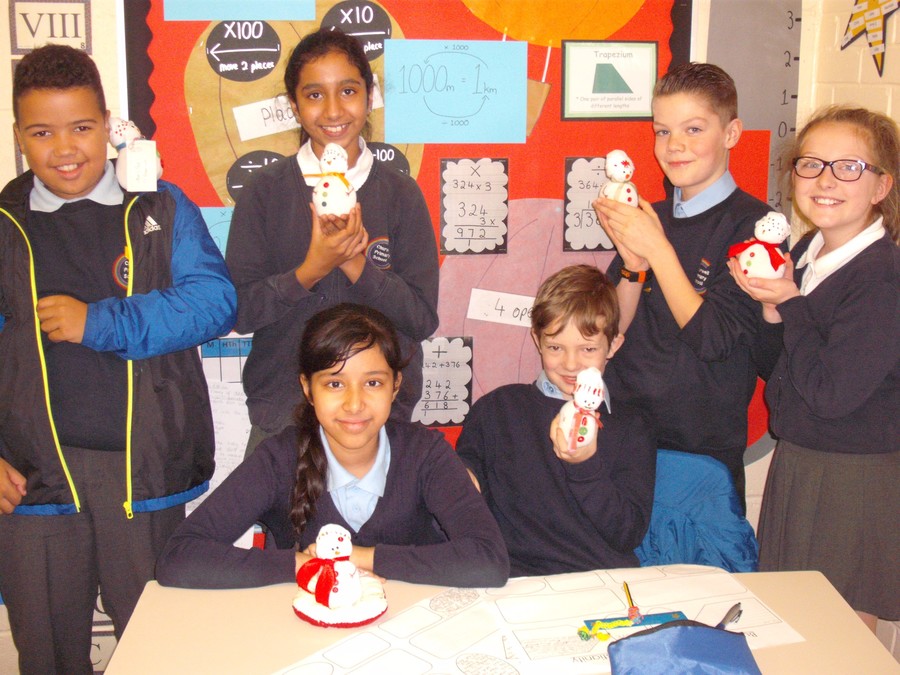 Year 6 Art and Design Transition morning at The Morley Academy theme around a Christmas theme.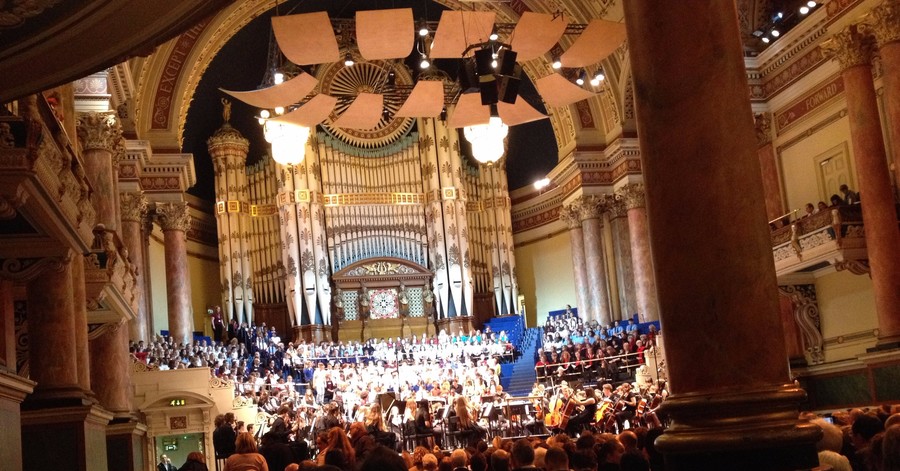 A group of eight Year 6 children sang at the Christmas Festival Concert 2015 at Leeds Town Hall. They performed as part of a Leeds Schools' Festival Choir. It was a wonderful evening of music and a great experience for the children.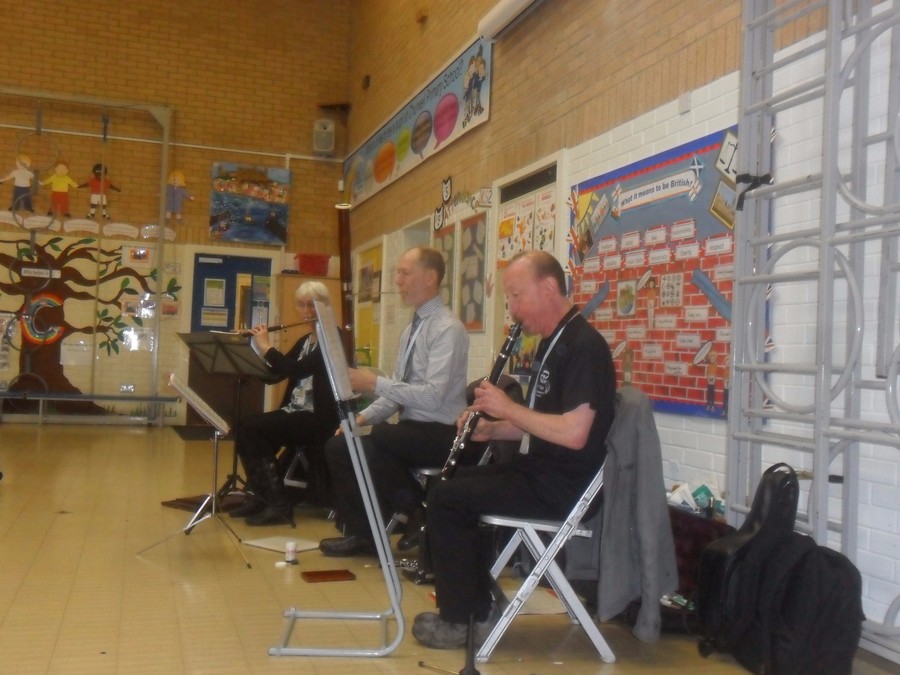 Leeds Woodwind Trio came into school and played a selection of classical and popular music to the children. They also talked to the children about the types of instruments they played.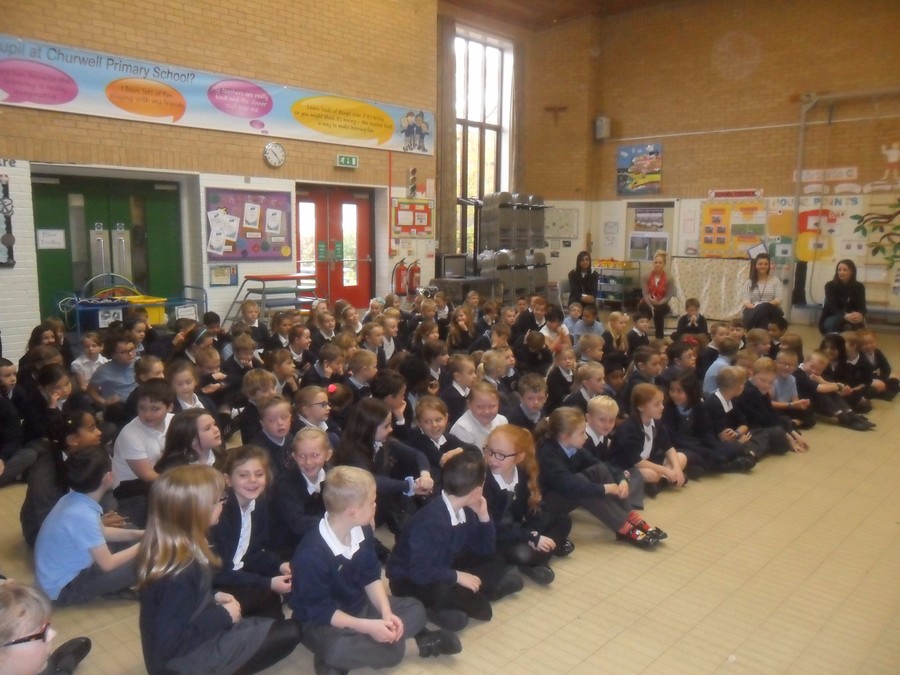 Year 4 held a Roman Banquet day and prepared for a real Roman feast.
The Girls Football Team who finished second in the Morley Family of Schools Tournament at Woodkirk Academy. Thank you too Miss Whittle for organising the team.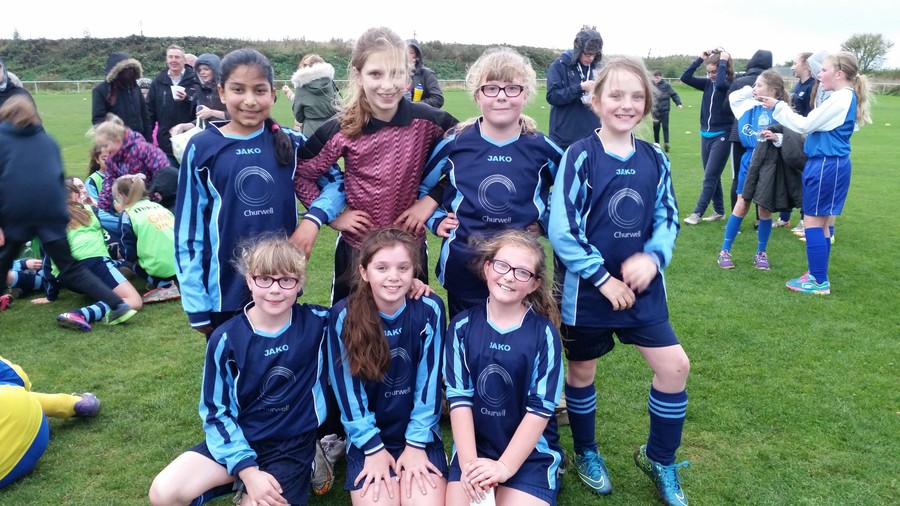 Harvest Festival celebrations took place and assemblies were well attended by parents, family and friends. All of the donations of tinned food, packet and boxed foods have been sent to the Leeds Children's Charity which enables children to have a holiday at Silverdale in Cumbria.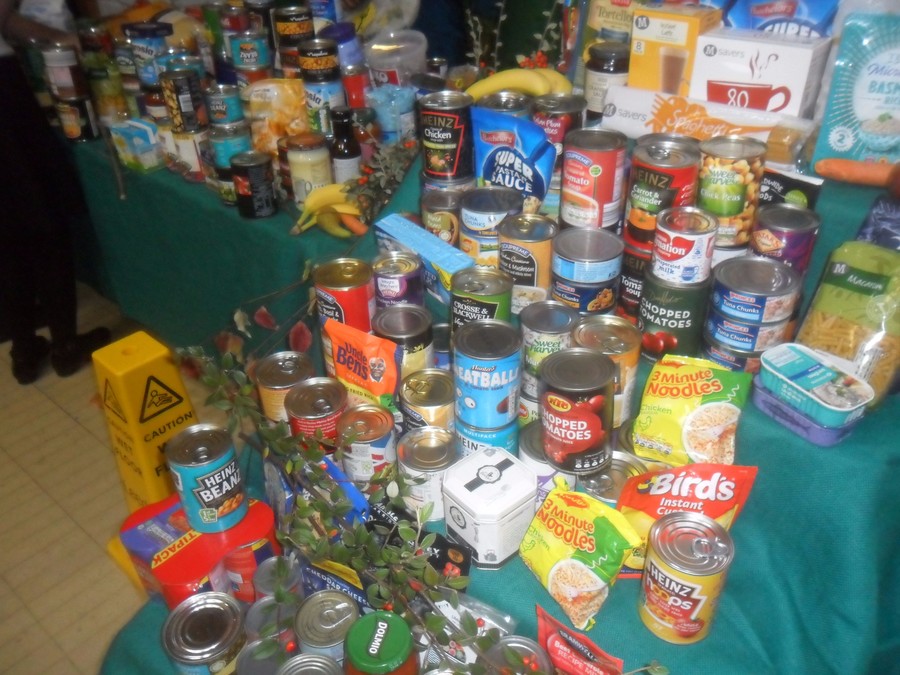 Year 4 visit Eureka - learning about human digestion - from 'chew to the poo' led by the team from Eureka.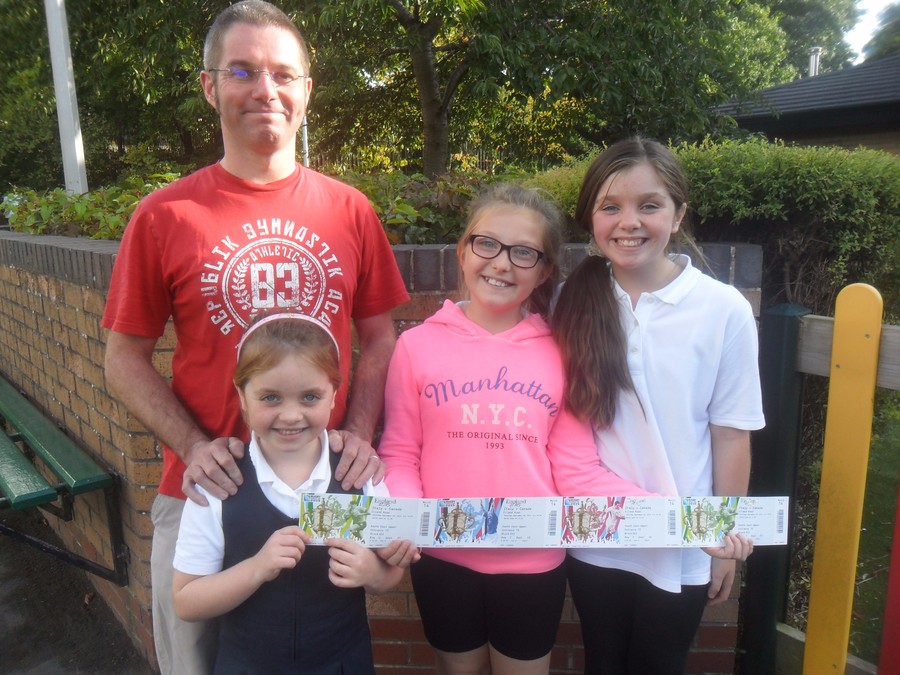 Our lucky winners of the four tickets to see Italy v Canada in the Rugby Union World Cup at Elland Road, Leeds. Congratulations!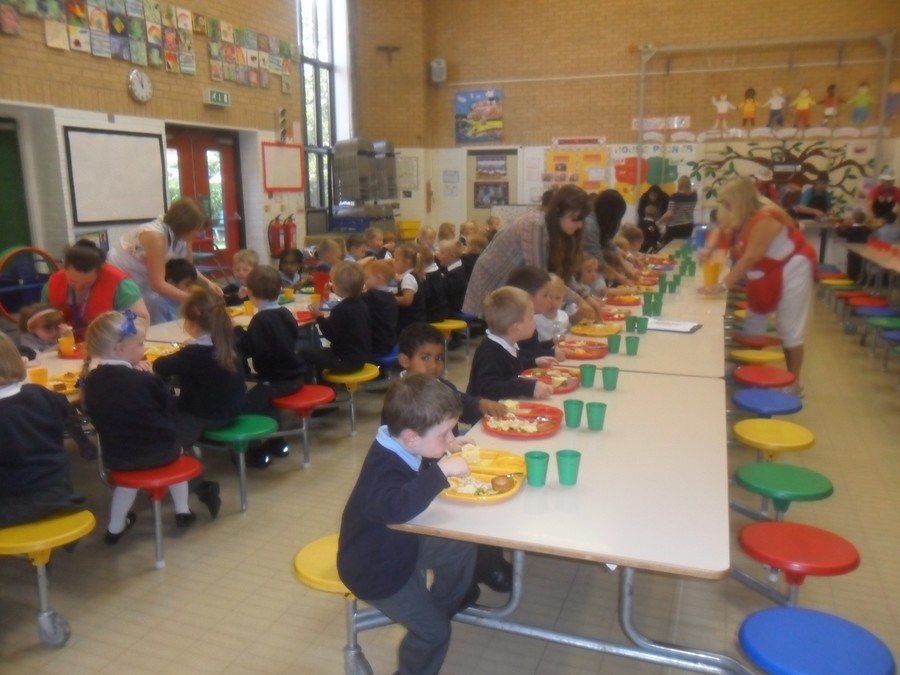 Free school meals for all children in FS2, Year 1 and 2 has meant a busy start for our Catering Team but they have risen to the challenge. After the first week we are almost on track with our timings thanks to all of our Lunchtime staff.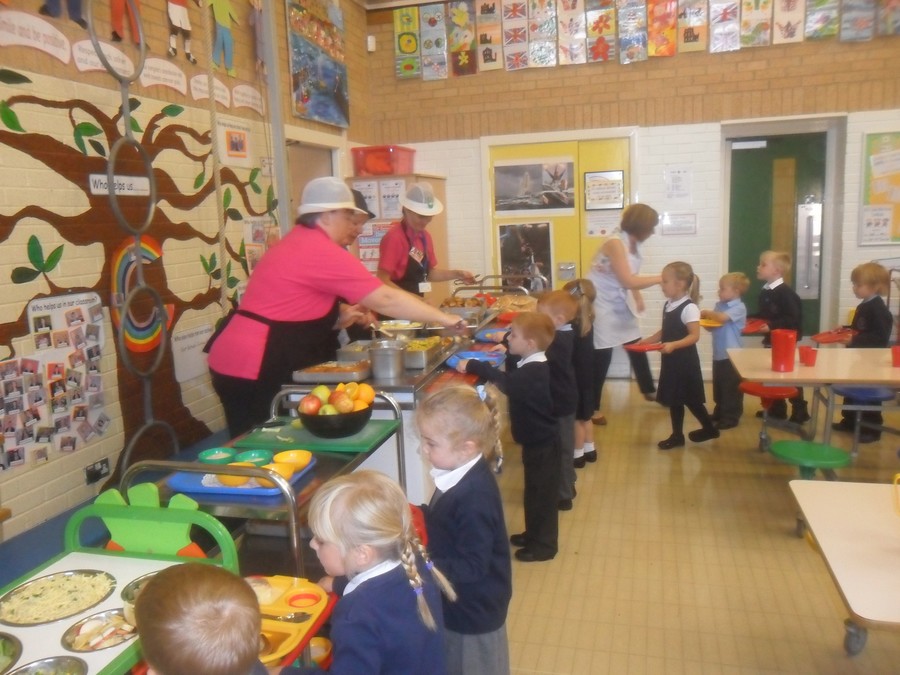 Alex in Year 3 - teaching the children about life in France.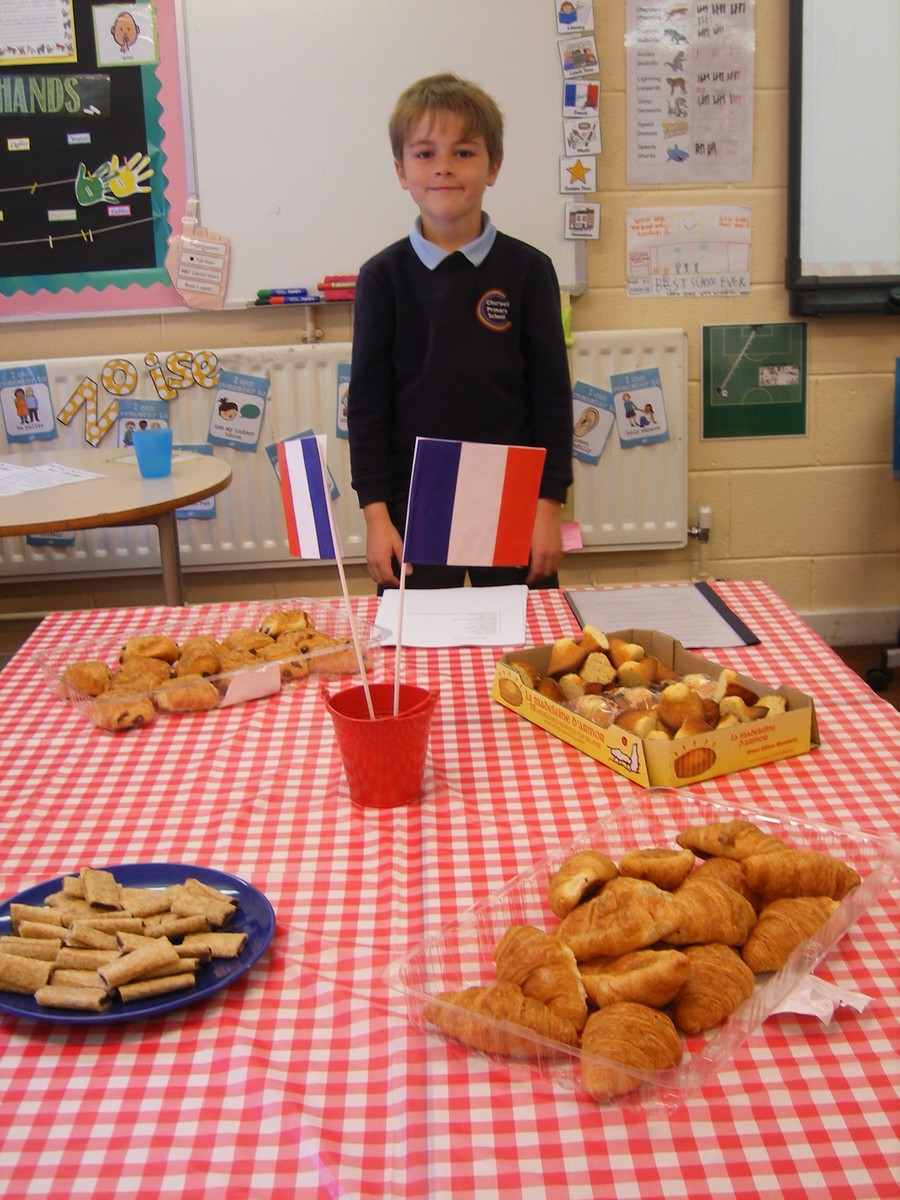 Our children performed a dance at half time at the recent Leeds Rhinos v St. Helens rugby league game.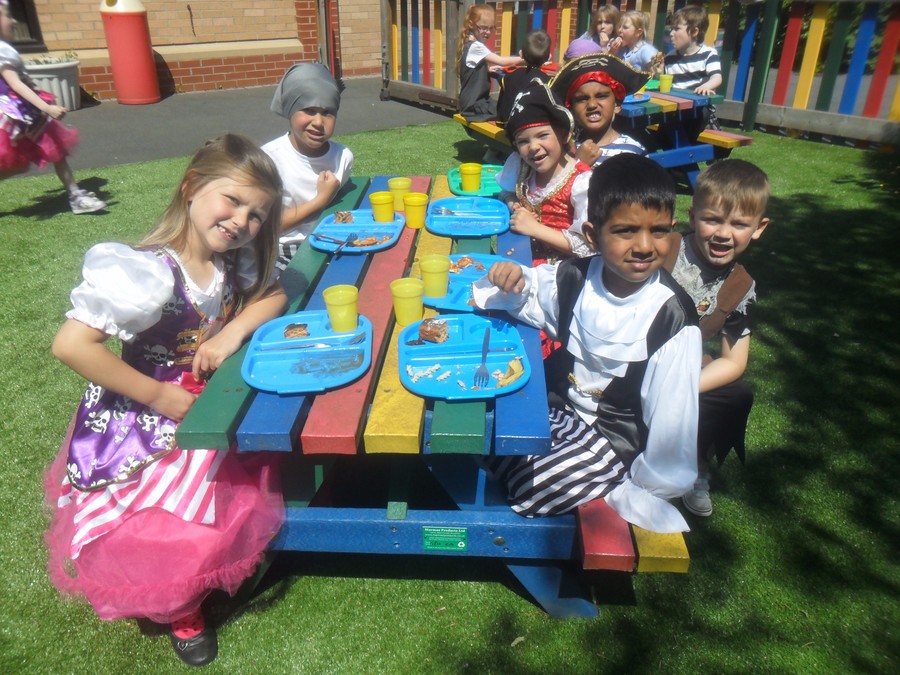 Year 1 had a Pirate day and these are some of our hungry pirates having lunch.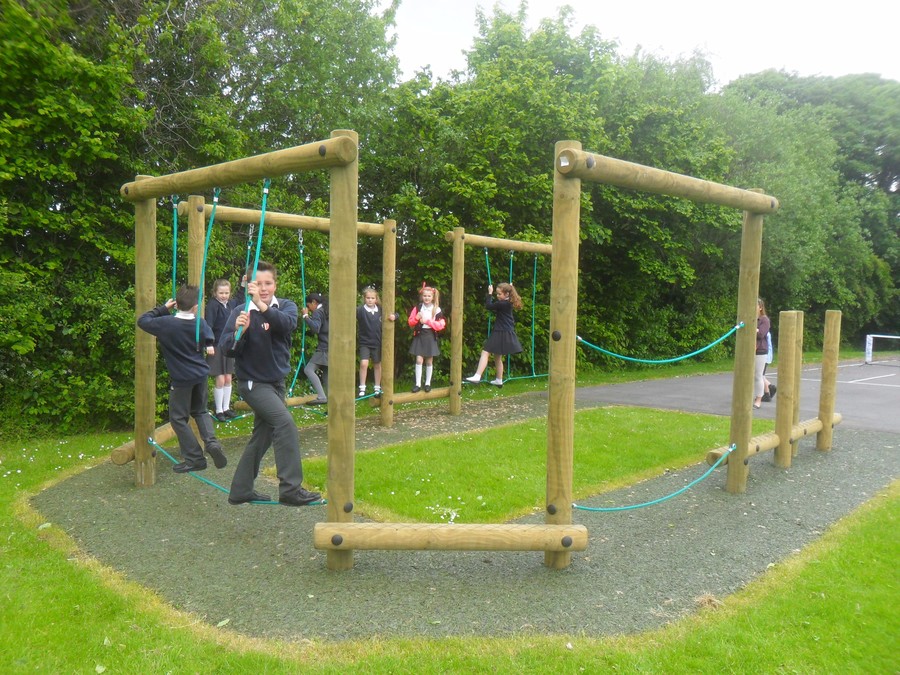 Thank you to our PTA for providing the funds for our new Trim Trail - as you can see we are already enjoying it!
Year 2 had an amazing day at Old Moor Nature Reserve. They experienced pond dipping, mini beast hunts, insect catching and building a nest for a bird. As you can see they were really involved in the activities.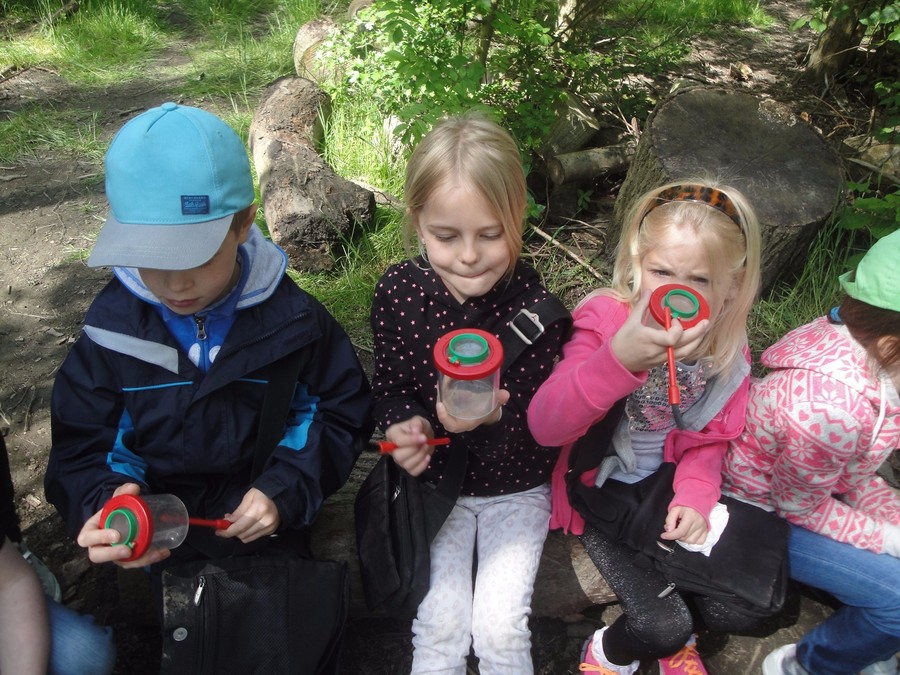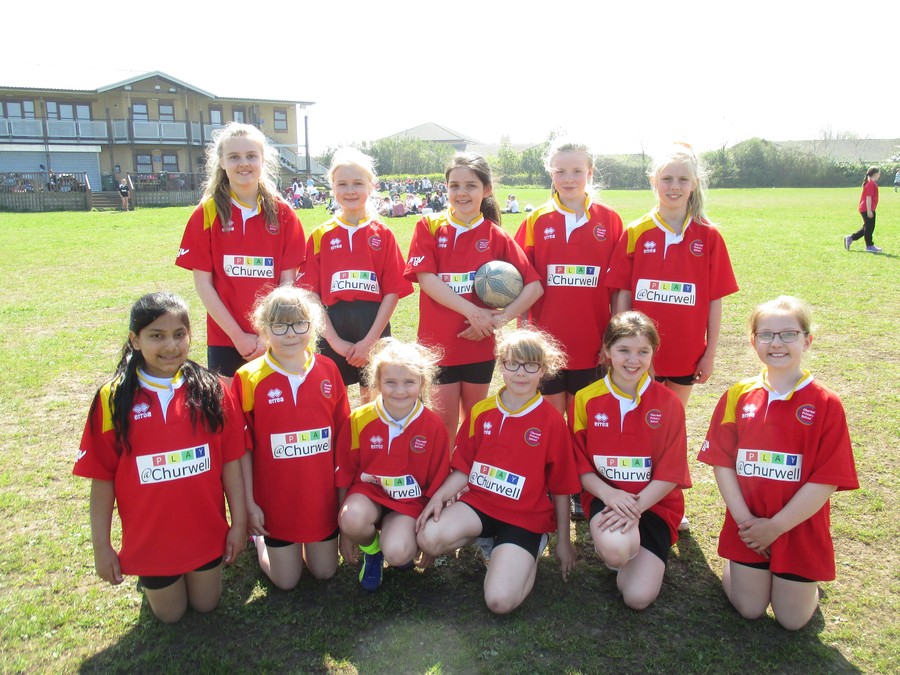 Our Year 5 and 6 Tag Rugby teams took part in a skills rugby session at Hunslet Warriors. In the afternoon they the played in a Tag competition against other schools. The A team got to their final and the B team played two and lost two but did not reach their final.
They also met Zack Hardacker who plays for the Leeds Rhinos.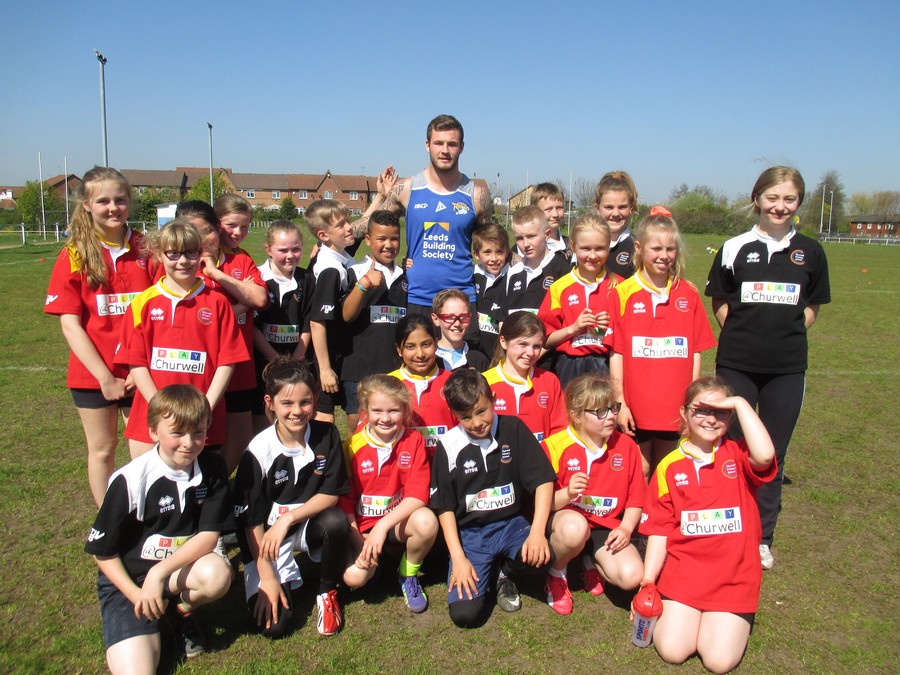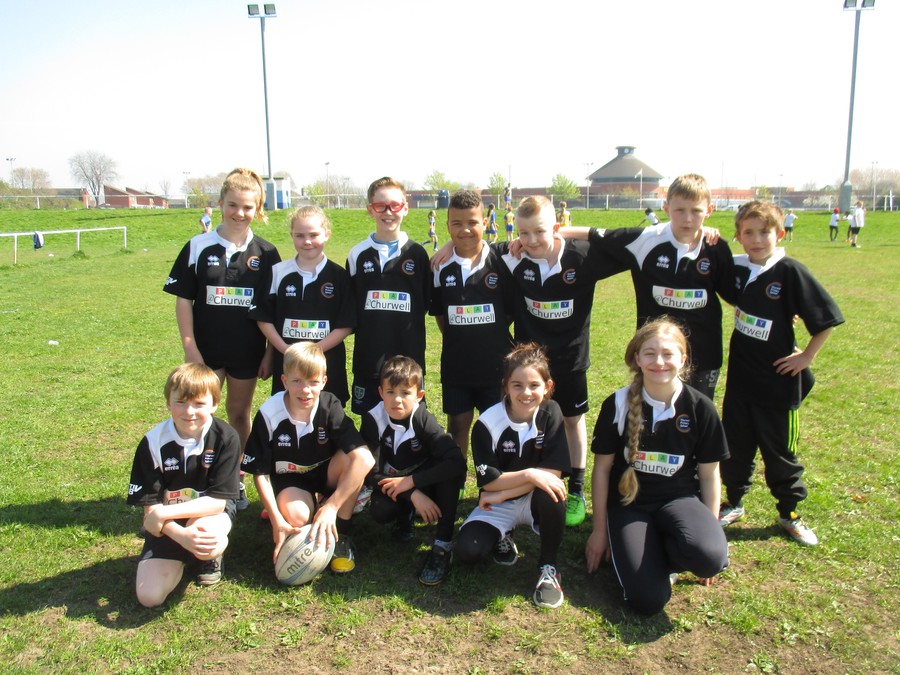 Some of our Easter bonnet entries in FS2.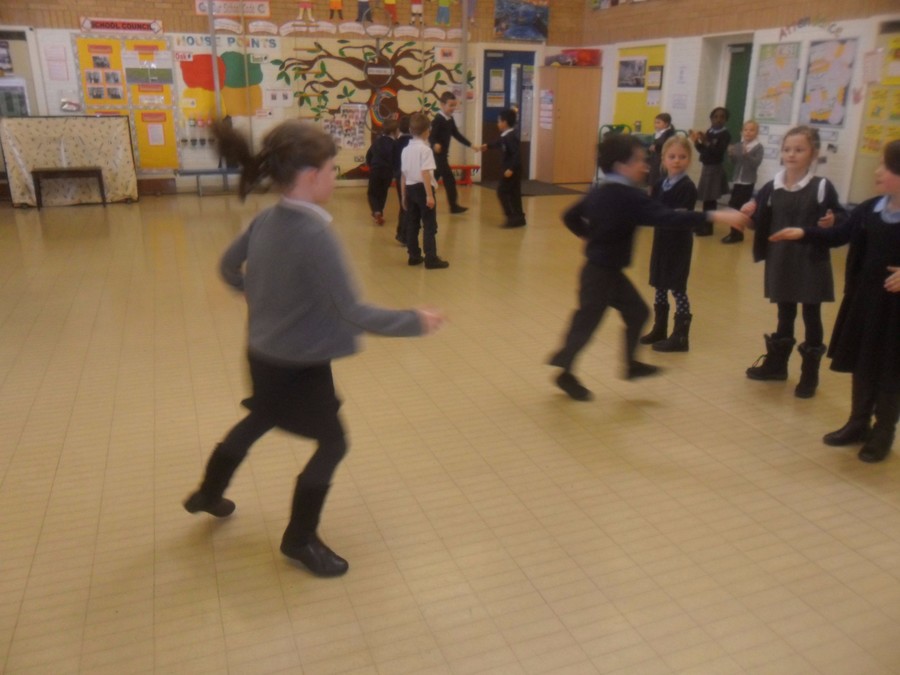 Year 2 enjoyed Scottish Dancing with Mr Munro. They really do throw themselves into it as you can see from the video and picture.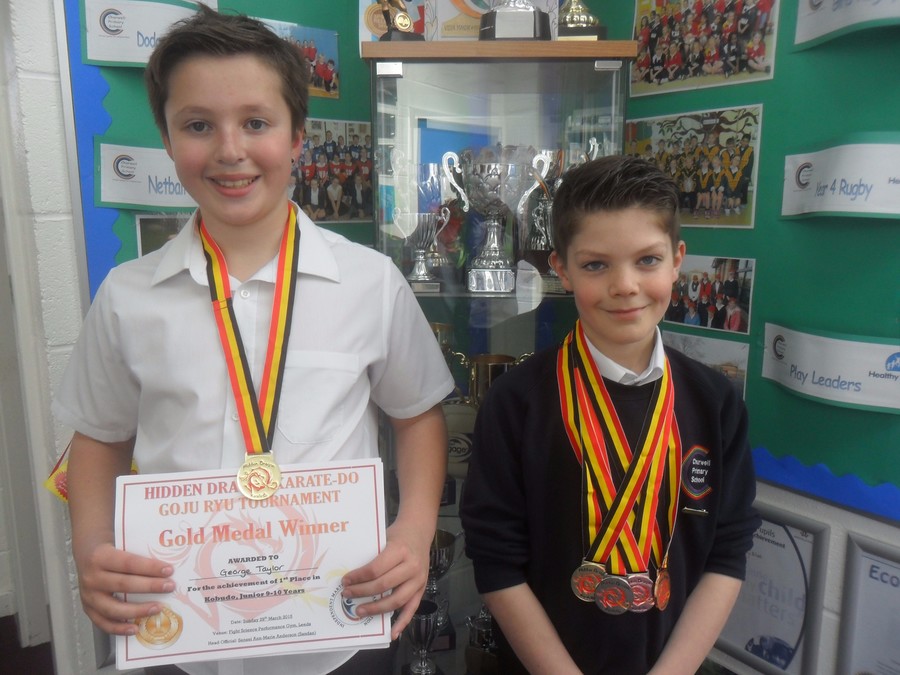 George and Joe took part in a 'Hidden Dragon' karate tournament winning a number of medals between them - some gold!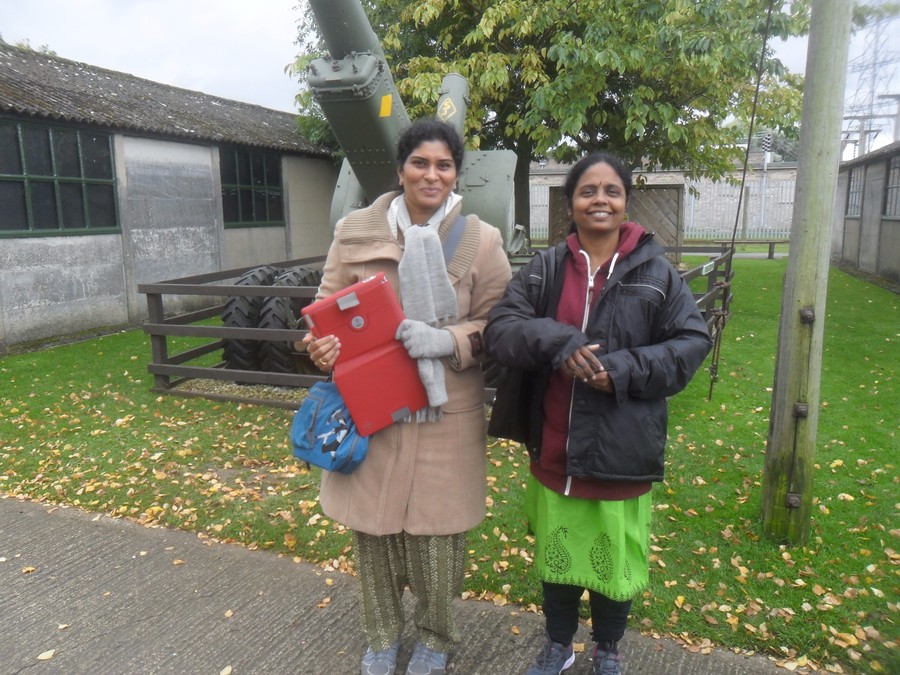 Mrs KrishnaKumar and Mrs Lakshmanan, our visitors from Chennai, arrived in school on Monday and will spend the week experiencing life in a Primary School learning about the way we teach the curriculum in our school. They have been in each year group talking to the staff and children about their work. They have also had a chance to see The Morley Academy as well as taking time to visit the local area and beyond.
Many of our children are involved in out of school clubs and groups in the area. Lillie takes part in Karate and won two silver medals in competitions recently.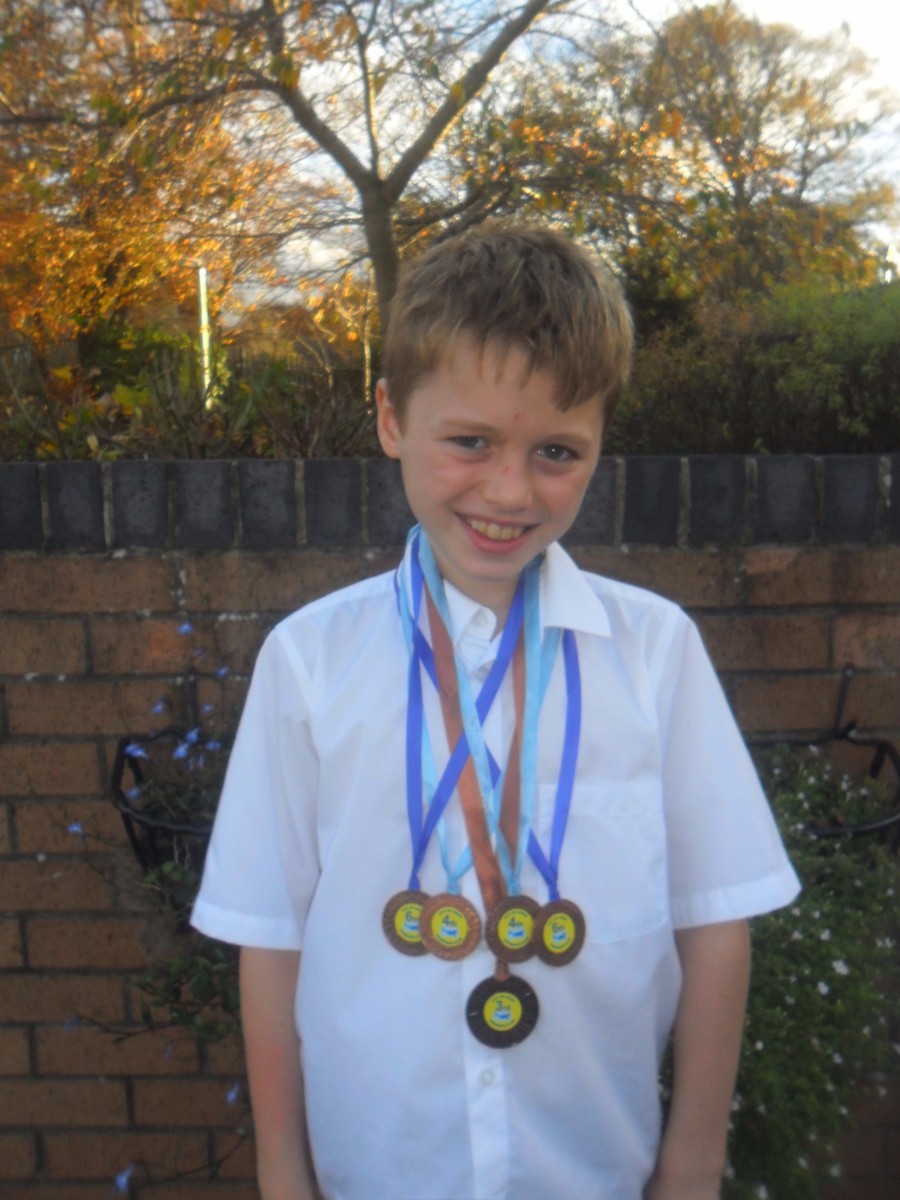 Ashton, in year 5, swims for City of Leeds Swimming Club and in the Autumn Meeting won 5 medals in competition against other club swimmers.
Ashton won one third place medal, two fourth place medals and two sixth place medals. He was competing against up to 30 other children in some events.
Congratulations Ashton.